Colton Haynes Is A Brooding Mystery Man On 'AHS' & You'll Be Dying To Know All His Secrets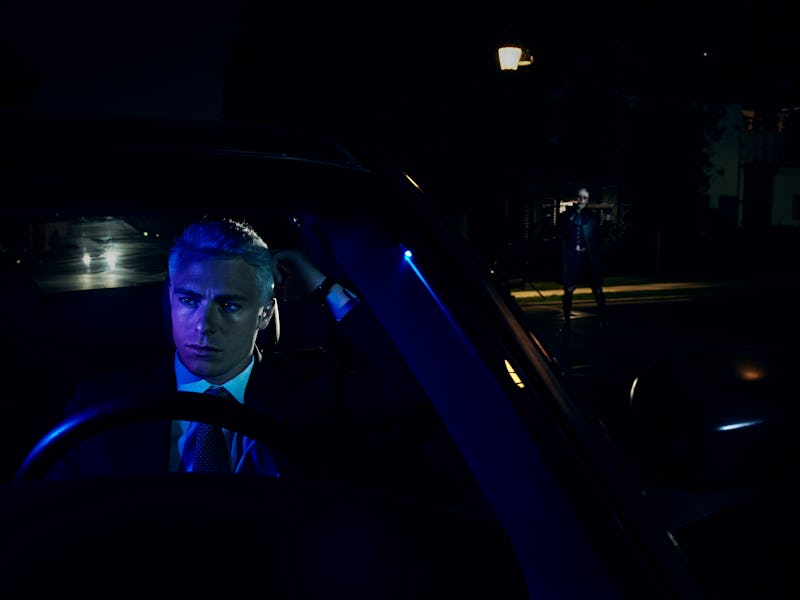 Frank Ockenfels/FX
For the seventh installment of his hair-raising anthology, Ryan Murphy looked to real life, building the season around the 2016 presidential election that left America on fragile ground. It's not a stretch, then, to think that AHS: Cult's Detective Samuels could be based on a real person. The series has long been known for its nightmarish premises, but with such a ripped-from-the-headlines plot, it's possible Murphy decided to hit even closer to home. When he leans in, he leans in hard.
Thus far, however, it's difficult to say if Samuels has any IRL roots. He's played by Teen Wolf/Arrow alum Colton Haynes — who previously guested in Murphy's short-lived Fox comedy Scream Queens — but as far as character details go, any specifics have been kept under wraps. Two episodes in, all viewers know is that he's a detective called in to investigate the clown-masked assailants' attacks. First, when they taunt Ally at the supermarket, and again when her neighbors, the Changs, are brutally murdered at their hands — at least, according to Ally's son, Ozzy. If Samuels is based on a real person, neither Haynes or Murphy have said so, though he'd certainly be in the company of several other real life-inspired characters.
Here are a few of the personalities tipped to appear on AHS this season:
Andy Warhol
As one of his many rotating roles, Evan Peters — who also stars as alt-right extremist Kai — will play art icon Andy Warhol.
Valerie Solanas
In Episode 7, "Valerie Solanas Died for Your Sins: Scumbag," Lena Dunham will portray Valerie Solanas, a radical feminist most widely known for shooting Warhol in 1968. As reported by Time, she pleaded guilty to assault and was sentenced to three years in prison after being found competent to stand trial. She was later diagnosed with schizophrenia, and died of pneumonia in 1988 at the age of 52.
Jim Jones
Also on Peters' character list is Jim Jones, who founded the religious group commonly referred to as The Peoples Temple in 1955. Eventually, he moved his commune from San Francisco to a remote South American settlement called Jonestown — the site of the now infamous Jonestown Massacre, a mass suicide that killed Jones and his disciples in 1978. Per The New York Times, many of his surviving followers alleged that he orchestrated the tragedy.
Charles Manson
In Episode 10, "Charles (Manson) in Charge," Peters will appear as Charles Manson, one of the country's most notorious fringe leaders. He helmed the quasi-commune later known as the Manson family throughout the late '60s, and in 1969, members of the sect carried out a series of nine murders — allegedly at Manson's behest, CNN reported. According to the outlet, Manson pled not guilty but was convicted of seven counts of murder related to the killings, and is now serving a life sentence.
David Koresh
Finally, Peters will play David Koresh, who ran the Branch Davidians — a religious offshoot of Seventh-Day Adventism — in the early '80s. As reported by The New York Times, his leadership was trailed by rampant allegations of sexual assault and child abuse, and in 1993, he was killed during an FBI raid of his Waco, Texas compound.
It's worth noting that AHS has drawn from real life before. Freak Show featured a number of so-called "freaks" playing characters with attributes that mirrored their real conditions, while Peters' character, Jimmy, was based on real-life "Lobster Boy," Grady Stiles, Jr. Hotel, on the other hand, included several fictional depictions of convicted serial killers: Aileen Wuornos, John Wayne Gacy, Jeffrey Dahmer, the list goes on.
Perhaps as Cult unfolds, Samuels' inspirations will become more clear, but for now, it's safe to assume his character is relegated strictly to Murphy's imagination.