Dick's Identity Isn't Important To The Story In 'I Love Dick'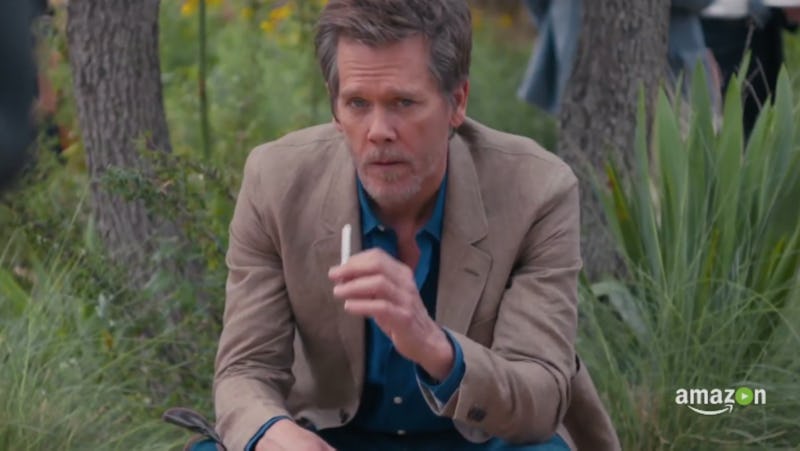 Amazon Studios
With a title like I Love Dick, Jill Soloway's new Amazon series is bound to perk up some ears. But throw in a juicy real-life backstory, and the gossipmongers will surely come clamoring. Adapted from Chris Kraus's cult 1997 novel, the show blurs the line between experimental fiction and brazen confessional, tracing one woman's unrequited infatuation with cowboy intellect Dick Jarrett. The story itself is an immersive and bracing examination of female self and sexuality, and in the end, the man it takes its name from matters not. Nevertheless, viewers will likely be curious if Dick from I Love Dick is based on a real person.
The short answer is yes. The events and people depicted in Kraus's book were drawn from her own life, from her then-husband Sylvère Lotringer to the various art world personalities that pop up throughout the text. In an essay for The Guardian, Kraus wrote that she made an attempt to alter most details that could tie the character of Dick to his real-life counterpart, and was surprised to receive a "Cease And Desist" letter from his lawyer when she and Lotringer decided to move forward with the novel. She wrote:
"Beyond his first name, Dick __ was not identified within the narrative. I'd changed the titles of his books, his physical appearance and personal history, and did not refer to any facts about his life that weren't already published. I called Dick up and asked if he'd like to write an introduction. Nothing in the book was aimed against him: it could be presented as a joke that we'd cooked up together. He declined."
When a former student of Lotringer's wrote a piece about I Love Dick for New York magazine, "Dick" identified himself as Dick Hebdige for comment. He took issue with Kraus's portrayal of him, telling the outlet that the project was "beneath contempt."
Just as in Kraus's retelling, Hebdige is a famous media theorist and sociologist. He has published extensively on topics such as popular culture, contemporary art, music, and design, among others, and has written several books including Subculture: The Meaning of Style (1979), Cut 'n' mix: Culture, Identity and Caribbean Music (1987), and Hiding in the Light: On Images and Things (1988). He is also a professor at the University of California, Santa Barbara.
The show, however, shifts things slightly. In Soloway's take, Dick is an artist whose phallic, stone and steel-beamed sculptures have stirred the adoration of many in the small, desert town of Marfa, Texas. There, he runs a prestigious artist workshop that boasts a years-long waiting list. Sylvére, a Holocaust historian, has been invited to attend. Chris accompanies him and develops an instant attraction toward Dick, which fast catapults into a psycho-sexual obsession that reignites the passion in her long-dormant marriage. But as the first season presses on, it becomes clear that it isn't Dick who is important, but how his presence affects Chris's understanding of her own desire.
Ultimately, it's not who Dick is that matters, but what he represents.