Drake Wants To Dive Back Into Acting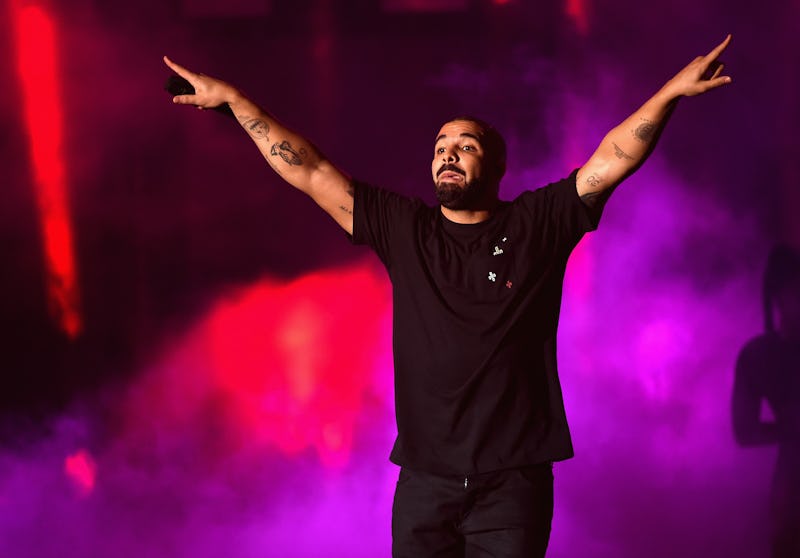 Kevin Winter/Getty Images Entertainment/Getty Images
Since announcing his newest project, More Life, on an episode of OVO Sound Radio back in October, Drake has had us all on the edge of our seats scouring the web (and analyzing his cryptic Instagram posts) for details about its release. But is a new Drake album actually coming? The rapper has made clear on several occasions when discussing More Life that the project is not an album or mixtape, it's a playlist, and it's officially set to be released via Spotify, Apple Music, and Amazon this Saturday, March 18. During a guest appearance on John Calipari's podcast, Cal Cast, in January, Drake clarified that he created the playlist to hold his fans over and bridge the gap between now and the release of a new album. And before another album even happens, he'd like to take a second shot at acting.
"Acting is another thing that I just can't wait to really dive into," Drake told Calipari during the interview. "I think after I release More Life, which is this playlist that I'm working on, and finish this tour, I think I'm going to really start to position myself in the acting world and, hopefully, take some great roles."
Echoing his successful job at hosting the 2014 ESPY Awards, Drake then revealed that he's already in talks for another hosting gig at the first annual NBA Awards later this year. He said,
"I get to take the reigns on it which, again, the ESPYs let me do great things and I thank them a lot for that. Usually awards shows, sometimes, are a bit restricted, but they let me do a lot at the ESPYs, so we'll just expand on that. I love hosting, I love being in a room full of iconic, legendary people that I look up to, and having that pressure to make them laugh and enjoy their evening."
If you actually watched him at the 2014 ESPYs, this information shouldn't come as a shock, considering Drake dominated as the show's host. After leaving Degrassi, there haven't been too many occasions in which we've had the joy of watching him act, other than the few times he's appeared on Saturday Night Live. So it'd be nice to see him taking another crack at the small screen. And, if we're lucky, a Drake talk show may just be in our future.
He added that, at some point, he aspires to nab a gig as a late-night TV host. "Another person that I really look up to, and a certain point in time that I miss, is Johnny Carson and just the appeal of that sexy, late-night TV that's funny," he said. "I just want to put on Tom Ford every night, sit with a glass of wine, and laugh with people that I've spent years with in the business, or friends of mine, and give people something to watch every night that makes them feel good and laugh."
So, yeah, this needs to happen. And I call for the first guests of his show to be the original cast of Degrassi. A girl can dream, right?