Fergie Is TOTALLY Channeling 2003 Kelly Clarkson With Her New Chunky Highlights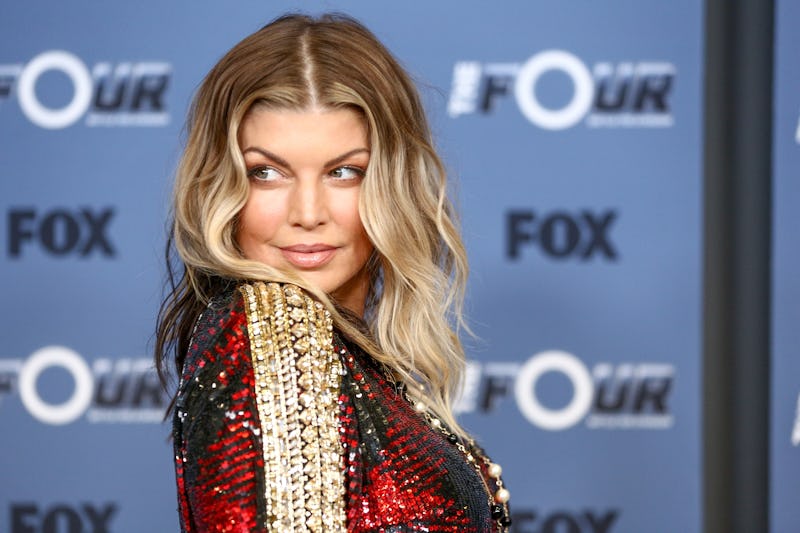 Rich Fury/Getty Images Entertainment/Getty Images
Summer is in full swing, which means so are the celebrity hair transformations. As PopSugar found, Fergie got bright orange highlights in her hair. It's like it's the early '00s all over again.
There's no better time to add a little bit of color than in the middle of summer, and Fergie knows it. Instead of dying her whole hair a new color, like other celebrities, the singer decided to get color highlights instead. She debuted the new hair color at the Feinstein Summer Concert.
The pre-event photo that she posted on Instagram will give you flashback from the early 2000s. The look is very similar to the one you saw on Kelly Clarkson circa 2003.
According to her caption, Fergie used the SoColor Cut hair dye collection from Matrix to get the super bright shade. Although she didn't say exactly what color she used, Orange Alert is the bright orange shade named on the brand's website.
"W my @Matrix fam adding some color to the Feinstein Summer Concert....," Fergie's Instagram caption reads. "Hair by @georgepapanikolas & @nickstenson & the winners of the #FERGIExMATRIX contest @elimancha1 & @yourfavoritehairstylist."
All of that social media speak is basically saying that she got her hair done by Matrix. She even picked some winners to get their hair done by the brand as well, but she didn't show what colors they picked.
Unfortunately, you can't just go to the store and get this color. You have to go to a salon that carries the color to get the bold locks for yourself. On the plus side, that means that you can sit back, relax, and treat yourself to a salon visit. Not to mention that you'll get the exact color that you want, since the professionals are handling it.
If you want to get Fergie's color, there's a simple way to figure out where there is a salon that uses the color. According to the website, you can put in your zip code and it will tell you which salons near you carry the exact product that you're looking at. The website even gives you directions and the phone number so you can easily book your trip.
That also means that this color is permanent. You can get this done once, and it will last all summer long. There's no word on whether or not Fergie will keep her color throughout the entire season. Here's what she she looked like before, just to give you a look at how drastic the pop of color is.
If orange isn't for you, there are tons of other colors to choose from in Matrix's SoColor Cut Collection. There's Red Hot, Flamenco Fuschia, Lucky Duck Yellow, Clover Green, Mermaid Teal, Retro Blue, Admiral Navy, Royal Purple, and Blooming Orchid. The colors are exactly as bright as they sound, too.
Oh, and you can stock up on pastels as well. The pastel shades include Sparkling Rosé, Bubblegum Pink, Lavender Macaron, Stonewashed Denim, and Sweet Mint. Basically, there's a color for every single season and personality out there. If all that isn't enough color for your life, you can have neon, dusty, or gray hued locks as well.
Fergie makes a very good case for going bold. The orange looks great as a little peekaboo of color underneath her natural hair color. Not to mention she rocked it on stage.
There is no better time to go bold with your hair color than with all of these incredible possibilities. All great trends come back again, and Fergie's 2003-inspired highlights are definitely proof of that. What a time to be alive.