What Dakota Johnson & Jamie Dornan Really Think About 'Fifty Shades' Ending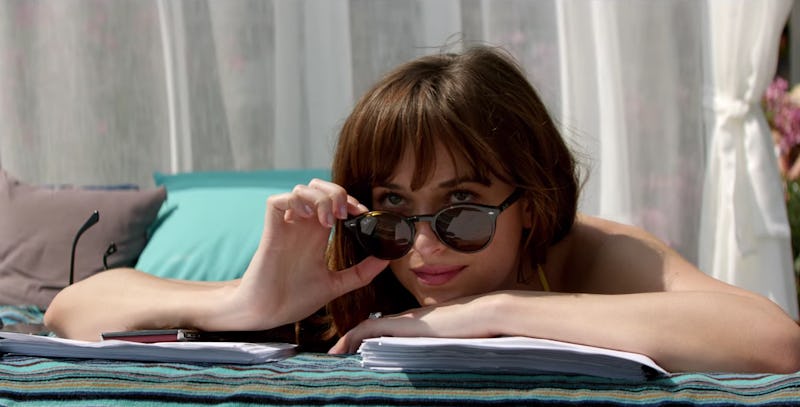 Universal Pictures
Christian Grey and Anastasia Steel have really been through a lot — sex contracts, crazy exes, etc — as E.L. James' erotic thriller series, Fifty Shades, has been brought to life on the big screen. Fifty Shades Freed, the third installment in the franchise, marks the end of Ana and Christian's journey in James' original trilogy, but is Fifty Shades Freed the last movie? Stars Jamie Dornan and Dakota Johnson have both insisted that this film (also produced by James) will be their last in the Fifty Shades universe, but that doesn't necessarily mean we've seen the last shade of grey.
Fans hoping they'd get another chance at seeing Christian Grey finally take off his jeans during sex in a future Fifty Shades movie are about to be very disappointed. Despite calling the end of Fifty Shades a "bittersweet" experience in an interview with Heat magazine, via RTE, Dornan seems perfectly happy to leave the series, and the explicit sex scenes it required, behind him. "I'm getting too old for this," Dornan said in a recent interview with ITV's Lorraine, confirming that this is the end of the road for his on screen Christian. Dornan added that Fifty Shades Freed was the final book in the trilogy, and though James has since published two other Fifty Shades books, she hasn't exactly added to the story. "I mean there's no other books. [E.L. James] wrote the first two books again from Christian's perspective, but I guess we've already... done those films, the same story, so they won't do that again," he said.
During a separate press appearance, Johnson also confirmed that Fifty Shades Freed would be the last Fifty Shades film for her. "It is the final film, yeah," she told The Tonight Show with Jimmy Fallon. "It's the last film ever made of all the films." (OK, that one was a joke, but it might as well be true for die hard fans.)
Assuming this truly is the end for Dornan and Johnson, meaning it could be the final time fans see Ana and Christian brought to life (at least in this iteration), it certainly sounds like the end of the Fifty Shades franchise is upon us. However, Christian isn't the only Grey in town with many shades, and there's one Grey in particular who might be up for the challenge of carrying on the franchise: Mia Grey. Played by Rita Ora in the franchise, Mia, one of Christian's adoptive siblings, has had a supporting role in the first two films, but now she's ready for the spotlight.
In Fifty Shades Freed, Mia takes on a bit of a bigger role (spoiler alert: she is abducted by one of Christian Grey's enemies), sparking rumors of a potential Mia Grey spin-off. "There could be a sequel because I get kidnapped and there's a whole thing that happens," she said in an interview with Kiss FM, via Daily Mail. In a subsequent interview, Ora clarified that there were no plays for a Mia spin-off, but she didn't rule out the possibility. "I would love to be another spin-off because I don't want it to end. You never know, she told This Morning, via Daily Mail.
The odds of a Mia Grey spinoff continuing the legacy of Fify Shades don't look too good. Unless, that is, James takes it upon herself to write a Mia Grey spin-off book series first. Until that happens, fans can get a glimpse of what a Mia-centric Fifty Shades movie would look like in Ora's new music video "For You." Featuring Liam Payne, "For You" is Ora's contribution to the Fifty Shades Freed soundtrack, and features exactly what one might expect from Fifty Shades: lavish floral arrangements, gorgeous dresses, and extravagant homes. If this is what a Mia Grey movie looks like, then someone in Hollywood needs to give it the green light.