Fitz's Return To 'Scandal' Could Have Huge Implications For B613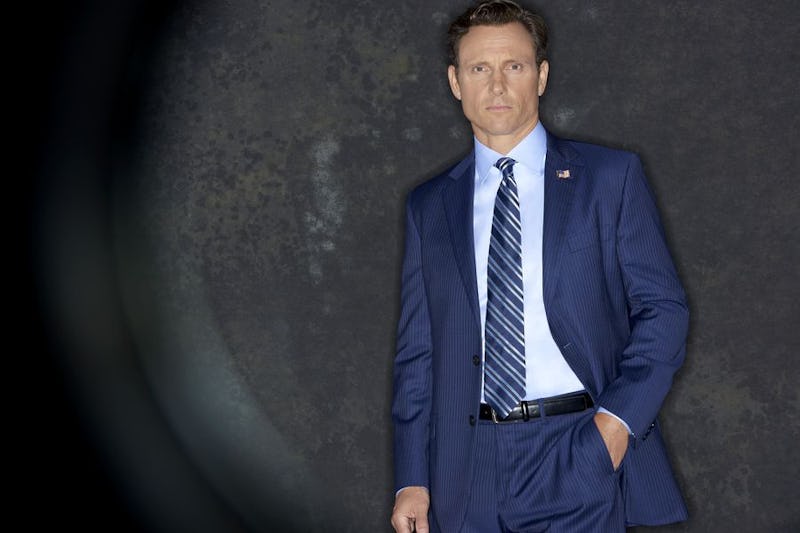 Bob D'Amico/ABC
During his term as Scandal's president, Fitz Grant was a huge part of almost all of the show's storyline. And even though he was missing from last week's season premiere, as of the Oct. 12 episode, he's officially back. His reappearance in Washington begs the question, is Fitz in B613 in Scandal Season 7? So far, the show hasn't revealed the circumstances behind his return, but there's always the chance he's involved in the shady organization.
The last we saw of him was the Season 6 finale, where he left his post as POTUS in favor of the quiet life in Vermont that he'd always dreamed of, running his foundation. And even though the role of Command was offered to him, he turned it down, and Olivia ended up landing the gig. But that doesn't mean that Fitz isn't involved in some way, and according to the promo for next week, it seems like his return to the White House could be explosive — especially since Fitz himself is this week's cliffhanger.
In the moment he arrived, it's probably the last thing fans expected. Olivia is talking with Curtis after Mellie's first White House gala as president, and then boom: Fitz walks in and says hi. Wait, what? Aren't you supposed to be in the woods somewhere, avoiding the White House completely?
Unfortunately, that's where the episode ends, so we don't get any kind of explanation about why he was back... or get to see very much of Olivia's reaction to seeing him again for the first time since he left office. Yes, his entrance was really simple, but this is Fitz we're talking about, and next week's episode promises to be all about him. After all, the entire promo is framed around the question "Where has Fitz been?" If you thought the answer to that was "Vermont, duh," clearly, it goes much deeper than that.
Because apparently, wherever Fitz was, he was punching people. And in one clip, he's coming home to find Rowan Pope (Or is it Eli? What are we calling him these days?) in his house, sitting on the ground and holding a gun... and Fitz looks pretty surprised about it. Usually, seeing Rowan means that B613 isn't far behind. Maybe Rowan recruited Fitz to join? Or maybe he just wasn't willing to take no for an answer after Fitz turned him down the first time.
Of course, there are other reasons he might be returning to Washington, D.C., so there's no guarantee he's actually working with Rowan or B613. Would it be that far outside the realm of possibility that he came back to fight for Olivia again? It's a tired story, yes, but it's definitely in character for Fitz, especially after the way they left things last season. Is he trying to get involved with Mellie's presidency? Hopefully not, because she deserves the opportunity to shine on her own, just like he did.
But if he is working with B613, there's a good chance we're going to see a lot more of Fitz this season... and for the first time, he'll be working under Olivia. That's going to be a shift in the power dynamic compared to what we've seen all these seasons; despite how much high ground Olivia has held in the past, Fitz has always had the upper presidential hand. What will happen if she's finally the one who holds power over him?
It will be interesting to see how this all plays out in the coming episodes, especially if he and Olivia clash now that she's Command. Is it next Thursday yet? The world needs the kind of answers only Shonda Rhimes can provide.