Fans Have No Chill About Grocery Joe's Romance On 'Bachelor In Paradise'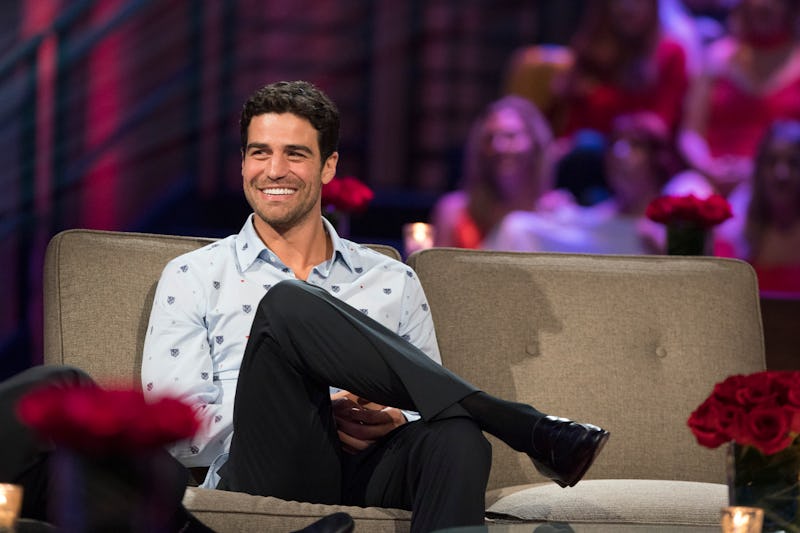 Paul Hebert/ABC
This season of The Bachelorette was swarming with men who had interesting careers and lifestyles. Jordan was the model who insisted upon strutting his stuff around the mansion. Colton and Clay played professional football in the NFL. Leo was the stuntman with the good hair. John invented freakin' Venmo, for Pete's sake! But one suitor's job was more wholesome and charming than all the others. I'm talking, of course, about Joe, the grocery store owner. He captured hearts across the country before his premature swan song, and single people everywhere these days have one question: is Grocery Store Joe single after The Bachelorette?
The suspense will remain, because, heartbreakingly, we just don't know at this point. Why any woman would pass up the possibility of dating a grocery store owner is beyond me — groceries are expensive! And also, he's cute and seems nice! Which is probably why he was cast as one of the contestants on the new season of Bachelor in Paradise, so there's always hope he could sweep someone from Bachelor Nation off their feet.
From the looks of it, it could be Kendall, which would be glorious. You might remember Kendall from Arie's season of The Bachelor, and she's also made appearances on Becca's season as one of the pals she's remained close with. In a new promo for Bachelor In Paradise, Kendall is singing Joe's praises, and they even share a kiss.
Joe and Kendall would be the most wholesome, attractive, adventurous duo that any taxidermy enthusiast and grocery aficionado could ever be. I am extremely here for it, and it seems I am not alone.
Fans Are Into This Pairing
Kendall was always a breath of fresh air on Arie's season, adorably quirky and interesting, but with an equally refreshing maturity and lack of drama. Viewers still don't know Joe all that well yet, no matter how much they've latched onto him on social media, but his first impression is that of a laid-back guy, so he and Kendall hitting it off always seemed in the cards.
Joe kind of became a meme after he was voted off, especially as Becca ran into some drama with the other guys she'd kept in favor of him. Something about that smile made him everyone's favorite guy to miss. "He's so handsome! I can't believe Becca sent him home so early," ririxo21 wrote on Reddit. Throughout the remainder of her season, he's come up everywhere on social media as people continue to mourn his short-lived time on the show.
He Has Quite The Fan Base
Joe told Entertainment Tonight that he wasn't expecting the attention at all, but he's certainly not complaining. "It was kind of shocking!" he said. "I didn't expect it all. I never really had social media, even, so it's all pretty crazy! But it feels good. It's nice! It's a confidence booster." The interview was way back in May, so before he was on Paradise, and he was single at the time.
He'll be on Becca's upcoming Men Tell All episode, though, according to the photos, so perhaps he'll offer some hints on what happened during his second stint of reality TV. Until we have all the information, I will patiently await his and Kendall's televised wedding.