Becca's 'Men Tell All' Special Got Intense According To These Pics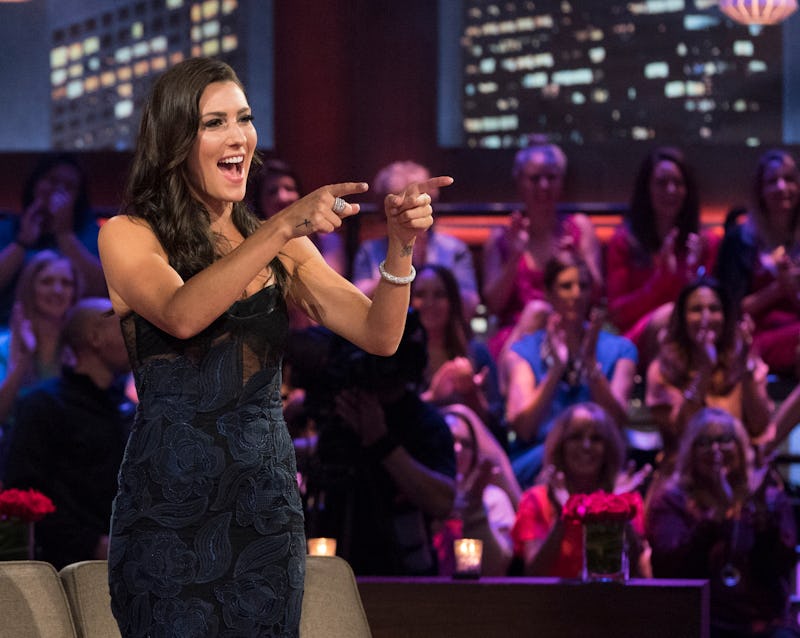 ABC/Paul Hebert
The Bachelorette may be down to its final two suitors, both of them claiming to be wildly in love with Becca, but there's still plenty to speculate upon involving the guys who have been sent home already. Especially now that ABC has released the photos from Becca's Men Tell All episode, there's a lot of material to dissect before the special actually airs on Monday at 8 p.m.
There's always drama at the reunion special of any reality show — it's almost like a rite of passage for each season's cast to get everything out in the open. But this season's Men Tell All has the potential to get even stickier than usual, especially with some of the unusual conflict that's gone on both on camera and off.
Jordan and David had a rivalry as bitter as black coffee all season long, and even turned their two-on-one date with Becca into a bit of a disaster when they couldn't stop bickering. Colton also fought with Jordan, and was pulled into a ton of drama due to his past (and maybe future?) relationship with Tia. Connor smashed Lincoln's photo in the pool, and speaking of Lincoln, he won't even be at the Men Tell All due to his previously unknown assault charges! Even if not all of them were directly involved, there's endless drama for the guys to discuss, and the photos look like some deep cuts are coming down the road.
Jason Relives Some Heartbreak
Jason was the most recent suitor sent home, and it was a rough one to watch. Poor Becca was blindsided by a sudden certainty that he just wasn't her future husband, and she sent him home before the rose ceremony even happened, probably gunning for a clean break. Jason was obviously head over heels for her, and it looks like he may get emotional as he relives it.
Jordan Shows Off His Clothes
Jordan's passion for modeling is not new, so of course it was going to be on display on Men Tell All. But what exactly is happening here? Is Jordan showing off the outfit he spent nine hours perfecting? Are they pulling a Zoolander-esque stunt to see who has the best model walk? And I know Jordan has something to say about those cropped pants.
...And Delivers An Impassioned Speech
Jordan has no problem defending himself — he's made that perfectly clear. And he's kind of an expert at whipping out one-liners and riling up the other guys, so it'll be interesting to see what exactly he's talking about here.
Jordan And David Fight, Because Of Course
Darling Leo is caught in the crossfire of David and Jordan's apparently enduring feud, and he doesn't look all that happy about it. Who knows why these guys are still at odds, but judging from past confrontations, Jordan will make a chicken joke, and David will talk about nothing but Jordan the entirety of the special.
Jean Blanc Still Loves Cologne Even If He Doesn't Love Becca
Jean Blanc was a chill dude for a lot of the season, just kind of lingering in the background and talking about cologne a lot. But then he pulled a move that will live in infamy — telling Becca he loved her and then rescinding the idea when she said things were moving too fast. Yikes. From the looks of this photo, though, he has an apology gift to offer.
Wills Is Still As Dreamy As Ever
Honestly, I'd tune in to watch two hours of only Wills talking. He seems perfectly at ease and cool as a cucumber, as usual, returning to the Bachelorette scene with his former co-stars. And the suit! The smile! Swoon. Maybe he'll even divulge some info on his time on Bachelor in Paradise.
Grocery Joe Is Back
Joe the grocery store owner was sent home way too soon — there apparently just wasn't a spark between him and Becca — but he essentially became a meme on social media. Fans adored his wholesome occupation and his charming, boyish personality, and hopefully he'll have a response for all the viewers out there who would probably leave their lives behind for him.
This two hour special opens the door for a lot of conversations between the guys and Becca, and also could answer burning questions for the franchise's fans. It also has the potential to get a little awkward — will anyone mention the elephants in the room, like Lincoln's convictions, or perhaps even Garrett's sketchy social media past? Only time will tell, but you better have your popcorn ready — this could get interesting.