Gwyneth Paltrow's Engagement Party Was So Fancy That It Seemed Like A Wedding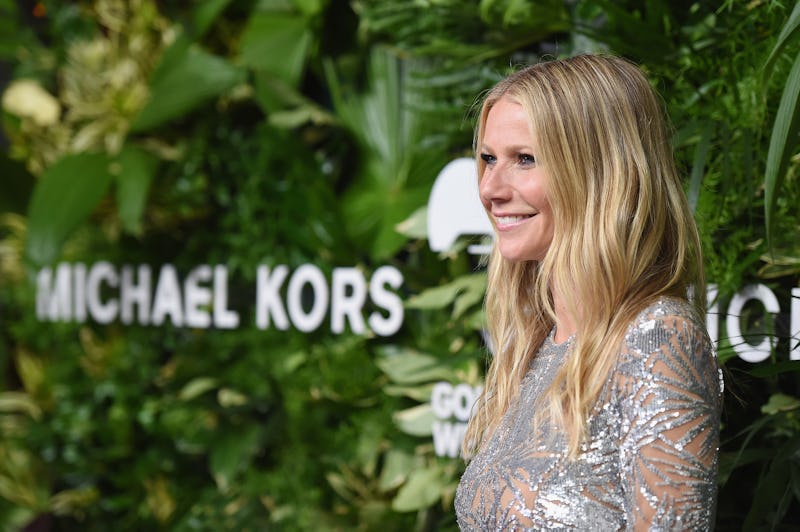 Jamie McCarthy/Getty Images Entertainment/Getty Images
On April 14, Hollywood's finest got dressed to the nines for a very special occasion. Based on a photo from the shin-dig with a curiously sentimental caption, it kind of seems like Gwyneth Paltrow got married and that the star-studded bash was actually a wedding in disguise. As it turns out, though, Paltrow threw a party to celebrate her engagement — but the wedding may happen soon.
In a photo posted on April 16, Paltrow — dressed in a Merlot-colored, floor-length gown — is straight-up beaming as she looks at her fiancé, producer Brad Falchuk. Falchuk donned a tuxedo for the occasion, and appears pretty darn elated himself.
"Thank you @mrrpmurphy for the most incredible evening to celebrate our [love]," Paltrow captioned the snap. After shouting out her glam-squad and the designer of her gorgeous gown (Giambattista Valli), Paltrow continued, "Thank you to all of our amazing true and dear friends who came to support us. We feel like the luckiest people on the planet because we have all of you in our lives. And most of all thank you @bradfalchuk for the true happiness."
Based on that lovey-dovey caption, the black-tie attire, and the miles-long guest list, it wouldn't be absurd to assume that Paltrow and Falchuk already got hitched. But, thanks to some additional pictures taken by Paltrow's friends, it quickly becomes apparent that the wedding hasn't happened. They sure did throw one incredibly fancy engagement party, though.
"These two beauties inside and out get engaged tomorrow!!!" Valentino's Giancarlo Giammetti captioned a photo of the couple before their big party. "All my best wishes my dear @gwynethpaltrow and @bradfalchuk love you and miss not to be there with you!!!"
Technically, the couple had already gotten engaged — according to E!, the official announcement was made via Goop's Sex and Love issue on January 9 — but Giammetti's sentiments made the purpose of their party pretty clear.
Chelsea Handler posted a photo pre-party, as well, and wrote that she was "[headed] to celebrate my friend's engagement." Cookbook author Jessica Seinfeld, whose husband is Jerry Seinfeld, shared a snap en-route to the soiree, and wrote, "Celebrating the engagement of @gwynethpaltrow and @bradfalchuk, in a room full of love, is a perfect reason to wear purple sequins." True that.
Other attendees at Paltrow and Falchuk's engagement party included every A-list celebrity on the face of the planet. OK, not really — but there were a lot of A-list celebrities there. The paparazzi took photos as guests filed in, and, at first glance, one might think that they were looking at red carpet arrivals for the Oscars.
Jennifer Aniston — wearing a strapless black dress with matching wrist-brace — dropped in, as did Kate Hudson, Demi Moore, Cameron Diaz, Liv Tyler, Reese Witherspoon, Julia Roberts, Karlie Kloss, and legendary director Steven Spielberg. They could have literally filmed the next big blockbuster at that engagement party — which, by the way, was thrown for the happy couple by another big name: producer Ryan Murphy, according to Paltrow's Instagram.
Paltrow and Falchuk's wedding will reportedly take place this summer in the Hamptons, Page Six revealed, and Paltrow will probably be pulling out all the stops for that celebration, as well. She and her first husband, Coldplay's Chris Martin, eloped in 2003, and after getting engaged to Falchuk, Paltrow told People, "I'm excited about everything! I've never had a wedding before. So even though I'm 45, I sort of feel like a 21-year-old."
Most 21-year-olds don't have an Oscar and an Oscar-worthy guest list of friends, but Falchuk clearly makes Paltrow feel young again. No matter how or where they decide to get hitched, it'll undoubtedly be a love-filled occasion.