This Harry Styles Story Is So Wild, It Inspired A Whole TV Show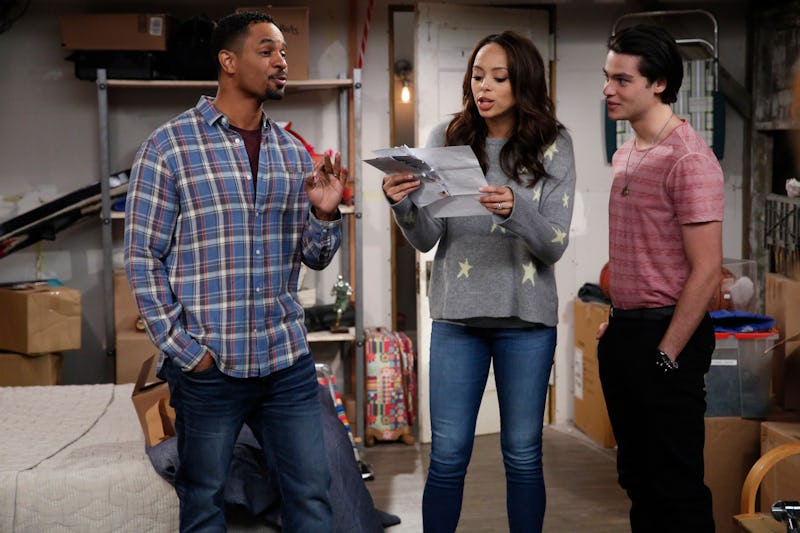 Cliff Lipson/CBS
CBS' Happy Together follows what happens when a famous musician moves in with a suburban married couple. According to the trailer, that means a lot of hilarious, world-colliding hijinks, but you might be surprised to know that Happy Together is based on a true story. And not only that, but one ripped from the life of a huge star: Harry Styles.
To be clear, CBS told Teen Vogue in a statement that "the show is not based on real life experiences and characters." But beyond the fact that Styles himself is an executive producer for the series, there's no denying that it bears similarities to his life — namely, the time he moved into producer Ben Winston's attic and ended up staying for over a year. (Winston is also an executive producer for Happy Together).
Winston first revealed the backstory in an April 2017 interview with Rolling Stone, saying that he and Styles had met amid 1D's early success and become close. Needing a place to crash while he waited for some work to be completed on his house, Styles initially planned to stay with Winston for just two weeks, but ended up sticking around for 18 months. As Winston said at the TCA summer press tour, per E!:
"The truth of it is Harry became a huge part of our family. We never wanted him to move out ... he would prefer to live in this sort of modern suburban family unit rather than living on his own in a mansion. And I think everybody can relate to that, regardless of how famous you are."
He went on to explain that the Rolling Stone interview was actually what sparked the idea for the show. "[Harry] spoke about that time, how living with a very normal, slightly boring family, which was me and my wife, helped him while he was living quite an abnormal life," Winston said, also according to E! "It gave Harry and I, and with our EPs Jonathan Berry and Michael Rotenberg, the idea that actually this could be quite a fun sitcom and quite a cool TV show."
In Happy Together, fictional musician Cooper James moves in with his accountant, Jake, and Jake's wife Claire in order to avoid the paparazzi after a public breakup. Based on the trailer, it seems that Cooper will help Jake and Claire learn to let go and have more fun, while Jake and Claire will help Cooper learn to have a normal life. But expect the jokes on the series to differ vastly from what happened in real life.
"Unfortunately, our lives really were very boring. He would come in. He'd go to sleep. We would do a few chores, and there wouldn't be anything very funny about it," Winston said, per E! "So when we say [the show] is 'loosely inspired by,' that's because if we actually put what happened on the television, it wouldn't be that exciting."
But, according to what Winston told Rolling Stone, there is one real story that could easily make its way onscreen. "We had this joke. Meri [Winston's wife] and I would like to see the girls that [Styles] would come back with to the house," Winston said. "That was always what we enjoyed, because we'd be in bed like an old couple. We'd have our spot cream on our faces and we'd be in our pajamas and the door would go off. The stairwell was right outside our door, so we'd wait to see if Harry was coming home alone or with people." But Styles told the magazine that he was just coming home alone. "I was scared of Meri," he joked.
Happy Together will be about more than what happens when a celebrity shows up on your doorstep, though. "Yes of course it's about a pop star living in the attic but actually that wouldn't sustain [the show]," Winston said, according to Variety. "It's a premise that we've made into a beautiful show that's about what's it like to be in a happy marriage. It's about marrying your best friend and it's about connection and how you grow a little bit older together."
A show about love and pop stars and sort-of-but-not-really Harry Styles should definitely appeal to the hordes of fans aching for more 1D content post-hiatus. Check out the pilot when it airs Oct. 1 on CBS at 8:30 p.m. ET.