Even A Few Of Prince Harry's Ex-GF's Made The Royal Wedding Guest List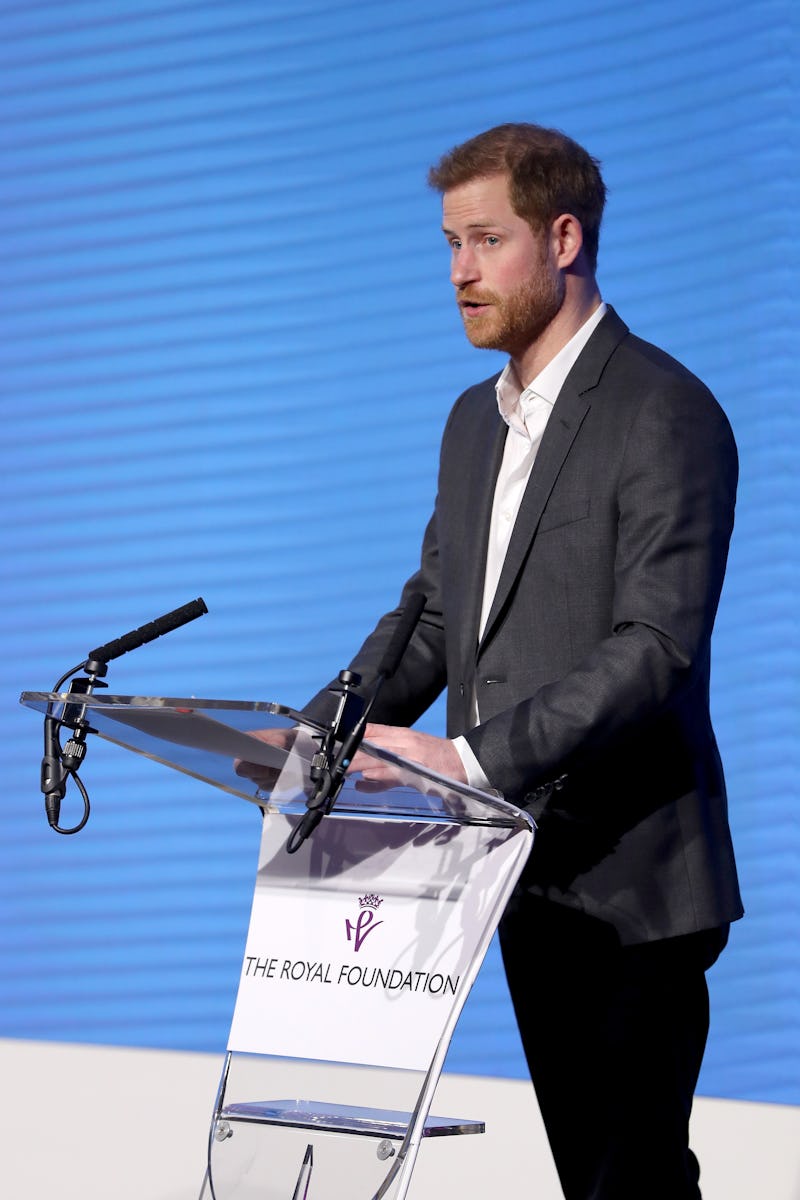 Chris Jackson/Getty Images Entertainment/Getty Images
The big moment is around the corner. Prince Harry and Meghan Markle are finally getting married on Saturday, May 19. While the soon-to-be newlyweds' guest list includes everyone from family to famous friends, there are a few unexpected names. Is Prince Harry friends with his exes? Well, at least two of them were spotted arriving at the royal ceremony early on Saturday: Chelsy Davy and Cressida Bonas.
As you may recall, Davy and Prince Harry dated on and off for six years, according to The Sun. The U.K. publication also referred to her as his "first love" after they met in 2004, and some believed they'd end up getting married. Despite their eventual split, she told The Times (per the Washington Post), "I think we will always be good friends."
Meanwhile, Bonas and Harry dated from 2012 to 2014, according to Metro. Metro also reported that singer Ellie Goulding, another ex of Harry's, will attend the ceremony at St. George's Chapel.
While it may sound strange to attend your ex's wedding to someone else, it just goes to show the good terms Harry and his former girlfriends all on, and that's never a bad thing. Plus, it's not unprecedented — even his brother, Prince William, had ex-girlfriends attend his wedding back in 2011, according to The Daily Mail. Again, it speaks to the positive connections they formed and maintained, even after breaking up.
Still, even if it's not a royal first, fans were rather amused nevertheless. People joked that Markle is a much better sport about it than they would be in that situation. Others applauded the maturity all around. And of course, Twitter broke out that Friends meme of all the ladies sitting in wedding dresses on the couch. Basically, all those reactions felt on-point.
Besides that, there were some online responses that felt a little more harsh. Plenty of people made jokes about Davy looking less-than-thrilled to be attending (or that she wanted to break up the ceremony), but more likely than not, the snapshots likely just happened to be taken at moments where she appeared more serious.
Sure, the situation is guaranteed to be a little awkward (or at least, probably), but she seems to still be holding her head high. Honestly, even attending in the first place is a respectable move.
Being turned into a Twitter meme isn't the first time Davy was brought into the royal wedding spotlight somewhat unfairly. Ahead of the ceremony, reports spread that she felt "snubbed" by not being invited to the exclusive reception. According to Vanity Fair, a source claimed, "She wants to look her very best and has been given a plus-one, but she has said she has not been invited to the evening party." It's currently unclear whether this part is definitely true, but regardless, she has showed up at the ceremony. The fact that Harry invited her to that speaks for itself — no matter what others may assume about their friendship.
As for Bonas, she seemed to escape the harsher Twitter commentary. However, back when the engagement was first announced, some Instagram commenters called her "bitter," because she posted what was deemed a "cryptic" photo soon after Harry proposed to someone else, the IB Times reported in November. The illustrated post read, "No matter how educated, talented, rich or cool you are, how you treat people ultimately tells it all." It could've just been a timing coincidence, though — especially when you consider she's on good enough terms with Harry to attend the royal wedding.
At the end of the day, only Harry and the women know how things ended, or how close their friendships have stayed. But in the very least, it's sweet to see them all coming together to celebrate an unforgettable day for Harry and Meghan.