'Fuller House' Just Did Its Own Version Of The Classic Disney World Episode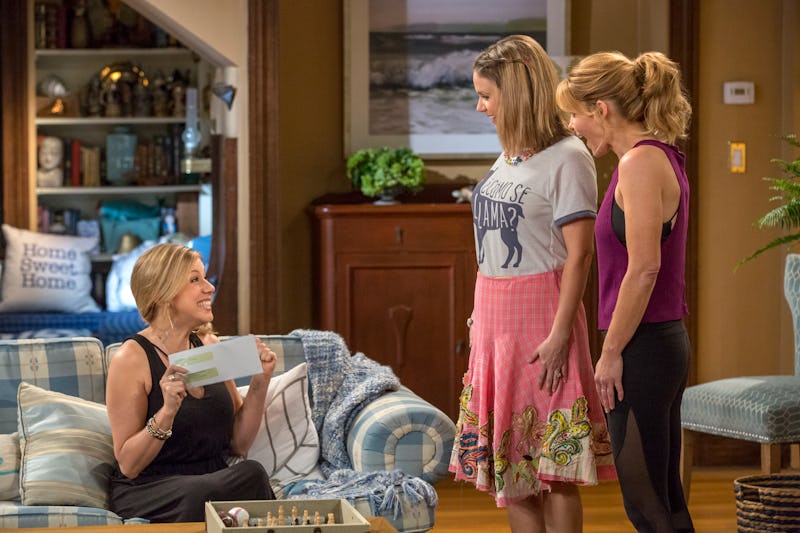 Mike Yarish/Netflix
For many '90s kids, the Full House trip to Disney World gave you all of the Magic Kingdom FOMO (before that was even a thing) and family trip envy. The new episodes of the sitcom on Netflix have done it again, this time on another continent and with a different theme park. Is Hello Kitty Land on Fuller House real? The sitcom is carrying on a fun tradition of filming on location vacations.
There is in fact a Sanrio Puroland, also known as Hello Kitty Land, in Tokyo. There are parades, shows, a boat ride, giant gift shop, and tons of attractions just like you see in the Fuller House episode. The episode was most likely filmed at the actual Puroland. This is one of two Hello Kitty theme parks in Japan, along with Sanrio Harmonyland in Ōita. So, if the pink on pink on pink tourist trap caught your eye and you happen to be planning a trip to Japan, you can certainly add it to the list.
In the episode, while everyone else is preparing for Steve and C.J.'s wedding and/or taking in the sights, Max ends up going to Hello Kitty Land with Rose, who for whatever reason did not need to get ready for her own mother's big day. Max didn't want to go at first, but felt obligated to because of his puppy love relationship with Rose. He isn't exactly won over by the girly theme park, but he's "rewarded" with a kiss for suffering through it. It's only a slightly problematic lesson about doing gendered things you don't enjoy for demanding partners. At least Fernando has a great time.
Rose, on the other hand, seems overwhelmed by the experience, and can't seem to use word other than "cute" and "adorable" to describe her surroundings at first. Since only their subplot takes place in the park, unlike the Disney episode of days gone by, we don't get to see too much of Hello Kitty Land — just the highlights.
Still, it's actually a good choice to take the kids there rather than Tokyo Disney because that would be like repeating the past. Fuller House is nostalgic to the point of frequent self-parody, and it's nice to see the show take on something new from time to time. Also, like, kudos to Rose for pointing out that Hello Kitty is not a cat, but a human girl dressed up as a feline — or the personification of a kitten. That bombshell still has some people shook, and the Fuller House writers clearly have not forgotten.
As far as destination episodes go, this Fuller House outing in Tokyo is pretty great. It's unlike anything that Full House fans have seen before. There was a wonderful reference to Uncle Jesse's brief Japanese music fame (that lowkey implied he had an affair while shooting a commercial, but OK) and some other wacky hijinks that made use of the new environment.
"Not to sound like a diva or anything," says Andrea Barber in an interview with Bustle, but, "We went to Japan to shoot and the fans were so loving. We felt like the Beatles. I mean, they screamed when we got off the airplane. They were crying, and had gifts for us, and they were respectful but so emotional about seeing us. It was really neat to meet fans that aren't American. It really drove home just how widespread the show's popularity is."
Where should the Fuller/Tanner/Gibbler gang go next? There are a lot of good theme parks in the world, and next time the whole family should be involved. The Fuller House outing to Hello Kitty Land in Tokyo is only a taste of the fun this show can have out in the real world.
Additional reporting by Martha Sorren.