Ivanka Trump Shares Cheerful Instagram On Jared Kushner's Big Testimony Day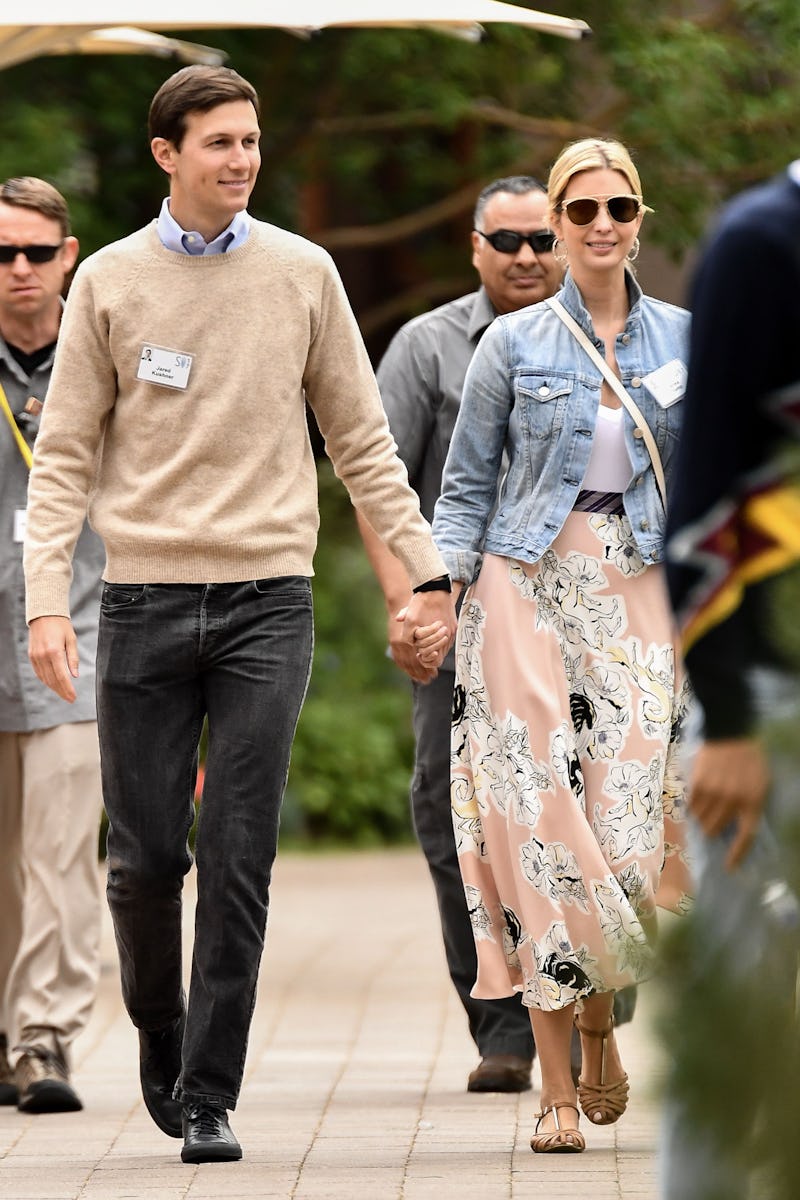 Rob Latour/REX/Shutterstock
On Monday, just hours before her husband Jared Kushner would testify in a Senate intelligence committee hearing, Ivanka Trump posted a nonchalant picture of her children on Instagram: "Good way to start the day!"
The picture features Ivanka's youngest son Theodore in a high chair and her daughter Arabella wearing a prim straw hat. However, it came at a seemingly tense time for the Kushner-Trump family; the ever-expanding probe into Donald Trump's presidential campaign's alleged Russian ties has so far threatened to pull Kushner away from his day-to-day business as a White House adviser who wears many hats.
After the Senate hearing, Kushner spoke to the press in front of the White House.
All of my actions were proper and occurred in the normal course of events of a very unique campaign. I did not collude with Russians, nor do I know of anyone in the campaign who did.
Based on Kushner's prepared remarks, published by the media early on Monday, the presidential adviser's testimony at the Senate hearing was primarily concerned with giving his account of the now-controversial 2016 meeting between the Trump camp and a Kremlin-linked lawyer.
I did not collude, nor know of anyone else in the campaign who colluded, with any foreign government. I had no improper contacts. I have not relied on Russian funds to finance my business activities in the private sector. I have tried to be fully transparent ... above and beyond what is required.
In his prepared statement, Kushner said that while he was in attendance at the June 2016 meeting — he arrived late and left early — the Hillary Clinton campaign was not discussed, though according to emails released by the president's son, it was clear that the Trump camp expected dirt on Clinton.
When I got there, the person who has since been identified as a Russian attorney was talking about the issue of a ban on U.S. adoptions of Russian children. I had no idea why that topic was being raised and quickly determined that my time was not well-spent at this meeting.
Ivanka's Monday morning Instagram post follows a similarly unfazed one posted over the weekend. "Summer daze!" she posted on Instagram and Twitter, featuring a picture of her youngest son.
It seems unlikely that Ivanka was at Kushner's two-hour hearing in front of the Senate Intelligence Committee, given that it was a closed-door affair. He is slated to speak privately with members from the House of Representatives on Tuesday.