If You're Hoping For New Janet Jackson Music, These Details Will Make The Wait Easier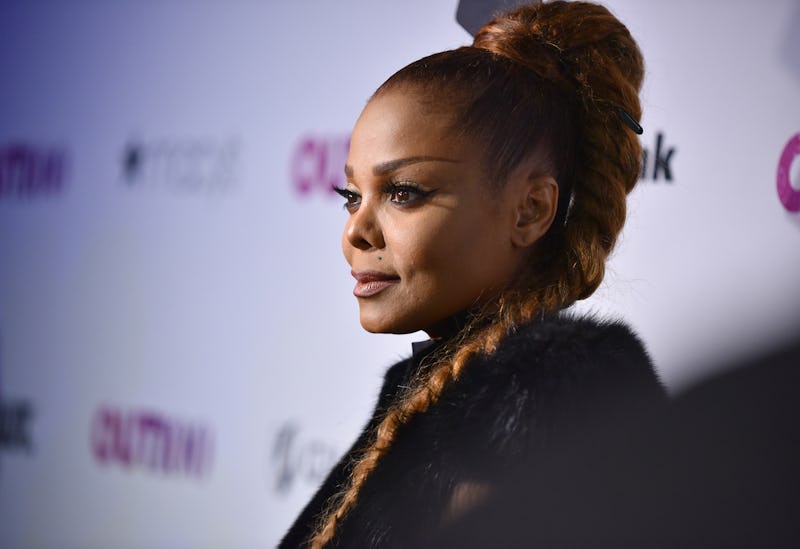 Bryan Bedder/Getty Images Entertainment/Getty Images
After auditioning dancers for some unknown projects, and extending her recent State of the World Tour through August, many fans have been wondering if Janet Jackson is releasing new music in 2018. Well, according to a brand new interview with Billboard, Jackson has definitely gotten back into her creative groove, and new songs are on the way.
On May 17, Billboard writer David Ritz just happened to mention that he'd spoken to Jackson while she was in the midst of a "hectic sprint to rehearse for [upcoming performances] while recording new songs for an as-yet-unannounced release." Excuse me, what? Up until now, there'd only been rumblings, so this casual confirmation is pretty big news.
Ritz went on to ask Jackson for more details about her new tracks, but the R&B icon apparently politely refused. "I'm not trying to avoid the question and be secretive, but the truth is that I don't try to analyze the creative process while it's still ongoing," Jackson said. "I'm very intuitive about writing." She continued,
"Anything can inspire me. This morning, I saw this lovely elderly Japanese woman walking down the streets of Hollywood wearing an adorable bonnet with bright red flowers. She might be a song. I remembered an especially painful chapter in my early life last night before going to bed. That might be a song. I woke up this morning and heard a bird chirping in a rhythm that captivated my heart. Maybe that will turn into a new groove."
While the interview makes it clear that the 52-year-old singer has been working on some new material, Jackson doesn't seem to be in much of a rush to get an album out the door. "I can't decide in advance what a song or an album concept will be," she said. "I have to let those songs and concepts come to me rather than chase them down."
Jackson released her last album Unbreakable in October 2015, and immediately embarked upon an eponymous world tour. Less than a month after the tour began, though, she was forced to postpone a few dates in order to rest her vocal chords, Rolling Stone reported. Jackson then postponed the remaining North American leg of her tour due to surgery in December 2015, delayed the European dates shortly thereafter, and ended up rescheduling the tour in its entirety for 2017.
Jackson announced her State of the World Tour — which was a rebranding of 2015's ill-fated Unbreakable tour — in May 2017. According to her website, the shows' sets would include songs from Unbreakable, career-spanning hits, and "soon-to-be released new tracks with a state of the art live production."
The tour kicked off in September 2017, but, as of its conclusion in December, there'd been no reports that she'd performed any new material. Then, on April 12, Jackson told fans via a video on Twitter that she was "looking for dancers to dance with me on some really cool upcoming projects."
Fans didn't get any more details about her "upcoming projects" for a few more weeks, but on April 23, Ms. Jackson (if you're nasty) announced that she'd decided to revive her State of the World Tour and was adding new dates throughout July and August, according to Billboard.
It's unclear whether or not Jackson plans on testing out new tracks during her summer tour, but she definitely appears to be enjoying the process. "It's important that I maintain a let-it-happen-when-it-happens approach," she told Billboard in the aforementioned cover story. "When I finally get to the music that genuinely expresses what I'm experiencing in the moment, I feel free. Music does that for me. Its healing properties are extraordinary.
In addition to the new set of tour dates, it was recently announced that Jackson would be receiving the Icon Award at the 2018 Billboard Music Awards on May 20. This will be the first time Jackson has performed on television in nine years, Billboard pointed out, so perhaps she'll take this opportunity to test-drive a new track? Fans will have to wait and see.