Janet Jackson Is Finally Receiving The Recognition She Deserves At This Year's BBMAs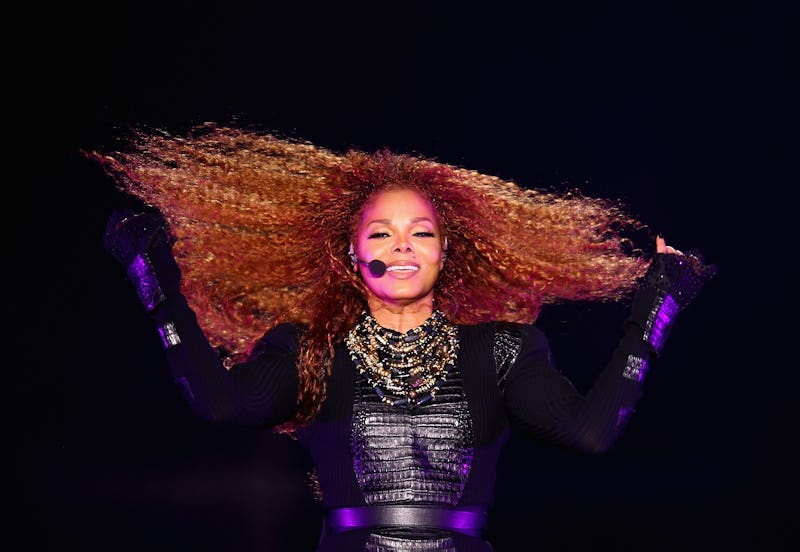 Francois Nel/Getty Images Sport/Getty Images
This morning, you can have your eggs with a side of justice. That's because Janet Jackson will receive Billboard's Icon Award at the 2018 Billboard Music Awards, according to E! News. Ms. Jackson (if you're nasty) recently made headlines in early February when Justin Timberlake performed "Rock Your Body" at the Super Bowl halftime show. As you'll probably remember, that song was the one that Timberlake and Jackson duetted to in 2004 when the so-called "nipplegate" controversy took place, i.e. when Timberlake pulled on Jackson's bra top, accidentally exposing her bare breast to the whole country. Now, she's returning to a TV stage on her own terms.
In the context of 2018, when celebs like Kim Kardashian frequently post naked selfies to celebrate their bodies, the nip-slip might not seem like a huge deal. But the truth of the matter is that Jackson's career suffered after the Super Bowl halftime show. To make matters worse, Timberlake seemingly experienced no consequences, and he got to get back on the halftime stage in 2018, while fans dubbed the day #JanetJacksonAppreciationDay instead.
While a Twitter hashtag is flattering, Jackson will receive a more official public honor at May 20's Billboard Music Awards. Jackson will receive the Icon Award, joining past winners like Cher (who received the award in 2017) and Prince (2013's recipient). She so deserves it, because Jackson had an incredible impact on music throughout her long-spanning career, much like her late brother Michael.
As E! News pointed out, Jackson is no stranger to the Billboard Music Awards, seeing as the "That's The Way Love Goes" singer won 10 of the show's awards over the years. Not only did she win 10 times, but she was nominated for 18 Billboard Music Awards between 1990 (the first time the awards show took place) to 2001. Had the Billboard Music Awards started in the '80s, you can bet Jackson would have even more awards, but that doesn't really matter because receiving the Icon Award is such a huge honor that it makes up for any past missed award opportunities.
The best part about Jackson's upcoming award honor is that the singer herself will perform at the BBMA show. As Billboard points out, that performance will mark Jackson's first on television in nine years. The 51-year-old singer — who will turn 52 on May 16 — has kept busy over the past few years more behind the scenes. In 2012, Jackson married Wissam Al Mana, then in early 2017, the couple welcomed their son Eissa Al Mana. Due to the singer's pregnancy, she had to delay half of her Unbreakable world tour in 2016. But in true Jackson fashion, the legendary singer posted a video thanking her fans for their support during the tour's delay.
More recently, Jackson posted a video on Twitter launching the #DANCEWITHJANET challenge. The singer announced, "I'm looking for dancers to dance with me on some really cool upcoming projects." The challenge gave everyone the opportunity to share videos of themselves dancing to her iconic songs, along with her memorable dance moves.
By the way, it's a great hashtag to scroll through if you're looking for something to brighten your day, and it shows the impact that Jackson has had on the dance community.
Since the challenge took place in April, it's possible that the #DanceWithJanet challenge was searching for backup dancers to assist Jackson's BBMA performance. If not, the "All For You" singer has a lot of other exciting shows coming up, like the 2018 ESSENCE Festival and her State of the World tour happening this summer.
Clearly the singer knows how to stay busy, and it's so exciting that she will finally perform on TV again after so long. Jackson did sing that "you don't know what you got 'til it's gone" (part of a Joni Mitchell sample), and it's true that her absence from televised performances may make everyone appreciate her all the more.