Janet Jackson's Comments About Courageous Female Artists Will Make You Nod In Agreement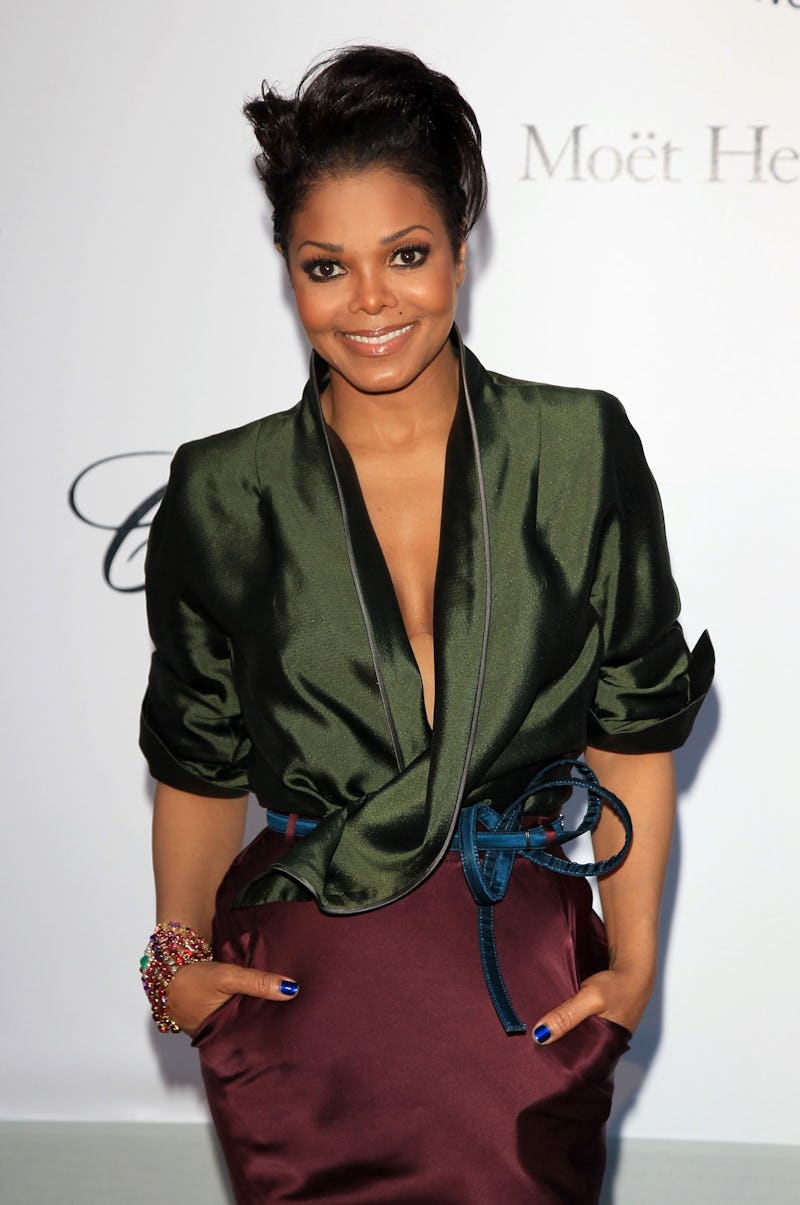 Andreas Rentz/Getty Images Entertainment/Getty Images
Even a legendary artist like Janet Jackson has her insecurities. In a Billboard cover story published Thursday, Jackson opened up about her life and career, talking about the difficulties she and other women face in the music industry and beyond, including struggles with self-doubt. But on the flip side, she also expanded on how other strong women help inspire her to keep fighting for what's right.
The artist told the magazine that on her first two albums — her self-titled 1982 debut and 1984's Dream Street – she didn't have much say in what she sang, whether she liked the songs or not. "That was a little confusing," Jackson told the publication. "I knew I had something to say, I knew I had to assert myself."
Jackson — who will receive the Icon Award at the Billboard Music Awards on Sunday, May 20 where she'll also perform — said that she really came into her own with her 1986 album, Control. Jackson chose hit-making duo Jimmy Jam and Terry Lewis to produce the record because they invited her to be a part of the process. "They encouraged me to tell my story, express my attitudes and step forward with my convictions," she said.
She also had freedom to choose her own choreographers and music video directors for the first time, forming "fruitful partnerships" with people who helped Jackson make her ideas a reality. "And based on those partnerships and the success of Control, I could move on and assert myself even more boldly," she said.
Despite the country's current sociopolitical climate, Jackson said she's encouraged by women speaking out against injustice in the wake of the #MeToo and Time's Up movements. The 52-year-old explained,
"I'm certainly concerned, but when I hear new artists finding their voices, just as I found mine, I'm optimistic. Young artists are exhibiting more courage than ever. Music is more alive than ever. And more relevant. We women artists — and women in general — are saying we will not be controlled, manipulated or abused. We're determined not to fall back to those days of emotional and even physical enslavement. It's a blessing to be alive today and join in the fight for equality among all human beings."
From artists like Kesha, who made a triumphant return with her 2017 album Rainbow after lengthy legal battles with former producer and alleged abuser Dr. Luke (who has denied all allegations against him), to Taylor Swift, who won a sexual assault suit against a radio DJ who allegedly groped her, women in music and non-musicians alike have been speaking their truths. They've been fighting back against sexism and corruption, much like Jackson learned to do early on in her career.
Jackson made history with her most recent album, 2015's Unbreakable, which became her seventh number-one album and made her just the third act ever to top the charts with albums in each of the past four decades.
Despite her phenomenal success, Jackson told Billboard that she's had to work hard to overcome her inner critic. "Like millions of other women, I've struggled with low self-esteem my whole life," the musician said. "I'm doing better in that regard. My inclination toward harsh self-criticism and even self-negation has dramatically eased up. I believe in all the different methods of help — smart psychology, vigorous exercise and sincere spirituality."
She also credited her new outlook in part to the birth of her son Eissa in 2017, who she says has taught her a great deal. "My son, even in his short 17 months on the planet, has showed me that love, no matter how deeply you believe you have experienced that emotion, can always go deeper," she said. "Love is limitless. And for someone like me, raised in show business where self-concern is always a priority, how fortunate I am now to be concerned, first and foremost, with the welfare of someone else."
Jackson told the magazine that she's working on new music, but did not reveal many details. However, she'll bring her artistic vision to the stage on Sunday at the BBMAs, and fans can see her live this summer when she embarks on the final leg of her State of the World Tour.