This Two-Part TV Special Tells Jeffrey Dahmer's Story In His Own Words & It's Eerie AF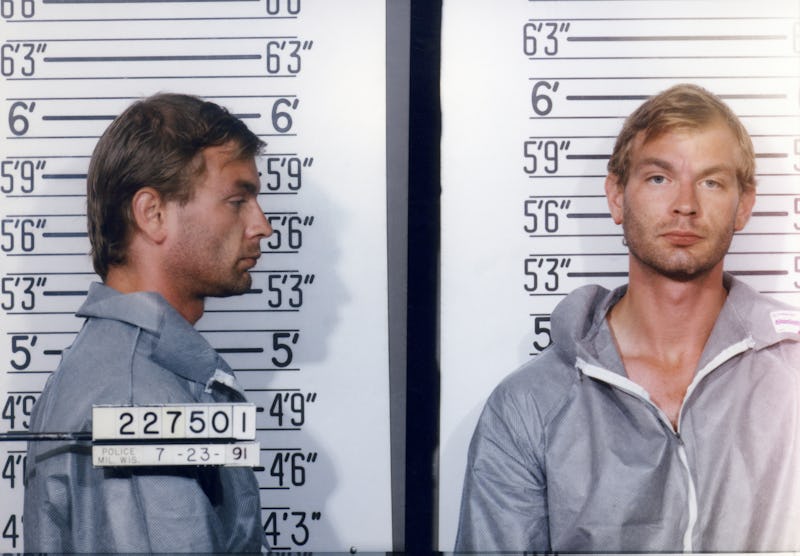 Curt Borgwardt/Sygma/Getty Images
Another day, another true crime docuseries. This time, Oxygen's Dahmer On Dahmer (airing parts one and two on Nov. 12 on Oxygen at 8 p.m. ET) delves into the mind of Jeffrey Dahmer, one of the world's most infamous serial killers. The two-night special promises to unearth new insight into his gruesome crimes, but now 25 years removed from his conviction, it begs the question: Is Jeffrey Dahmer still in jail?
He's actually not, but that's because Dahmer was murdered in prison in 1994. According to The New York Times, he was bludgeoned by a fellow inmate, and died of massive head injuries after being rushed to a nearby hospital. Christopher Scarver, who was also serving time for murder, later admitted to killing Dahmer.
At the time, Dahmer was just over two years into his 15 consecutive life sentences, which he received after being convicted of sexually assaulting, murdering, dismembering, and cannibalizing more than a dozen men and boys between the years of 1978 and 1991. As reported by the Los Angeles Times, he pled guilty but insane to the 15 charges brought against him, and, per CBS, asked for "no consideration" when it came to his sentencing.
After his arrest, Dahmer spoke about his crimes openly and frankly, including giving on-camera interviews to shows like Dateline and Inside Edition. His earliest sit down came courtesy of investigative journalist Nancy Glass, who, according to Oxygen, secured both exclusive access and the first televised interview with Dahmer.
Dahmer and Dahmer retreads her conversations with him both on and off-camera, as well as features exclusive new interviews with Dahmer's parents, Lionel and Shari Dahmer, who haven't spoken publicly about their son or his case in over 20 years. Billy Capshaw and Preston Davis, two surviving victims, have also decided to break their silence about what happened to them. As the official description asks:
"The shocking nature of [Dahmer's] crimes – luring young men into his home, where he drugged, sexually violated, killed and eventually consumed his victims – unmasked a madman walking in the shadows and launched the question: how did a once mild-mannered, handsome young man become one of history's most terrifying and unexpected serial killers?"
The show, of course, is far from the first to explore Dahmer's violent past. Films like The Secret Life: Jeffrey Dahmer (1993), biopic Dahmer (2002), and 2012 documentary Jeff have been released periodically since his story first rose to notoriety. And numerous books have been penned about the subject: Anne E. Schwartz's The Man Who Could Not Kill Enough (1991), Brian Masters' The Shrine of Jeffrey Dahmer (1993), and Arthur Jay Harris' Jeffrey Dahmer's Dirty Secret: The Unsolved Murder of Adam Walsh (2009), are just a few of the titles among the list. Even Dahmer's own father released A Father's Story, a 1994 memoir that reflects on the complicated, conflicting feelings he had toward his son after learning of the murders, and his confusion about what could have driven him to kill.
In fact, a movie adaptation of John Backderf's My Friend Dahmer, a graphic novel about his teenage friendship with the killer, was released in theaters earlier this month. Directed by newcomer Marc Meyers, the movie reimagines Dahmer's early life, starring Disney alum Ross Lynch, Nickelodeon's Alex Wolff, Vincent Kartheiser (Mad Men), and Dallas Roberts (American Crime), among others. Needless to say, Dahmer On Dahmer comes at a particularly apt time.
Considering Dahmer was so forthcoming about his crimes (at least, after he had been caught) it's difficult to envision how many more revelations could be made, but it will certainly be fascinating to hear new perspectives and observations — particularly from Capshaw and Davis, who've yet to share their stories publicly.
If you or someone you know has been sexually assaulted, call the National Sexual Assault Telephone Hotline at 800-656-HOPE (4673) or visit online.rainn.org.