2017 May Lack A Classic Lawrence Moment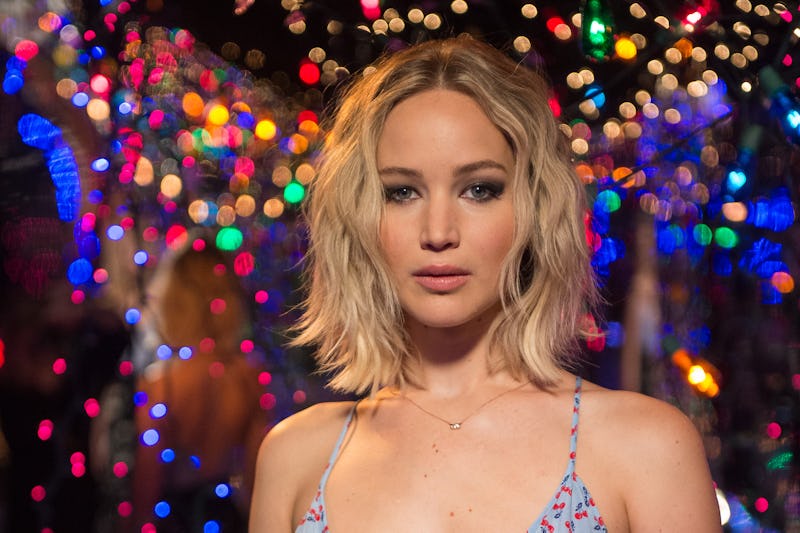 Emma McIntyre/Getty Images Entertainment/Getty Images
I tend to think of the Golden Globes as "the fun one" when it comes to award shows. Fashions are more daring, and celebrities are looser. But no celebrity is more reliably irreverent than Jennifer Lawrence. Her fans would love to see Jennifer Lawrence at the 2017 Golden Globes on Jan. 8, where she would probably be wearing a Dior gown and talking about nachos to anyone who would listen. The actor isn't nominated for a Globe this year, so she wouldn't be coming to possibly collect another award. She might come by just for the party, but neither the Golden Globes nor Lawrence herself have announced that she's attending.
The Golden Globes stage must bring back a lot of happy memories for the Passengers actor. She's a four-time nominee and a three-time winner. Her Supporting Actress trophy was given in honor of her work in American Hustle in 2014. And she's taken the Best Actress In A Motion Picture - Musical Or Comedy category twice: one for Silver Linings Playbook in 2013 and one for Joy just last year. She was nominated for Best Actress In A Motion Picture - Drama for Winter's Bone in 2011, her breakthrough year.
The Globes don't share the Oscars' tradition of having its acting winners present the following year, so Lawrence wouldn't be obligated to show up for that reason. The Golden Globes announced the first wave of presenters for this year's telecast last week. Drew Barrymore, Diego Luna, Goldie Hawn, Milo Ventimiglia, Viola Davis, Eddie Redmayne, Anna Kendrick, and Justin Theroux are among the listed luminaries, but Lawrence's name does not appear. Amy Schumer will be there though, so if Lawrence wants to team up with her pal for a repeat of last year's performance, that's a real possibility.
The Golden Globes are held in Los Angeles, and Lawrence was seen in public last on the other side of the country. According to PopSugar, the actor was spotted on Dec. 30 walking through Central Park in New York City with her rumored boyfriend, Darren Aronofsky. She's one of the most in-demand performers in Hollywood, so I can't fault Lawrence for opting for a cozy holiday break over a constrictive dress and dozens of red carpet interviews.
Then again, Lawrence might be planning to hop a flight to LAX any day now. Passengers has been out for several weeks and she doesn't have a new film to promote. (IMDB lists her next project as Mother, a drama written and directed by Aronofsky. It doesn't have a release date yet.) But over her few years in the spotlight, Lawrence has become a fixture at red carpet events. Social media lights up whenever she laughs off a gaffe or makes a new celebrity friend. People connect with her awkwardness, and it's comforting to see someone at a fancy party who still seems a little surprised to be invited.
Will Jennifer Lawrence make an appearance at this year's Golden Globes? If she does, it looks like it will be a last-minute surprise.