All The Reasons Jackson Can't Possibly Be Leaving 'Grey's Anatomy'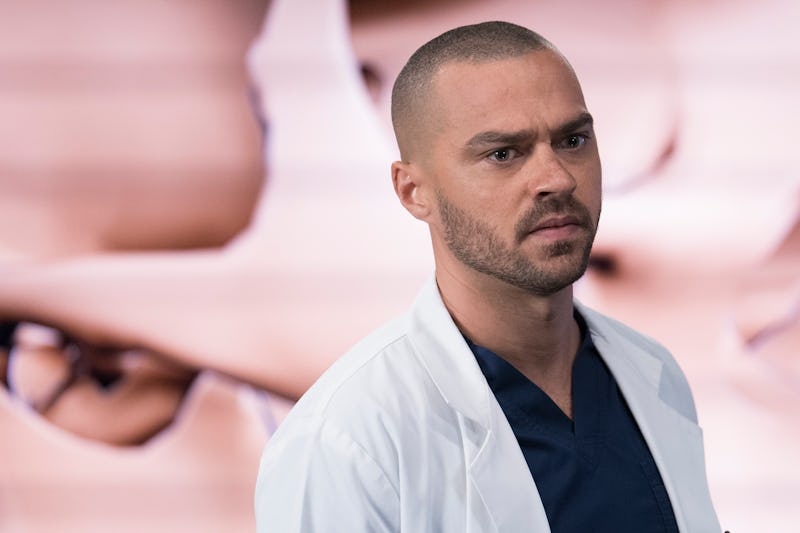 Eric McCandless/ABC
Grey Sloan Memorial Hospital is missing one of its core doctors, and you're not alone in panic-asking if Jesse Williams is even coming back to Grey's Anatomy. After all, he wasn't in the third episode of Season 15 at all, and he just emailed everyone to say he was taking time off to figure things out. He didn't even say goodbye to his girlfriend Maggie in person. What is going on??? Well, while this may be a dramatic storyline for his character, Jackson has to return to Grey's Anatomy at some point — it would make no sense if he didn't.
First of all, Grey's just got rid of two longtime characters (April and Arizona), like, four episodes ago. The writers aren't just gonna throw in a third main character for no reason. What even would be the point of April's near-death experience giving Jackson his own crisis of faith if he then dipped from the series a handful of hours later? He would not be quietly and confusingly written off the show — his character and the actor deserve more than that.
Besides, Kelly McCreary, who plays Maggie, hinted to Entertainment Tonight that we'll get to see Maggie and Jackson's daughter interact this season as the Maggie/Jackson relationship heats up. Considering we haven't seen that yet, that means there's more of Jackson's story to tell.
Then there's the fact that Entertainment Weekly already confirmed the series regulars for Season 15, and Jesse Williams' Jackson Avery was one of the core characters mentioned. Two episodes isn't much of a series regular role to announce, which leads me to believe he's due for a return to finish out the remainder of the season.
But when might that return be? Well, let's look at why he left in the first place. He's been struggling with his own faith ever since he prayed for April to live in Season 14 and she did. Then, in the second episode, Jackson was almost hit by a car but saved at the last minute — only someone else died instead. He then had a long conversation with Maggie about how he didn't understand why some people die and other people don't.
Jackson's never been much of a religious person, but that seems to be changing this season, and both he and Maggie agreed in their talk that he has some big questions that would take time to try to work out. Now, they didn't talk about him up and leaving to sort his head out, but that seems to be what Jackson needed to get back to a place where he can practice medicine again.
It doesn't seem like he'll be back for the Oct. 11 crossover event with Station 19. There's already a lot going on in that episode and it's a special event, which doesn't really allow time for deep character exploration like Jackson's storyline is building. Also, he isn't mentioned in the press release's episode's synopsis at all:
"Meredith turns heads when she shows up to work done up and ready for her blind date later that day, while Alex makes a questionable decision in order to save a patient. Meanwhile, the burden of knowing Teddy's secret keeps Maggie up at night, ultimately making her decide she has to tell someone."
After that, there's no episode on Oct. 18, and fans will be out of their minds missing Jackson by Oct. 25, so it's only fair that he comes back by then. And, his faith-based quest could hint at his return in that episode, since it's titled "Everyday Angel," according to a press release for the show.
Jackson's exploration of faith after almost losing April, seeing his family empire crumble under the weight of his grandfather's covered-up incidents of sexual assault, and his own near death experience is a rich, weighty story that deserves to be told in its own time. It may take a few weeks until we see it all unfold, but rest assured that Jackson likely isn't going anywhere long term — at least not for now.