Jessica Biel May Have Played A Bigger Role On JT's New Album Than You Thought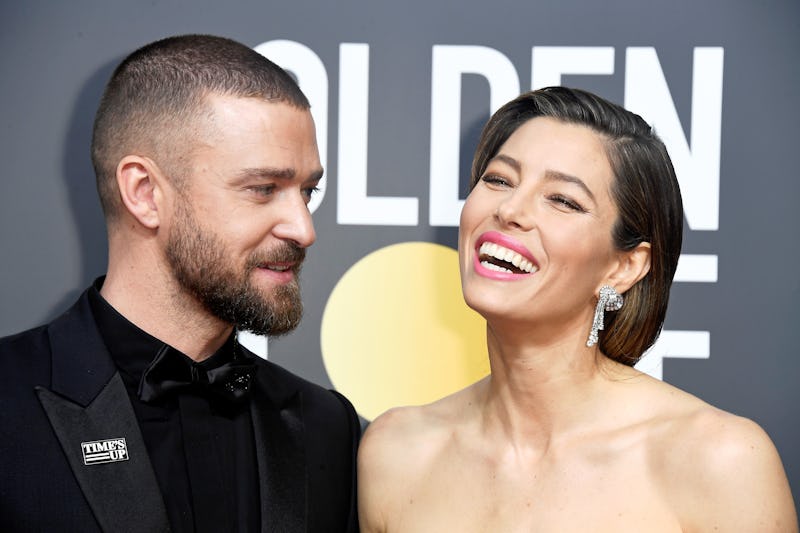 Frazer Harrison/Getty Images Entertainment/Getty Images
Justin Timberlake's album Man of the Woods is finally here — and naturally, fans already have plenty of questions about the tracks. One main question is whether Timberlake's wife Jessica Biel is speaking on "Flannel." The track starts off as a sweet, slow song about love, using the warmth and comfort of a flannel shirt as a metaphor for the feeling of being loved. But after the song fades out, there's still more on the track. A woman's voice asks, "Do you see it?" while describing a "beautiful" view.
"Do you see? Look at all of it from up here. It's beautiful, it's beautiful," the voice says, with a slightly post-apocalyptic sounding echo. The woman continues:
"Do you see it? It's in the air. It's in your blood. It's in your skin. Can you see it from up here? Can you taste it? Can you touch it? It's in the earth. It's in the sky. Do you see me? Do you see me? Do you see me? Do you see me?"
The voice definitely sounds like Biel's — and given the soothing nature of the song, it would make sense if Timberlake asked his wife to provide spoken lyrics for the track.
There's also an "interlude" ahead of "Flannel" that features a woman's voice. It's not clear if the interlude, "Hers," is also spoken by Biel, or if it's someone else providing the voiceover.
"When I wear his shirt, it feels like... like his skin over mine," this voice says on "Hers." "And the little holes and tears and shreds on it are the memories of the past that I wasn't there for, but that somehow I feel like I understand more when it's against my skin. It's an armor, like a barrier from the world, like our secret nobody else knows. And I like that, you know? It makes me feel like a woman. It makes me feel sexy. It makes me feel... it makes me feel like I'm his."
The intimacy of the words suggests that Biel is the one speaking — and it wouldn't be a surprise if she'd written the interlude herself. Whoever's speaking it, though, it's a fitting way to introduce a song that's about a shirt. Objects take on personal meaning in our lives — and for Timberlake, it sounds like flannel shirts have a special place in his heart.
"Flannel" isn't the only potential nod to the couple's relationship on the album, either. The next track is called "Montana," where the couple owns a home. In fact, Timberlake and Biel have said that they want to raise their son, Silas, in Big Sky, Montana.
"Montana," like "Flannel," is a pretty sweet song, though a bit more upbeat. Some of the lyrics include lines like "Couldn't get any better / you and I here together," so it's easy to imagine the song being a reference to Biel.
If Biel is, indeed, featured on the song, she'd be in good company. Man of the Woods also has a track featuring Alicia Keys, as well as a song featuring country artist Chris Stapleton. Of course, those collaborations aren't the same as featuring a spoken verse from his wife — but the album is still seriously star-studded.
And whether or not she's featured on the track, Biel is definitely a big Man of the Woods fan. At a listening party for the album, she and Timberlake were seen dancing together — and naturally, Timberlake wore a flannel shirt to the event.
Biel and Timberlake haven't confirmed whether or not it's actually her voice on "Flannel." Whoever is speaking, though, the words add a sense of mystery and intrigue to the song.