Justin Timberlake's Album Title Is Actually A Shout-Out To His Son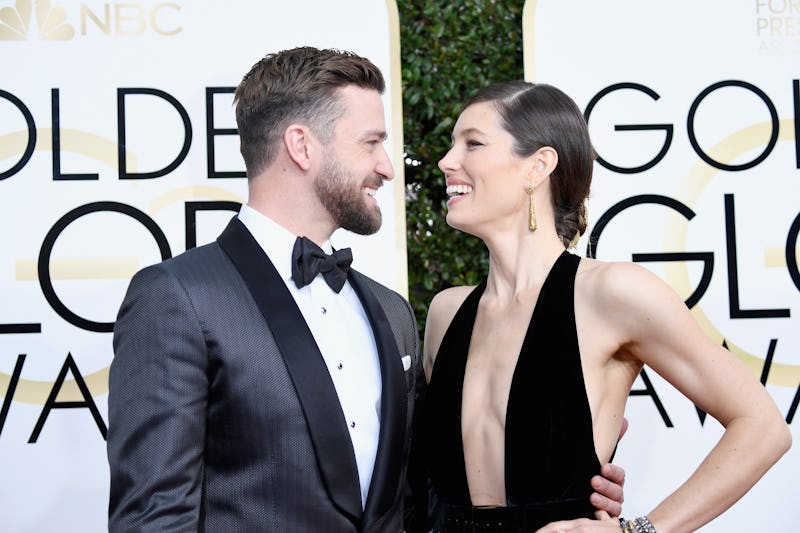 Frazer Harrison/Getty Images Entertainment/Getty Images
After announcing his new album at the top of 2018, Justin Timberlake's album Man of the Woods drops on Friday, February 2 — just two days before the singer headlines the Super Bowl halftime show. While many speculated that the name of the album — plus all the photos of the singer in sepia-toned fields with horses — meant that Man of the Woods would be a country record, the singer cleared things up in an Instagram video. Justin Timberlake's album is named Man of the Woods for his son Silas, which means "man of the woods" in Latin. Technically, right now, he's a toddler of the woods, but that wouldn't make a great album name.
Timberlake posted an Instagram video on Wednesday, his 37th birthday. While getting a haircut, he said, "The album is named after the my son. His name means 'of the woods." He added, "Stop telling me I'm making a country album!" If you say so!
Timberlake and wife Jessica Biel welcomed their son in 2015 and named him Silas Randall Timberlake. According to Babynames.com, the name "Silas" does indeed mean "man of the forest" or "man of the woods." It's also biblical; Silas, or Silvanus, was a companion of Paul the Apostle on his missionary journey. Though it's clear now that Timberlake was interested in the name at least partially for it's Latin, arboreal meaning. (Silas' middle name "Randall" is Timberlake's father's name, and Justin's own middle name, too).
Timberlake announced his new album at the beginning of the year and revealed its name with a teaser video that was…. pretty over-the-top. It's full of camping (more like glamping) imagery, and a voice-over from Biel. "It feels like mountains, trees, campfires, like wild west, like now," she says. Sounds like a bunch of Anthropologie candle names.
In the video, Timberlake also said Man of the Woods is his most personal work. "This album is really inspired by my son, my wife, my family, but more so than any album I've ever written, where I'm from," he said. (Does that mean he's from the woods? He actually spends quite a lot of time with his family in their Big Sky, Montana home. A source told Us Weekly in 2015 that they wanted to raise Silas out of the spotlight.)
Timberlake seems like he's made the full transition to Dad, and his wife thanked him for it in an Instagram for him on his birthday. Biel posted a photo of herself and Timberlake, calling him a "hot dad" not once, but twice. (But where is baby Silas in this picture? If you're going to talk about parenthood, kindly include a photo of your cute baby.)
And even though the singer insists that this album named for his son is not a country album, there's a lot of evidence to the contrary. Besides the Into the Wild style teaser trailer, there's also Timberlake's collaboration with country singer Chris Stapleton, the song "Say Something," the music video for which they released on January 28. It's definitely country-pop, and seems to be fans' favorite track from the upcoming album so far. There's also the tracklist, which screams country: besides the title track "Man Of The Woods," there's also "Breeze Off The Pond," "Livin' Off The Land," "Montana," and even "Flannel."
But then there are also songs like "Filthy" and "Supplies," the first music videos released from the album that both got very mixed reviews. "Filthy" was released first and was just about as opposed as you could get to the teaser trailer — it's set in the future and features a sex robot. Does not seem like the kind of track you would use to open an album dedicated to your son, but he'll understand when he's older.
Cheers to Silas, the tiny man of the woods, whose namesake of an album that will NOT be country.