Meghan Is Reportedly Taking This Pal With Her On Tour & It Makes So Much Sense Why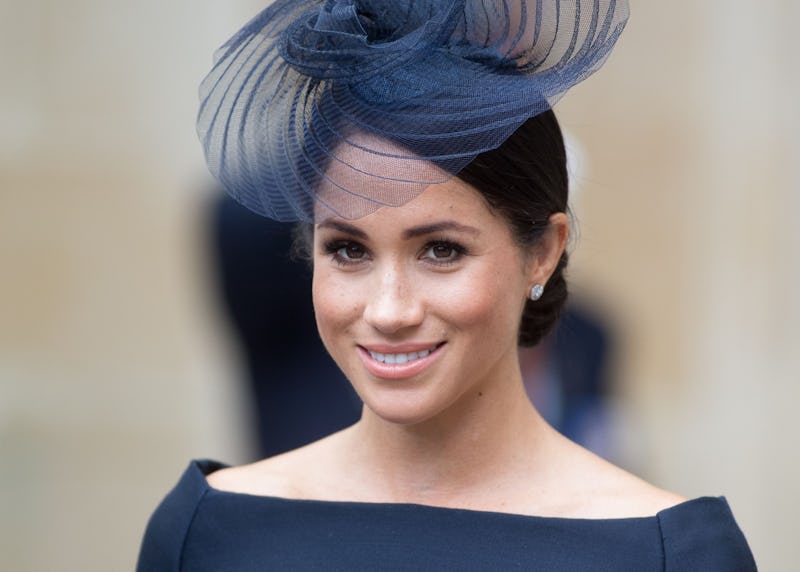 Shutterstock
When you've got your BFF at your side, their presence always gives you that extra boost of confidence you need to take on the world. For Meghan Markle, that statement is a pretty literal one as it turns out that her bestie Jessica Mulroney will apparently be accompanying her on the Duchess' first international tour. According to The Times, Mulroney will be there in an "unofficial" capacity but given that she works full time as a celebrity stylist — it wouldn't be a surprise if she lent Meghan a sartorial hand. So, is Jessica Mulroney Meghan Markle's stylist? It's been said in the past that you should never mix business with friendship, but these two seem to be making it work.
According to The Times, Jessica Mulroney and her husband Ben Mulroney will be joining the Sussexes in an "unofficial" capacity and accordingly "pay their own expenses" — unlike the ten members of the royal household who will be joining them.
Even though it hasn't been confirmed that Mulroney will be styling the Duchess for her public appearances, it sounds like Meghan Markle is going to need some help planning her wardrobe as she allegedly "will be changing her outfits up to three times a day while on the tours." Added to that Kensington Palace's recent announcement that she is expecting the first Baby Sussex, it's no wonder she'd like some extra support from her BFF.
Now, I stan a quick change queen but given that Meghan and Harry are going to be away for sixteen days — I'm frankly exhausted on Meghan's behalf. If we take the three outfits a day statement at its word, she'll have to rock 48 different looks over the course of the tour and TBH I don't even think I have that many in my own closet.
It wouldn't be a stretch to imagine that Mulroney has everything sorted on her pal's behalf, as she's previously styled some of the former Suits actress' most memorable outfits since she became a part of the royal family.
According to Good Morning America, Mulroney was responsible for Markle's outfits on her first major set of appearances as the Duchess of Sussex: her Irish tour with Prince Harry. According to correspondent Omid Scobie, "Jessica Mulroney quietly flew in to London last week for final prep," and helped pull together a set of looks for the royal.
These included a fierce Givenchy suit (which I loved but the Queen undoubtedly would have detested, according to People) and a chic Roland Mouret dress with an unusual front ruffle detail.
Scobie also claimed that Mulroney helped Meghan Markle channel a very vintage Hollywood vibe at the RAF Centenary Service in an utterly classic black Dior dress. The stylist paid thoughtful homage to Meghan's Givenchy wedding dress with a bateau neckline — a silhouette which has since become synonymous with the Duchess — and added a royal flair with a Stephen Jones headpiece.
Apparently, Mulroney also masterminded my favourite Meghan Markle look of all time — a.k.a. that unforgettable canary yellow Brandon Maxwell dress. Meghan wore the minimal shin-length sheath dress earlier this year and I literally haven't stopped thinking about it since. Markle doesn't usually wear a lot of colour, so major props to Mulroney for pushing her out of her comfort zone marvellously on this one.
Jessica Mulroney, a Canadian native, makes a habit of turning to designers from her home country and it's clearly something that aligns with Markle, who lived there for a number of years while filming Suits. Meghan and the other members of the royal family wield massive power as fashion influencers and wearing anything from a small brand can instantly catapult them into fame. So that's why when Mulroney styled Markle in a piece by indie Canadian brand House of Nonie, it meant a hell of a lot to the designer.
House of Nonie shared an image of Meghan Markle rocking their Sleeveless Trench Dress on Instagram. They captioned it, "What an amazing day for us! The stunning Duchess of Sussex, Meghan Markle in our Sleeveless Trench dress. Available to order at www.houseofnonie.com. #pinchme#wearcanadaproud."
They also specifically thanked Jessica Mulroney, leaving little doubt as to who picked the dress out for Meghan. The brand's designer Nina Kharey told HELLO! that after Meghan wore the piece, "her phone started wildly sounding off with texts from her publicist."
She continued, "It was unbelievable; it was really surreal."
In fact, if you wander over to House of Nonie's website and take a look at the dress Meghan wore (the Sleeveless Trench in blush) — her impact has endured even months after wearing it.
Demand for the dress has apparently been so high that it's totally sold out and you also have to be put on a waitlist for the exact version she wore.
It's crazy to think that by making a choice as simple as what to wear, Meghan Markle can have such a massive impact on other people's lives. But after seeing how much Mulroney's styling meant to Kharey, it's got me a little emotional.
"I finally not only get to prove it to the world that I'm worthy of attention and time, but in a way I also proved it to myself and my family," she finished.
Here's hoping Meghan and Mulroney continue to use their platform to give smaller designers a boost. I quite frankly can't WAIT for all the 40+ royal tour looks we're going to see over the next couple of weeks.