Jill Zarin Has An Interesting Idea About How She Could Return To 'RHONY'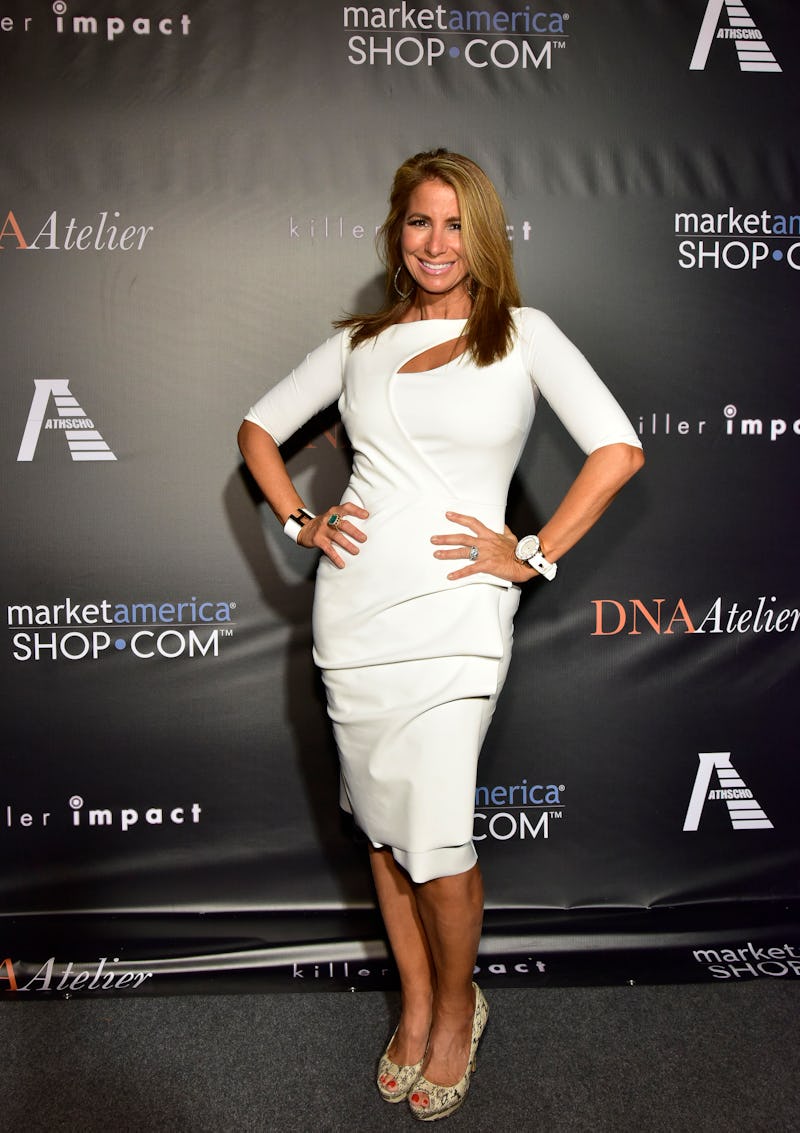 Eugene Gologursky/Getty Images Entertainment/Getty Images
Last week's news of Carole Radziwill's imminent departure from RHONY spawned a pretty serious bout of speculation as to whether the series might be looking for another leading lady to fill her spot — and who that lady might be. Understandably, the conversation has some fans wondering: Is Jill Zarin returning to Real Housewives of New York? As far as qualified candidates go, it's no secret that the exceedingly fiery RHONY veteran would be a shoe-in for the job. But, after leafing through Zarin's comments to E! News over the weekend, it doesn't sound like she'd be too keen on resuming her position within the RHONY's title sequence of leading ladies.
That being said, it also doesn't sound like Zarin's totally set on closing the Housewives door for good just yet, either. Speaking to E! News during her sixth annual Luxury Luncheon — which took place Saturday, July 28, in the Hamptons — Zarin said,
"I would like to come back [to RHONY] as a friend. I've said that before. I would."
Zarin finished up that particular string of comments with a bit of a caveat. "I don't know if my friend would like to do it," Zarin told the outlet, though she reiterated that she'd be interested if the opportunity were to arise, mostly because, "I think I have the time now."
Fans of Zarin's unforgettable stint on RHONY from 2008 until 2011 might be partial to an increasingly jovial spell of celebration in response to this tidbit of Housewives news. And in a lot of ways, that totally makes sense. After all, it's been a minute since Housewives enthusiasts had a chance to revel in Zarin's ultra-dynamic presence onscreen, so even whispers of a possible future cameo by the powerhouse NYC socialite feel pretty exciting.
Still, it's important to remember that, in this case, Zarin's news probably feels a lot more bittersweet to her than some of her fans might originally realize. Because, when Zarin told E! that she thinks she "has time" to relaunch her involvement with RHONY she was referring to the death of her late husband, Bobby Zarin, who passed away earlier this year after a prolonged battle with anaplastic thyroid cancer. Saturday's luncheon (or "soiree," as the event's description puts it) doubled as a fundraiser for thyroid cancer research, explicitly dedicated to Bobby.
Continuing her conversation with E! on the issue of returning to RHONY, Zarin spoke plainly. "I couldn't do [the show] for many years because of Bobby, and I was talking care of him," she told the outlet. "But now, I have the time." Plus, she said, a return to RHONY — even if only in a relatively limited capacity — would allow her to be closer to a different branch of loved ones. One of those loved ones seems to be Zarin's longtime friend Luann de Lesseps, whose divorce, arrest, and subsequent stays in a rehabilitation center over the past year can't have been easy for the former countess to handle, especially on her own. "I think Luann needs me," Zarin told E!.
Unfortunately for those who'd love to see Zarin's face back on RHONY as soon as possible — Wouldn't we all? — the reality star told E! over the weekend that, as of right now, there's been no official conversation with the network about her Housewives return. "Somebody started a rumor that I was in talks with Bravo," Zarin said, ostensibly referencing the apparently false buzz that's cropped up these last few days. Suffice to say, Zarin set the record straight on that front, reiterating that, "That's not true. That's not true."
Still, even if there hasn't been any official contract-signing on Zarin's end, it's still pretty exciting to think fans might be seeing a resurgence of her indelible wit, smarts, and capacity for kindness sometime soon. Now hurry up and get those "talks" going, Bravo!