This Is The Outrageous Colbert Successor That The Trump-Era Demands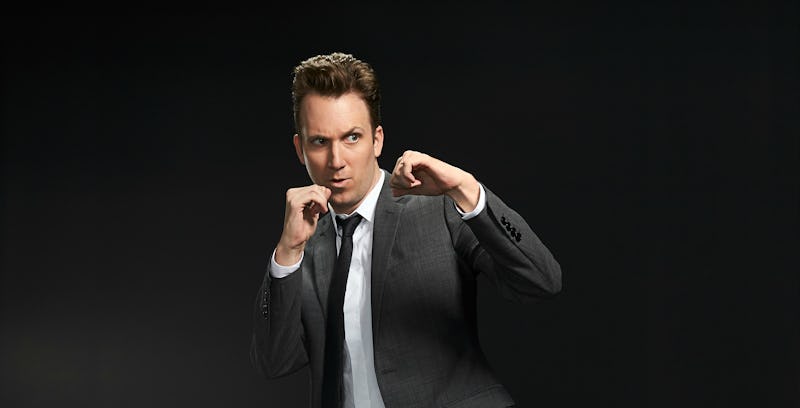 Mary Ellen Matthews/Comedy Central
Comedy Central's latest late night program, The Opposition w/ Jordan Klepper, premieres Sept. 25 and will have audiences everywhere asking, "Is this guy for real?" Klepper, a long-time Daily Show correspondent, seems to be going into the deepest dregs of modern conspiracy-obsessed media for his first series hosting gig. Is Jordan Klepper really conservative, or, like Stephen Colbert before him, is he simply playing one on the show?
The Opposition plays like a Colbert Report for the Trump era. Comedian Jordan Klepper, like Stephen Colbert before him, plays an exaggerated, hyper-paranoid version of himself who he doesn't classify as "conservative" or otherwise.
"You are seeing a version of me that that is a little more unaware, who doesn't have perspective in the way that Jordan Klepper the person might have that perspective," Klepper told IndieWire. "And then you sprinkle on the realities of this world, which is simply that you choose your own reality, which becomes the truth to you, and you can feed it out into your own echo chamber. It's been fun to extend the character that I've been playing."
The way fringe (and in some cases, mainstream) media functions has changed a great deal in the past decade — meaning that Jordan Klepper's exaggerated self is a very different kind of pundit than Stephen Colbert played on his Comedy Central show. While The Colbert Report was modeled after Fox News shows like The O'Reilly Report, The Opposition will probably remind viewers more of Alex Jones from InfoWars and alt-right blogger Milo Yiannopoulos.
Klepper may be the most qualified comedian in the country to take on the alt-right as he's spent a great deal of time amongst them. As a correspondent for The Daily Show, Klepper visited Trump rallies multiple times before and after the 2016 election to get the most extreme perspectives on Donald Trump, Hillary Clinton, and the many political views the two candidates disagreed upon. As a correspondent, Klepper rarely shares his own opinion during his field pieces, but when he's showing Trump supporters two identical photos of Hillary Clinton and asking them to point out which one is the "body double," it's pretty clear that he finds conspiracy theories to be worthy of ridicule.
Klepper told The New York Times that he believes that he is at his best when he is "taking a point of view that is out there, and heightening that through absurdity and stupidity." The host chose to build his show around this increasingly popular form of spreading misinformation, because he sees the people who benefit from it as being mostly out for themselves.
"They all see being transgressive as something that is ultimately positive, that automatically makes you authentic," he said to The New York Times. "They're opportunists, and they know how to sell their brand."
As a comedian, Klepper's most distinctive feature may be the flexibility of his political persona. Earlier in 2017, a few months before the premiere of The Opposition, Comedy Central aired a special called Jordan Klepper Solves Guns. (Klepper regularly covered gun control and legislation for The Daily Show.) While he's playing an alt-right commentator on The Opposition, the host took the exact opposite approach when trying to Solve Guns. Klepper told Rolling Stone about that special, "I wanted to play a character that poked fun both at the left, but also was a creation of people on the right ... The people who make the most sense in [Jordan Klepper Solves Guns] hopefully aren't me, they're the moderates who shine because I get to outflank them farther at the left."
While he's rarely just being himself in his political comedy, Klepper did claim a liberal stance when speaking to The Atlantic. It's safe to say that he's not the conspiracy-obsessed person he is pretending to be on The Opposition. And he's not the hyper-liberal pundit he pretends to be in Jordan Klepper Solves Guns either. But in moving between the extremes, the comedian points out the hypocrisy and irrationality of those positions.