Katy Perry Is Def Dropping An Album This Year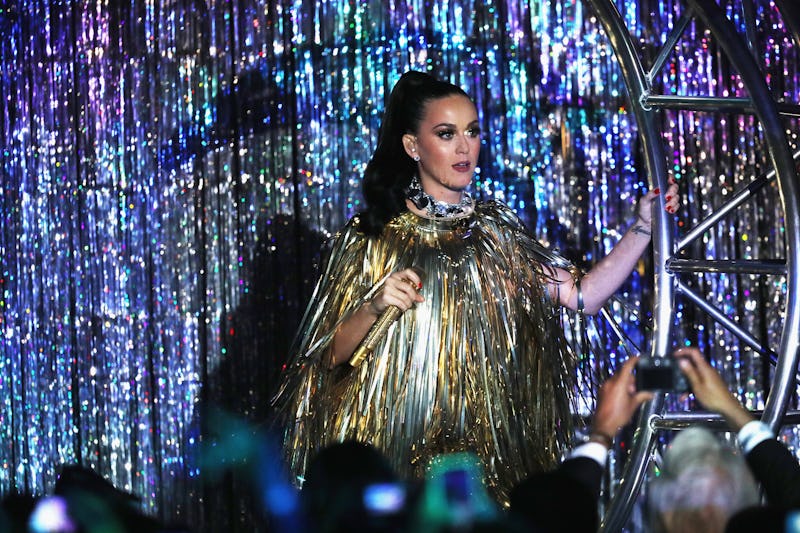 Andreas Rentz/Getty Images Entertainment/Getty Images
Sometimes, as a person in the world who thinks about pop music, I wonder what the deal is. It's been over three years since her last studio album Prism and our Katy Perry feast has turned into a famine. Is Perry releasing an album in 2017? That the singer went musically incommunicado in 2016 is a no-brainer. She was all over campaigning for Hillary Clinton, and political activism seems a pretty good reason for not releasing any new music. However, at least according to Perry herself, this is the year that we get to hear new material from her again.
She has been teasing her new single, "Chained To The Rhythm," since Tuesday night, when she posted a very intriguing Instagram video of what appears to be her foot in a heel chained to a disco ball. The video is captioned "Why are we all so chained... #FRIDAYTHE10TH." Given that Friday, Feb. 10 is this very week, this is fueling speculation that Perry will release her first new single from the upcoming record on that date.
Arguably more than anything else, this is concrete proof that a new Perry record will be dropping this year. Given that she's performing at the Grammys this year, this would also mean exposure that could fuel sales. Dropping an entire new record now wouldn't just be a kindness to fans; it'd be downright business smart.
But this hasn't come out of nowhere. Perry has been fueling fan excitement for a while about this next record. In February 2016, she spoke to The New York Times about when to expect new music, stressing her need for a little more time on this record. The reason? This could potentially be her most ambitious work yet.
She stated in the same interview "I don't want to jump on any trends. I just need to evolve." When the singer mentioned feeling constricted by the traditional three year album cycle, it got a little anxiety-inducing. Would Perry's next record drop according to Frank Ocean time? Would we have to try and decode a series of gnomic Calvin Klein adverts? But before we could totally freak out, in October, she tweeted that she was back in the studio.
And that wasn't all. Perry kept her fans updated with snippets from her recording studio in December. She gave us a Snapchat preview of four seconds of a new song and another Snapchat of instrumentals over a heavenly vocal.
Later in December, Kyra Gardner, a make-up artist and cinematographer, posted an image of herself with Aya Tanimura. Who's that? The woman behind a whole string of Perry's videos, like "Unconditionally," "Roar," and "Birthday." The caption is vague but promising, implying that perhaps the singer was already recording a video for her new single:
"How we feel about me being the BTS cinematographer for @katyperry and @tonygardner 's production today. Clearly I am hiding my internal fears about working with the big dogs. #LA#ayatanimura"
In short, things look very promising indeed. And given the recent unveiling of Perry's new blonde look and the huge disco ball campaign, I wouldn't be surprised if she didn't just drop "Chained To The Rhythm" on Friday but her entire new album.