Katy Perry Is Hinting At A New Musical Direction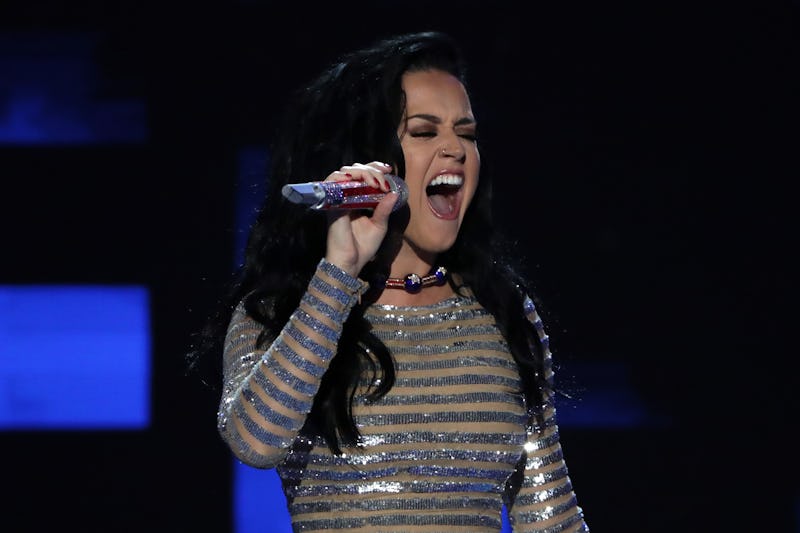 Alex Wong/Getty Images News/Getty Images
As a major (and I mean MAJOR) Katy Perry fan, news of her upcoming performance at the 2017 Grammys has me more than a little excited. The singer has already been majorly spoiling fans in 2017, with the launch of Katy Perry Footwear, which is an absolutely perfect looking shoe line, and the rumor that she's recorded a new single called "Chained To The Rhythm" featuring Skip Marley. The overhaul of the "Birthday" singer's social media accounts hints at a brand new direction for her music, as does the photo of an exceedingly blonde Katy Perry on Instagram with the caption, "New life who dis". It's already clear that Perry's next album will be a huge departure from 2013's Prism.
Perry is a chameleon of Madonna proportions, and isn't afraid to mix up her image with each new music release. If the first publicity shot is anything to go by, Perry's new album, or #KP4 as it's been dubbed on social media, features a version of the star we've never seen before. With blonde curls you'd expect to see on Taylor Swift, understated make-up, and pink fur adorning her shoulders, the performer appears to have stripped back the image we've come to expect of her. There are no multi-colored wigs, or elaborate outfits in sight. Instead, Perry's latest photo is relaunching her entire brand in a major way, so what does that mean for her music?
Fans were treated to a new Perry track in 2016, with the release of "Rise", which was used as the anthem of the Rio Olympics. The video famously featured the singer battling against the elements, dragging a huge parachute along a high cliff, struggling underwater, and eventually rising to victory. "Rise" was an example of Perry at her best, inspiring others to overcome adversity and be whoever they wanted to be, regardless of any criticism they faced.
There's something serene about Perry's latest promo photo, not unlike the cover of Prism, which features the singer with a low-key look, and her trademark raven hair. While the "Dark Horse" performer is no stranger to changing her look, the blonde is so striking as it's the polar opposite of Perry's signature style. And, notably, it's not a wig. The serenity of her pose, coupled with her new blonde hair, suggests that Perry's new music will explore the evolution the artist is undergoing, to reach a place in her life where she feels more stable, and confident, than she ever has.
The low-key look Perry presented on Prism, mirrored the album's lyrics, tracking the break-down of her marriage, to her intense love affair with John Mayer, whilst beginning to implement her feminist principles in anthems like "Roar". As Perry's artwork has always been so suggestive of the content of her music, it's natural to assume that her next album will coincide perfectly with her new look. Perry's latest reincarnation suggests that #KP4 will be about discovering who she is now that she's in her thirties, having put the relationships of her twenties behind her.
Her bold new blonde look is strikingly different from any version of Perry we've seen before, signaling that the singer is entering a brand new era in 2017. Her attendance at the Women's March on Washington in January, at which she posed alongside Gloria Steinem, was an important event in Perry's evolution. No longer uncertain of the word feminist, Perry proudly stands up for women's rights on a regular basis, and was a huge advocate of Hillary Clinton's campaign. If anything, Perry's politics will likely mean that her new music will be more empowering than ever before, infused with the unstoppable feminism she's been publicly, and proudly, promoting.
Perry also gave an incredibly public donation to Planned Parenthood in 2016, proving that women's reproductive rights are integral to her life. If anything, her next album will probably reflect the singer's refusal to back down about the causes she's passionate about, regardless of other people's opinions. It'll be exciting to find out if Perry's political standpoints have influenced her new music, as it certainly feels as if the singer is entering her most mature phase yet.
The "Firework" singer has often written about the most important relationships in her life, and as she's currently in a high-profile romance with Orlando Bloom, it's easy to assume that the actor will feature on Perry's new album. Arguably, Bloom is Perry's most stable and mature partner yet, as the Lord Of The Rings actor is also divorced, and has a child from his previous marriage. Whatever Perry has learned about herself so far through this new relationship, will help form the basis for her next album, and that'll be exciting to hear.
Whatever this new image means for Perry's long-awaited follow-up to Prism, the singer has never looked more confident, comfortable, or defiant. Her performance at the 2017 Grammys is sure to reintroduce Perry to the world in the best way.