Here's Everything We Know About Kenny's Love Life After 'BiP'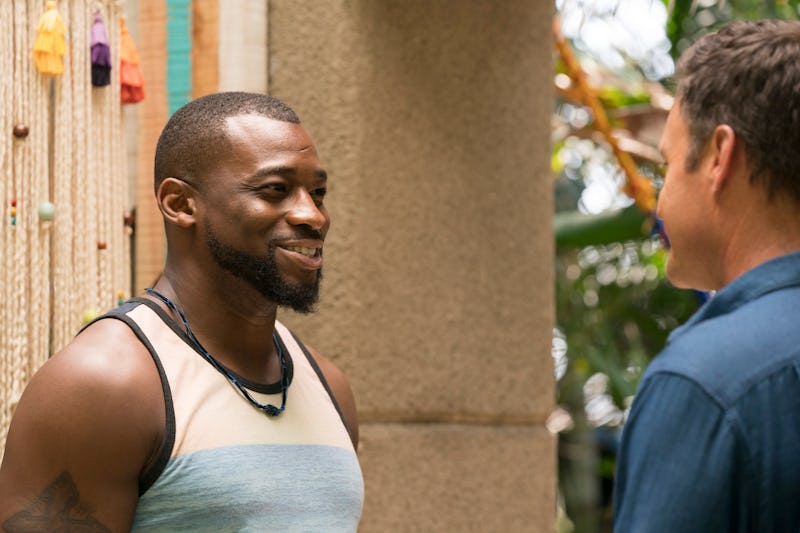 Paul Hebert/ABC
One of the great things about the Bachelor franchise is that just because you get eliminated from your respective season, doesn't mean fans won't ever see you again. Former Bachelorette contestant Kenny King is a prime example of that fact. He instantly became a fan favorite during Rachel Lindsay's season, and even though he ending up going home sooner than we would've hoped, he's now enjoying himself on Bachelor in Paradise. But does his journey prove to be successful or is Kenny single after Bachelor in Paradise Season 5? This lovable wrestler deserves some love.
While Kenny's time on The Bachelorette was relatively positive, given his genuinely kind nature, he wasn't entirely immune to drama, thanks in large part to the main villain of Rachel's season, Lee, who constantly seemed to want to provoke Kenny. But despite Lee's attempts, Rachel and Kenny's relationship continued to grow stronger overtime, however, Kenny struggled with the idea of introducing Rachel to his daughter so early in their relationship. What if things didn't work out and his daughter got hurt because of it? Kenny couldn't stand the idea of bringing his daughter any unnecessary pain, so after speaking with Rachel, they decided to mutually part ways and he went home.
Fans were obviously disappointed to see such a good guy leave prematurely, but the reason behind his departure was more than understandable and only further proved what a catch he really was. Thankfully, now he's once again looking to find love, this time in Paradise. But is he more successful this time around?
Normally, fans who don't care about being spoiled can usually turn to Bachelor blogger extraordinaire Reality Steve for some answers, however, he has yet to reveal any episode-by-episode teasers to let us know how Kenny's story plays out. That being said, Kenny does seem to have a positive outlook this time around, so he's definitely "here for the right reasons." Some of the women on the beach have already expressed some interest in him, too, so his chances for a Mexican proposal are, well, about as good as anyone else's at this early stage of the game.
Photos released by ABC reveal that Kenny and Krystal will go on some sort of wrestling-themed date during Monday's episode. Based on the images from their date, they seem to be having a great time together. So is it possible these two are in it for the long haul? Whether it's with Krystal or one of the other women, Kenny definitely deserves to find the romance he's been looking for. And someone who knows that he'll always be a dad, first and foremost.
But don't worry — even if Kenny isn't dating anyone once Paradise is over, that doesn't mean he isn't living his best life. His Instagram shows him spending a lot of time with his daughter and just being the adorable man we've come to know and love. A guy like this is sure to be off the market sooner or later, but it might be happening off-screen and far away from the Bachelor cameras.