Ashley I. May Have FINALLY Found Love On 'The Bachelor'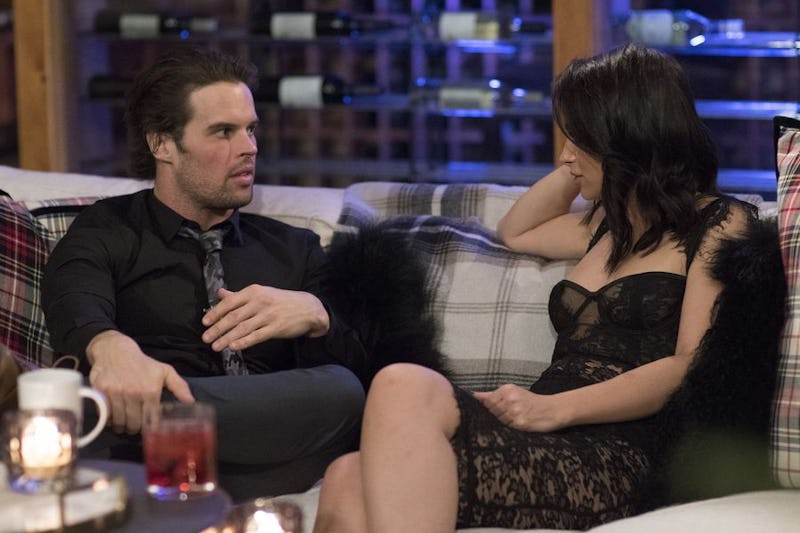 Lorenzo Bevilaqua/ABC
Poor Ashley Iaconetti — she's always crying on The Bachelor because she can never get a date. This girl is always in the friend zone, and the previews for The Bachelor Winter Games make it seem like this is the case again. Ashley can be seen crying all over promos, rinse, and repeat. But as any steadfast Bachelor viewer knows, the previews aren't everything. They can be misleading or just plain wrong! So, let's take a look and figure out — is Kevin dating Ashley I. or Bibiana after Bachelor Winter Games?
For those of you who don't know Kevin Wendt, he's the newest sought-after man to be brought into the American Bachelor scene. He's Canadian, and he won the very first season of The Bachelorette: Canada in 2016 (yes, it took Canada that long to get The Bachelorette, which is a whole other issue). Unfortunately, Kevin and his fiancée, Jasmine Lorimer, split mere months after getting engaged. In an Instagram post, Jasmine said,
"There are no hard feelings between the two of us. Kevin is a fantastic person with a huge heart and holds so many incredible qualities. There's no straight forward way to sum this up into one paragraph, but I will never forget what a beautiful year we have shared. Nothing about this has been easy. We appreciate everyone's support."
So, Kevin is single and ready to mingle. Ashley is, too, because she really wants to find love, and Bibiana was just dumped by Arie, so she's looking for love, too. In a preview for the show, Kevin is shown smooching both Ashley and Bibiana, and Ashley is crying at the end.
In the premiere episode of The Bachelor Winter Games, Kevin spends time with both Bibiana and Ashley, and both ladies are seriously interested in this dude. But Kevin is kind of weird and indecisive, since he pulls both Bibiana and Ashley aside to ask them who he should take on a date. (Don't pull a Dean, dude.) But Bibiana wins the first round, because she tells Kevin that she would have picked him had she won their first competition — a biathalon. Kevin picks Bibiana for his first date, and Ashley cries.
This could get sticky, because love triangles are sharp, pointy shapes and usually hurt someone. But things are not as they may seem. Take a deep dive of Bibiana's social media and it shows her joking and making fun of The Bachelor franchise and distancing herself from the whole mess of relationships on any of the shows. (It is a mess. A fun mess. But a mess.)
Bibiana is also spending a ton of time with her friends and posting it on Instagram, making it seem like she doesn't have a significant other right now, i.e., she did not bring one home from The Bachelor Winter Games.
Now, Ashley, on the other hand — Ashley is doing full-tilt promo for The Bachelor Winter Games as well as maintaining Almost Famous, her podcast with Ben Higgins. If she was so badly hurt from doing The Bachelor Winter Games and getting rejected by Kevin, would she be so into the franchise still? That's a lot of friend zones to contend with, yeah? In fact, Ashley told TVGuide that the tears viewers see in the first few promos for The Bachelor Winter Games are really the only ones. "Everybody was joking before the Games started that my tears were gonna freeze to my cheeks, because there were nights where it was seven degrees and that's without wind chill factored in," she said. "I think I'm going to surprise you guys. There's a couple happy tears in there."
Ashley, in the history of the three times she has been on a Bachelor show (The Bachelor and two seasons of Bachelor In Paradise), has never, ever cried happy tears. They're always "he picked her over me" tears, or, "Why can't I find someone?" tears. So it's very, very possible that Ashley and Kevin were a couple on The Bachelor Winter Games and that they still are. That Bibiana thing could be a fluke. Ashley and Kevin are keeping their social media on lockdown for the most part, posting silly pictures of their respective lives or of promo for The Bachelor Winter Games, so it's hard to tell if they're together still. All I know is, Ashley's been doing a bunch of interviews about the show, and she looks happy. It's nice to see her smile instead of cry!
Oh, and before you worry about her and Bibiana, don't fret — Bibiana and Ashley teamed up for Ashley's Almost Famous podcast to talk about The Bachelor Winter Games and their friendship. No drama here! All's well that ends well on The Bachelor — and hopefully this time Ashley has finally found her prince.