Kim Kardashian Has Icy Blue Hair Now & Twitter Loves It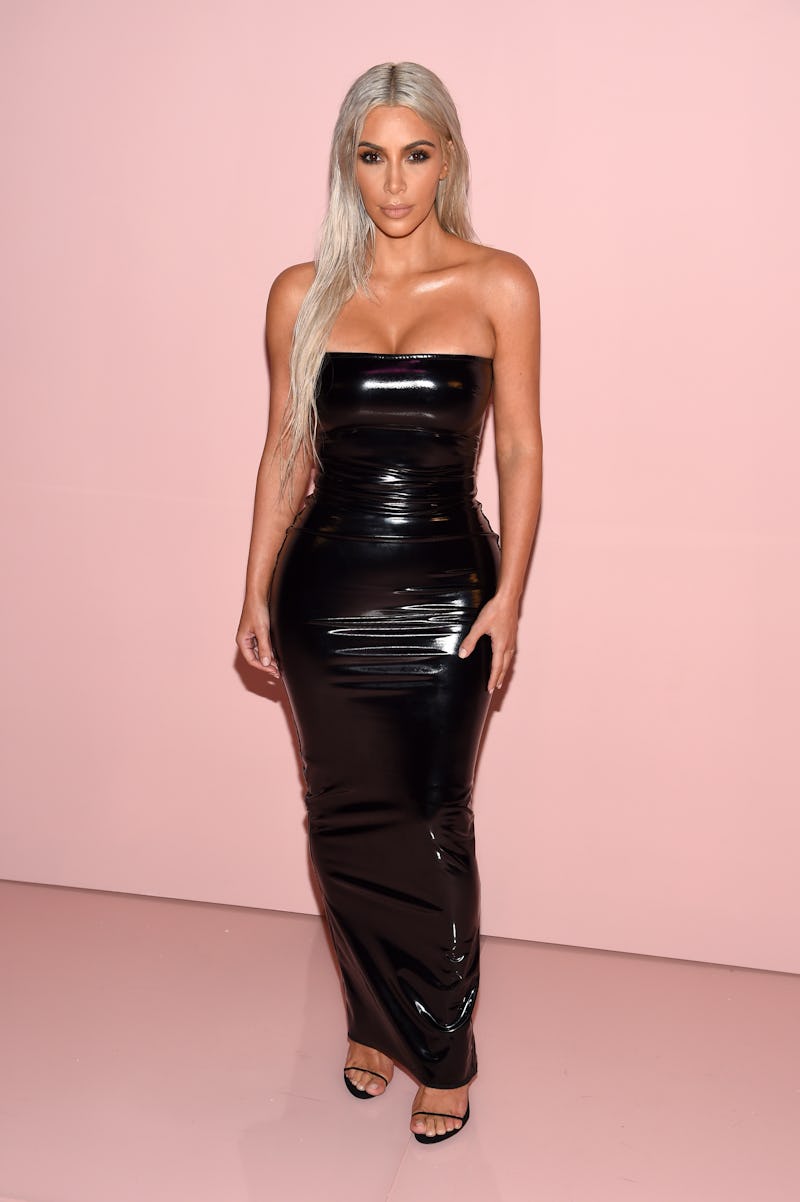 Dimitrios Kambouris/Getty Images Entertainment/Getty Images
Blue hair, don't care! After rocking super long, ultra platinum locks for much of the fall, Kim Kardashian has blue hair now. Hair artist Chris Appleton posted a bunch of pics of Kardashian with an ice blue, blunt cut, shoulder-skimming bob, which matched the KKW Beauty makeup guru and reality star's all-blue outfit.
Kardashian showed off the frosty locks while wearing a fuzzy blue jacket, a pale blue bandeau, and high-waisted, light wash jeans. Some commenters were speculating that the ensemble is another season of Yeezy, since she posted a similar look last month and labeled it "Yeezy."
The entire presentation was mega monochromatic but totally appropriate for the winter season. Kardashian was flanked by her kids, North and Saint in the on-the-go-shots — both children were dressed in all black.
It was most definitely a blue Christmas for Kardashian, but in the best possible way.
While the cut is familiar, since Kardashian has rocked blunt lob looks in the past, the color is a change of pace and is totally unexpected for her. Mermaid blue has certainly been the domain of her youngest sister Kylie Jenner, who has been known to rock all sorts of wigs and hues through the years. Kardashian usually sticks to her natural brunette or tones of blond, which fall in lengthy cascades. So this was quite a shock for fans.
Kim has a case of the blues from head to toe — literally.
There's another look at a blue-haired Kim K. It's totally winter ready and it does look great on her.
Yes, of course, Twitter had lots of opinions about the superstar's newest 'do hue. For the most part, the Twitterverse loved the pastel shade.
This user isn't all about the outfit but digs the hair and is thinking it's a wig. That's quite possible. Or is it's a wash out, temporary color.
This user wasn't shy about expressing their opinion on blue-haired KKW.
Some users are calling attention to the fact Kardashian had previously expressed disapproval of Jenner going blue. Hey, things change, right?
Epic, indeed! Just like the shade itself.
You know you totally LOL'ed at this meme of Kate Hudson from an infamous scene in the rom com Bride Wars. She accidentally ended up with ice blue hair and didn't love it.
She sure does!
This user was also feeling Kardashian's strands.
There were a lot of references to The Smurfs in relation to Kardashian's blue mane. Some were the work of haters. But this tweet sums up all the feels.
There were also plenty of mentions of Jenner and her past pit stops at blue hair. Jenner said she was ditching wigs earlier this year because she was tired of all the media attention and the maintenance.
That sounds about right! Kardashian has become more and more unpredictable with her style in 2017 and she will likely remain the same in 2018.
Plenty of Kim K. fans love everything she does, fashion and beauty-wise.
Kardashian has been rocking long, platinum locks for a while now, with her dark roots showing. Her roots are visible with the blue bob, too. So there is some commonality despite the dramatic difference in hues and lengths.
Remember when Kardashian was a brunette? It feels like she hasn't rocked her natural color in, like, forever. But perhaps the blue 'do (or wig) is a transitional look that will take her from the platinum strands back to her familiar and classic brown? Maybe she has another big change on deck after the holiday season? We'll have to wait and see. For now, she is keeping us guessing.