Kim Kardashian Chopped Off Her Hair & It's BEYOND Chic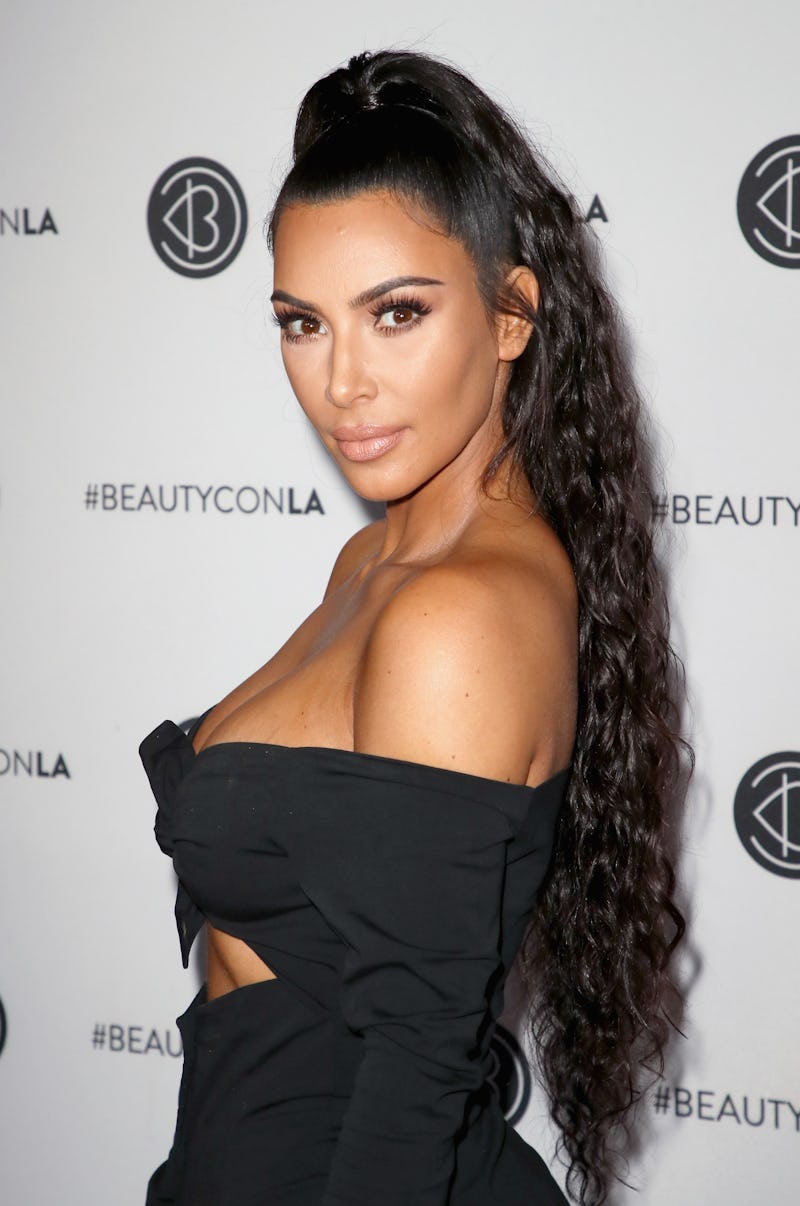 David Livingston/Getty Images Entertainment/Getty Images
There has been quite a baby boom in the Kardashian family this year — as Kylie Jenner, Khloe Kardashian, and Kim Kardashian West welcomed adorbs new daughters into the KarJenner fold. However, there's another trend that's running through the family and that's blunt bobs. Kim Kardashian West just chopped off her hair into a bob that is blunt cut and face-framing. It's almost the same exact cut that her little sister Khloe debuted on social media last week. While Koko's bob is a white-hot, platinum blonde shade, KKW's chop is her signature, glossy black.
It's a shoulder-skimming, head-hugging, and angled bob that's ripe for summer. It's also sleek, chic, and center-paired. Of course it looks great on the reality star and makeup mogul. She has rocked bobs in the past but she is obviously best known for loads of length. The sharp ends are what makes this style so futuristic and fashion-forward. It's super shiny and looks totally legit. Plus, she tagged her stylist Chris Appleton, who also posted about the new 'do on his Insta. So we're thinking this is the real deal.
Both Kim and Khloe acknowledged the fact that they were twinning with their bobs when they posed in Kim's Insta story.
Have a look at Kim Kardashian with a super short bob. It's definitely not a lob since it sits so far above her collarbone.
It's totally gorgeous, right? Don't you just love how it's angled forward? That's such a sophisticated detail and is what elevates the bob to the next level.
ICYMI, here's Koko's new and sexy bob, as well.
Here are the sisters showing off their newly shorn strands. While the Kardashians are recognized for rocking really long and voluminous locks, they aren't afraid to go under the scissors for a serious and dramatic snip — like Kim just did. Keeks and Koko are twinsies while owning that Matrix-like aesthetic.
For comparison purposes, here's what KKW has been pumping lately. She has favored super long strands in her recent KKW Beauty promos.
Her new bob is proof that you can ditch a mega mane in favor of something structured and geometric and still slay all day. And remember when she rocked that ice blue blunt bob?
So, while she is most associated with mermaid-like follicles and her pitstops at platinum blonde, it's clear that Kimmy isn't afraid to make drastic changes.
Since she is a busy mother of three, reality star, enterprising entrepreneur, perfumer, and cosmetics company guru, KKW's new chop is the perfect storm of practical, adaptable and versatile, and stunning. She can do so much with this style. She can opt for stick straight, like she did in the Insta story reveal. She can also add some texture and body with a sea salt spray and make beachy waves. Or she can blow it back with gel for a wet-look coif. She has so many choices and she will crush it — just like Koko.
Will Kourtney Kardashian be next to get a bob? She doesn't usually stray from her long, black strands. Or will Kendall or Kylie do the same 'do? There has to be another KarJenner bob on the hair horizon so stay tuned!