Kris Jenner Has Platinum Blonde Hair Now & You Won't Be Able To Recognize Her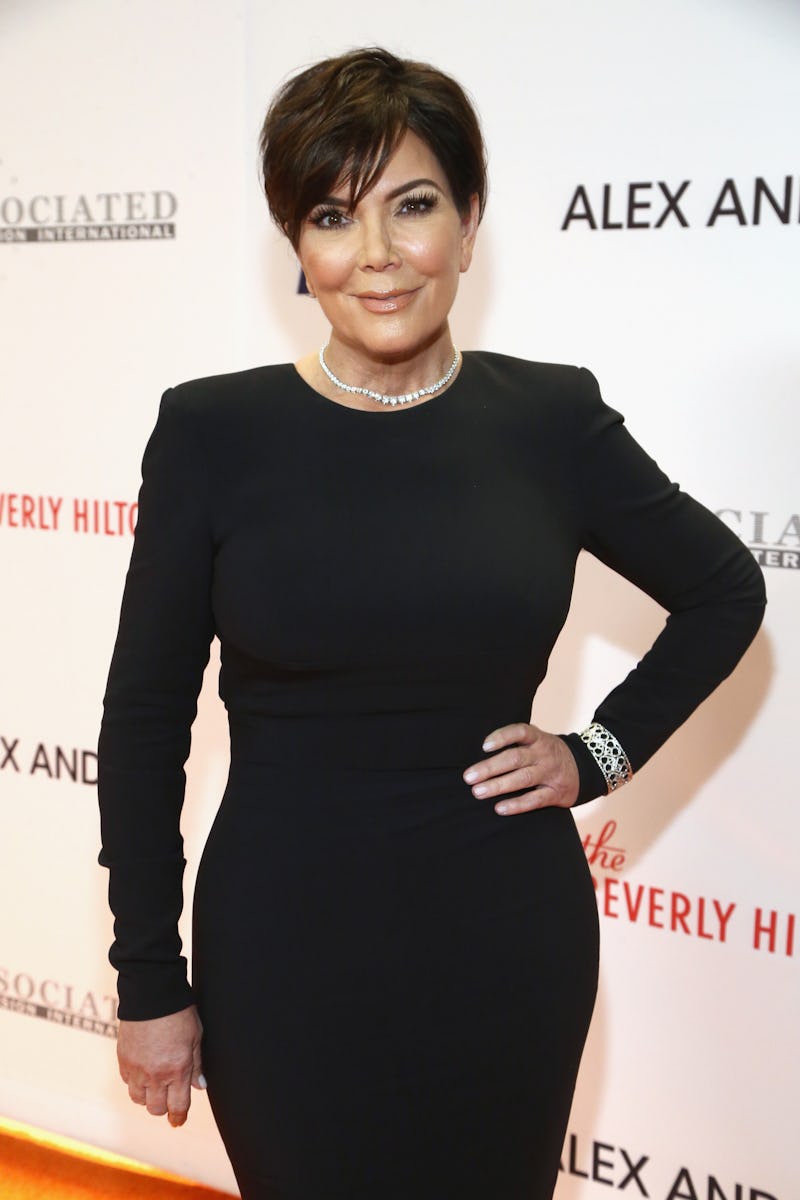 Tommaso Boddi/Getty Images Entertainment/Getty Images
If I had a dime for every time a Kardashian or Jenner changed their hair color, I would still not be as rich as the Kardashians and Jenners. But I would be doing pretty well for myself. Whether it's Kylie experimenting with hues of blue and green and orange (or really any other shade that exists), or Kim going platinum, hair changes are plentiful in the famous family. So Kris Jenner going platinum blonde and following Kim's footsteps isn't exactly surprising, nor is the fact that she looks pretty darn fabulous with the blonde pixie cut. With every Kardashian-Jenner hair change comes the realization that they can pull off any color, style, or hair extension extreme that's out there.
The Kardashian matriarch's new shade was debuted on Kim's personal Instagram account, which, while we're on the subject, is honestly how I would like all of my new hairstyle debuts to go down as well. I will also be holding champagne, wearing sunglasses inside, and be covered in a fur stole. Stay tuned, friends and family. Joke's aside (I'm not really joking), Kris looks excellent in the Instagram photo. She's clearly digging the new hairstyle, and given that she's been rocking the dark brown pixie cut for about as long as Keeping Up With The Kardashians Has Been Around (that's roughly 342 years, if you're counting), it's refreshing to see Jenner try something new. Granted, this new look could be a wig. While pretty much every Kardashian and Jenner daughter has been known to rock a wig at some point, this would be a first for Kris. And either way, she looks fierce.
While daughter Kim debuted her platinum locks for the first time in 2015, since then both Kim and other members of the family have debuted blonde hair on and off. It's a surprise that Kris has taken this long to jump on the platinum train, but as most of us have learned at this point: Kris Jenner knows exactly what she's doing.
Kim K also posted this photo on Monday, reminding us all that now half of the Kardashians are blonde: Khloe, Kim, and Kris. It's only a matter of time before Kylie goes back to blonde, so now Kendall and Kourtney just have to get on board. I'm sure they have family conference calls for this kind of thing, right? That seems to make sense to me, anyway.
While Kris' color may have changed, her hairstyle has still remained the same. In a world of so many changing things, at least we can all rely on the unchanging steadfastness of Kris Jenner's haircut, am I right? The woman has to be surrounded by the temptation of hair extensions at literally all moments of the day, but she stays true to that pixie cut, which I appreciate. It works for her, it's chic, and the maintenance is easy. How can you argue with that?
Below is a photo of Jenner in 2007, proving the above point. Sure, the 2007 version of the Kris Jenner pixie is a little more piece-y, maybe, but it's still generally the same.
Jenner hasn't revealed the new look on her own Instagram yet, but I'm sure it'll show up soon. Her most recent hair photo was from less than a week ago, but she was still sporting the brunette.
It's only a matter of time before the new hairstyle is debuted beyond just Kim Kardashian's Instagram and it becomes clear whether or not it's really just a wig. And in the meantime, we can really ask ourselves just one question: Will Kris get a new blonde Kimmoji?