'Girlfriends' Guide To Divorce' Calls Out This Representation Issue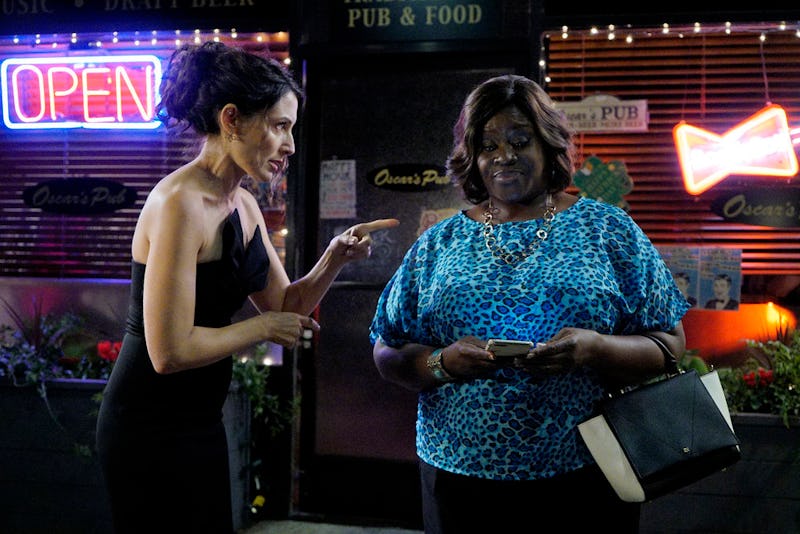 Paul Drinkwater/Bravo
The series Girlfriends' Guide To Divorce ended its third season with former coworkers and friends Abby and Barbara deciding to go into business together to build their own website. Season 4 will begin with the site's launch, but is Lady Parts from Girlfriends' Guide To Divorce real? As great as it would be if there were an actual lifestyle site with this vaguely dirty title and two women like Abby and Barbara behind it, LadyParts.com is as fictional as the characters who are creating it. But while you can't travel to its URL IRL, the point that Girlfriends' Guide is making about the online landscape is applicable to the real life.
SheShe, the site where Abby met Barbara, is a parody of any site that prioritizes clicks and sensationalism over serious journalism. That site was eventually forced to close due to a lawsuit. Abby and Barbara certainly clashed with SheShe's thirst for clicks, but when the two characters decided to put their personal differences aside and make their own site, it wasn't just because SheShe would rather hear about "fun" divorce stories rather than the real thing, but because the larger website had been chasing an enormous audience, overlooking content that specifically spoke to women in their age group.
The season premiere will skip forward in time, past the development, financing, and hiring stages to the moment when the newly christened LadyParts.com is going live and getting straight to the complications of what it's like to run a business with a friend, even if she is a former coworker. Abby and Barbara may be pals now, but their early conflicts over management and work styles are still right there under the surface.
But beyond being an engine for future character conflicts, Lady Parts points out how women who are in their 40s and above are missing from the lifestyle space. Sure, there are sites like Goop, which was founded by 44 year-old Gwyneth Paltrow, but the celebrity was only in her mid-30s when the original Goop newsletter was published in 2008. And to use that as an example, much of the content on Goop is aimed at wealthy readers, with many of its tips economically inaccessible to many. There are great articles about, say, age and hormone changes on the site, but many other pieces aimed at middle-aged women have a focus on selling anti-aging products.
Lady Parts is attempting to change the conversation, and while I can't think of a site like Barbara and Abby's that has made a huge impression yet, there are women who are speaking to that audience. In 2015, blogger Elena Peters wrote a post titled, "Midlife Women Bloggers: Where Are You?"
"It seems to me that all of these other groups of bloggers are so organized and supportive of each other," Peters wrote. "I try to fit in ... but for the most part I find myself feeling like the outsider." Plenty of women like Peters are still working to make the lifestyle blogging industry more inclusive, and it's only a matter of time before one breaks though.
While Lady Parts isn't a real site, the lack of popular content reaching its demographic makes it an accurate critique.