Here's Why You Should Be Rooting For Leo On 'The Bachelorette'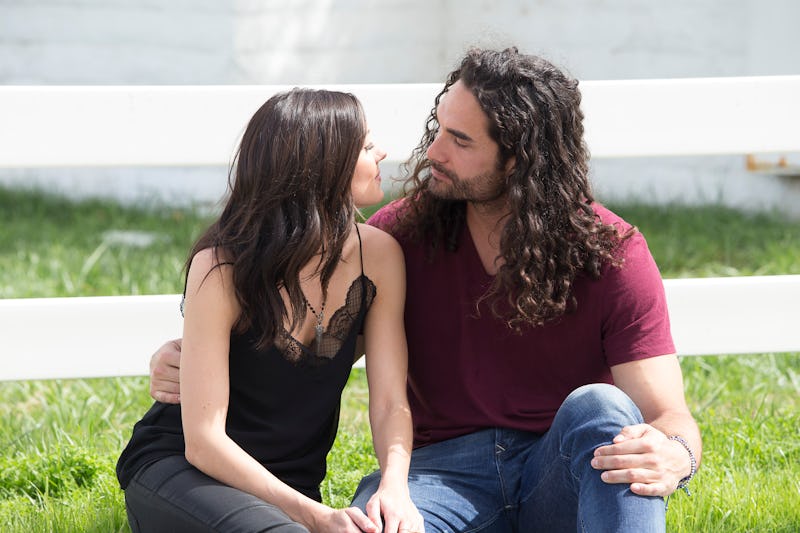 Paul Hebert/ABC
His voluminous, spiraling locks probably deserved an impression rose of its own during his time on the show. He's a Hollywood stuntman by trade, a comedian, and a firm believer in kindness — a Twitter user even dotingly referred to him as the guy who'd buy toilet paper (double-ply, at that) for The Bachelorette mansion if their stash ever dwindled. But the real question is, were all of those shining qualities enough to earn him the right to request Becca's hand in marriage? Or is Leo Dottavio single after The Bachelorette? Fans seem to think he's the marrying type.
In last week's episode, Leo had his first one-on-one date with Becca in Richmond, Virginia. Not only did Becca feel comfortable venting to him about the previous night's drama, they seemed to have a really good time searching the Chesapeake Bay for shuck and suck-ready oysters ("Is this impressing you?" Leo said. "I was born to shuck!"). As they climbed back into the fishing boat, Becca said that Leo was exhibiting everything she would want in a partner: a free spirit, a collected mind, and a compassionate heart. Leo even told her that he's willing to give it all to her, "and hopefully that's enough." Swoon, right?
While that date footage was a surefire way to melt the hearts of every person in America, it's unclear whether or not it was enough to win Becca over for good. Becca admitted that she felt as though she had a slower start with Leo than she did with the other guys (contrary to reports that he was actually her first kiss on night one, per Us Weekly), but she found herself surprised and impressed with his stand-up qualities and intolerance for insignificant drama.
The strategy of hanging back quietly and letting the tension unfold without participating is one that worked for Season 13 winner, Bryan Abasolo, from Rachel Lindsay's season. He refused to get involved in the petty arguments that were fueled by jealousy as the number of remaining men shrank until he was the last man standing. At the end of it all, Rachel chose him and they're now happily engaged. Will the same strategy work for Leo?
There are theories that it didn't, pointing to trends in his social media use that preceded taping's end. Mariah Smith wrote for InStyle that he tweeted in April and early May of this year, "which is peculiar because Becca's season didn't wrap filming until May 10, 2018," she wrote. "As I'm sure you know, internet access, especially social media access, is strictly prohibited during the filming of any Bachelor franchise show." Which is why she thinks Leo didn't end up with Becca, and it's a pretty fair point.
If he didn't steal the Minnesota-native's heart, though, that doesn't necessarily mean he's currently single. He could've moved on and found another girl with a mane as great as his. But naturally, his social media posts are pretty stuck on Becca at the moment given that the show is still airing and he's still on it. There's nothing that's necessarily relationship defining (even his Facebook says there's no relationship info to show).
Bachelor Nation Is In Love, Even If Becca Isn't
It's obvious that Leo wants what's best for Becca, even if she doesn't end up choosing him in the end. He said in last week's episode that he wants Becca to make the best decision for her future, and that he hopes to have the honor of being a part of it. "I'm ready for everything with Becca," he said. It's that openness to her feelings that seems to be making him so attractive to fans. Becca would be lucky to end up with him, as would any other person out there. Whoever it is that Leo ends up with will have access to some pretty bomb hair care products. And a seriously easygoing dude.