Lindsey Vonn Is Only Dating Gold Medals In 2018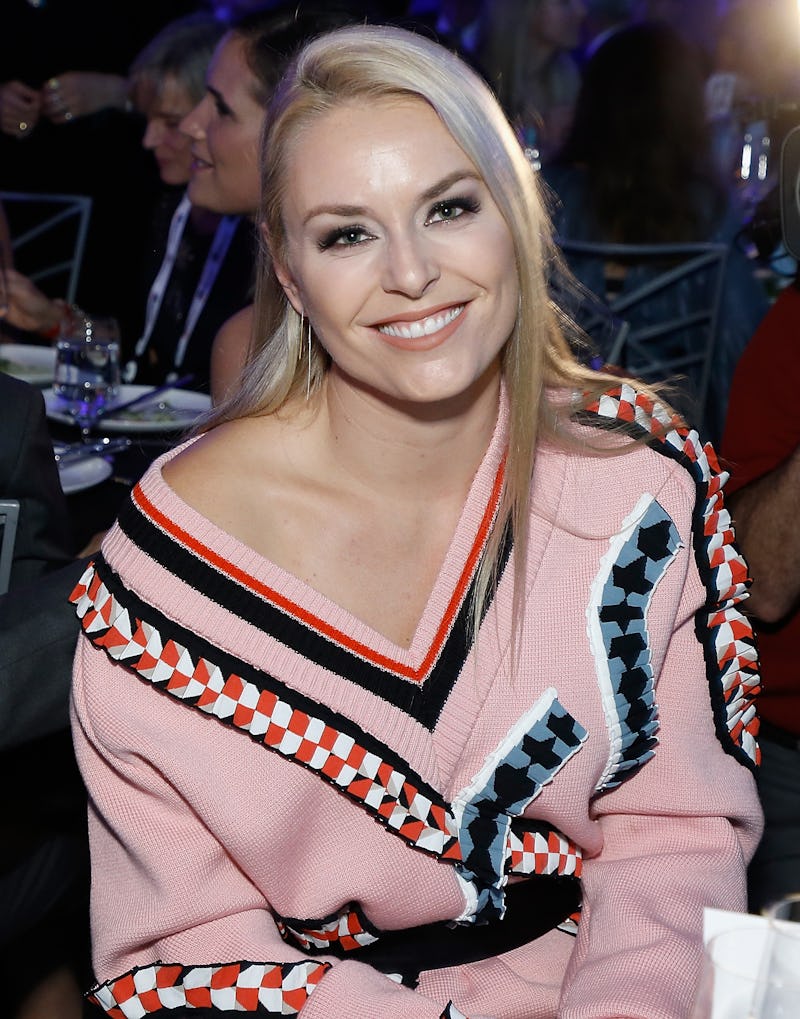 John Lamparski/Getty Images Sport/Getty Images
Now that the 2018 Winter Olympics are finally upon us, plenty of beloved U.S. athletes are in PyeongChang gearing up to compete. It's been a while since we've seen many of them in action, so if you're wondering if their relationship statuses have changed before the big event, you're not the only one. For example, is Lindsey Vonn dating anyone? In this professional alpine skier's case, it sounds like she headed to the games as a single lady... unless there's something she's not sharing with her fans.
Lately, Vonn has been updating her followers on Instagram with her journey to the Olympics and what's been going on in her life as she prepares. The 33-year-old has recently posted pictures from skiing events and competitions, videos from the gym, and even an adorable one of herself and her dog arriving in South Korea. Just from her Instagram alone, it seems pretty obvious that there isn't anyone she's romantically involved with these days — at least, not anyone she feels comfortable posting about on social media just yet.
But her single status is a relatively new development when it comes to Vonn's love life. Toward the end of 2017, she and her boyfriend called it quits.
According to People, Vonn and Kenan Smith broke up after dating for more than a year and a half in November 2017. At the time, a source close to Vonn told the magazine that while their split was amicable, Vonn reportedly wanted to dedicate her time to getting ready for the Olympics, so she could be "laser-focused on her training."
It makes sense — the Olympics is obviously a really big deal, so who wouldn't want to prepare distraction-free? Relationships can come and go, but gold medals? Well, those are forever. Besides, Vonn had to miss out on the 2014 Sochi Olympics because of knee injuries, so it's understandable that she'd want to make sure her comeback was as flawless as possible.
Before Smith, Vonn was married. In 2007, she wed fellow skier Thomas Vonn when she was 22 years old, but they got divorced in 2013, following their initial 2011 split. She kept his last name as her professional name since that's what she was known by. (Her maiden name is Kildow.) In a January interview with Sports Illustrated, Vonn said, "People come to races to see Lindsey Vonn. It's my stage name. It's who I am on the hill. Maybe I'll change it back when I retire. Or if I get married again." She also said that although she doesn't regret her decision, she "probably shouldn't have gotten married so young." She explained, "I got older and things just changed."
And then, after her divorce, she famously dated controversial golf legend Tiger Woods for two years. In the same Sports Illustrated interview she admitted that they're still on good terms today. Of course, they haven't dated since their relationship ended in May 2015, almost three years ago, but it sounds like things are pretty friendly between them now.
Vonn told the magazine:
"I was in love. I loved him and we're still friends. Sometimes, I wish he would have listened to me a little more, but he's very stubborn and he likes to go his own way. I hope this latest comeback sticks. I hope he goes back to winning tournaments."
The good news: It seems like Vonn is in a really good place in her life, dating or not. And that's kind of essential when it comes to being ready to kick major butt at the Olympics.
If you're crushing on the skier, you're in luck — it seems like she's definitely still available these days. But honestly, who she may or may not date in the future kind of pales in comparison to how huge another year at the Olympics is for her. And with her kind of talent and drive, there's no way she won't find the right person when she's ready.