MAC's In The Flesh Eyeshadow Palette Is A Beauty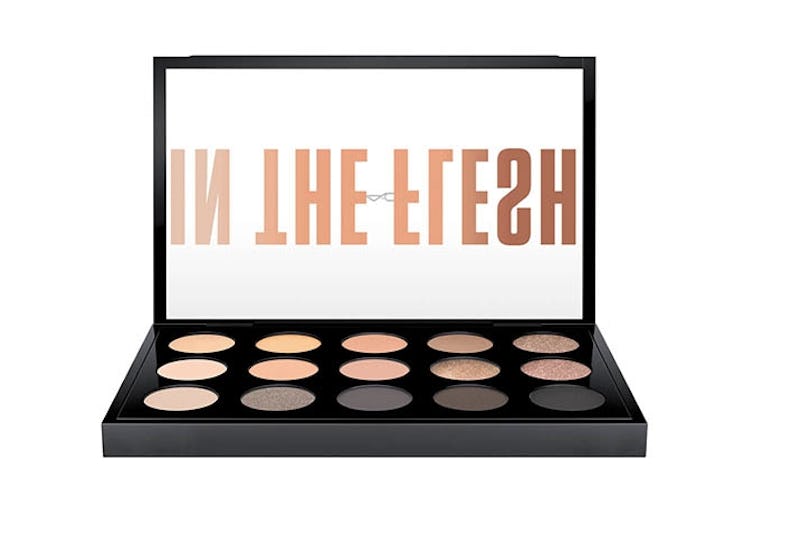 Brace yourselves, beauty junkies. Another groundbreaking eyeshadow palette has just launched, and you need to add it to your makeup collection, stat. If the recent release of Too Faced's Natural Love palette was enough to get you all giddy inside, just wait until you see MAC's latest launch. Is MAC Cosmetics' new In The Flesh eyeshadow palette sold out? Here is the 411.
If you're not familiar with the stunning kit, let me get you up to speed. The palette consists of a whopping 15 stunning shadows of multiple finishes, including matte, satin, and shimmery. The theme of the palette is all-nude everything, as you may have guessed from it's name, In The Flesh. It aims to equip you with everything you need to create beige-based look, be it subdued and natural-looking for daytime, or a bit more naughty for nighttime. Some standout hues include "Indiscretion," a lustrous dirty mauve, "Cast Iron," a matte charcoal, and "Glam Gold," a coppery yellow gold.
A palette this good has got to go fast, right? So is it too late to cop a piece? Fortunately not! According to the brand's site, In The Flesh palette is still available for purchase as maccosmetics.com, as well as in MAC stores.
I'm already obsessed.
In The Flesh Eyeshadow Palette, $65, maccosmetics.com
MAC lovers are definitely die-hard, so you never really know how quickly this kit will sell. I suggest you get on this pronto.
Here is a closer look at the shades.
In The Flesh Eyeshadow Palette, $65, maccosmetics.com
BRB, I have some shopping to do.