'I Love Dick' Pays Homage To A Quirky Town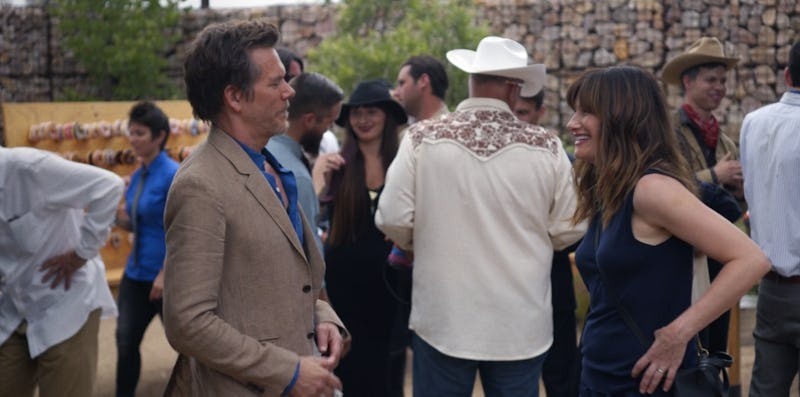 Amazon
Part of what gives Amazon's I Love Dick its eccentricity is the setting, which is so perfectly suited to the show's artsy atmosphere that you might be wondering if Marfa, Texas is real. The small town is, in fact, a real place that you can visit. And the show has been bringing it a lot of attention recently.
In an interview with Vogue, I Love Dick co-creators Jill Soloway and Sarah Gubbins explained why they moved the setting of the book to Marfa. "We adore Marfa, and Marfa's a really complicated ecosystem. It takes a while to understand what it is," Gubbins said. "People have such different takes on what that place is, and that's what I find endlessly fascinating. It's just got something. I'm not a woo-woo person at all, but it's at elevation; the air is different."
Perhaps surprisingly, local publication Texas Monthly's Emily McCullar critiqued both the Vogue impression of Marfa and the I Love Dick pilot for portraying the city as "the romanticized Marfa ideal for the transplanted artist." In fact, Texas Monthly's biggest compliment to the series is the character Devon, who is one of the few Marfa natives Chris, the protagonist, interacts with. But McCullar wrote, "I get the feeling Soloway is at least partly condemning those who use the town merely as fuel for their artistic pursuits, which is sort of what she herself is doing by setting the show there in the first place."
A review from The Big Bend Sentinel is even more critical, offering that from the perspective of a local Marfa resident, "If anything, I Love Dick makes light of the quirks we have to endure to live here."
Overall, though, both reviews do concede that in some ways, I Love Dick did its homework. Soloway and Gubbins have populated the series with cameos from locals. The Big Bend Sentinel lists out several local Marfa celebrities who are woven into the narrative. These cameos won't mean much to those who haven't been to Marfa before, but they do lend some authenticity to the series.
Some aspects of the show are, of course, fictionalized completely. Marfa Institute, the school where Chris' husband — and the titular Dick, another professor — teaches, is not real. However, Marfa is home to the famed Chinati Foundation, an art museum founded by Donald Judd, an artist who has a similar laconic manner to the series' Dick Jarrett.
But it seems that Gubbins understands that Marfa is more complicated than its artsy exterior would have you think. "There are many different vantage points where you can come in and think you understand Marfa," she told Vogue. "You spend four days there, and you're like, I love this place! I know it! But then there's just this longevity, this way of knowing you're never going to be a Marfan; you're always going to be an outsider."
For a pair of outsiders, it seems that the two I Love Dick creators have made a great effort to accurately pay tribute to the city.