Netflix's Newest True Crime Series Is About The Pizza Bomber & The Case Is So Complicated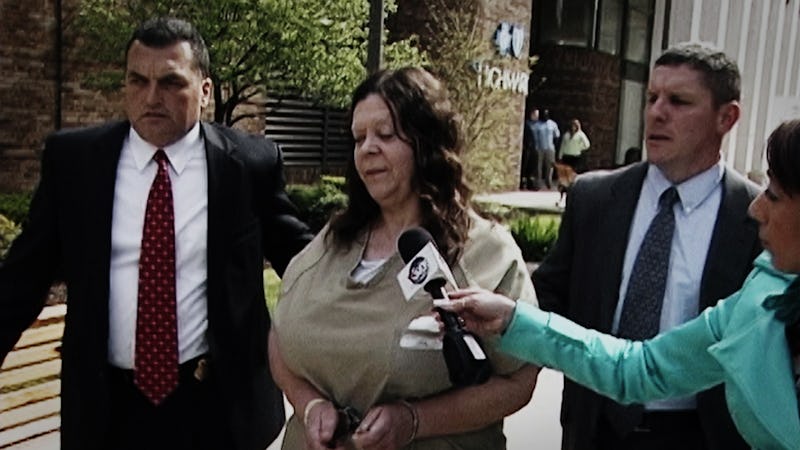 Netflix
The "pizza bomber heist" at the center of Netflix's Evil Genius is absurdly puzzling in and of itself. But this true crime case becomes even more complicated by Marjorie Diehl-Armstrong's involvement. The Erie, Pennsylvania, woman is the titular "evil genius" of the documentary and Marjorie Diehl-Armstrong was sentenced to prison for her role in this deadly robbery. Through interviews, she gives her perspective on the case in Evil Genius: The True Story of America's Most Diabolical Bank Heist. The interviews were recorded while she was serving time for the pizza bomber heist and another related crime, and Diehl-Armstrong later died in prison on April 4, 2017, according to the AP.
As Rich Schapiro for Wired outlined, Brian Wells — a pizza delivery person — robbed a bank with a bomb attached to his neck on Aug. 28, 2003. It appeared that Wells was a victim in the scheme since he had a set of instructions to follow after the burglary — a scavenger hunt of sorts — for how to remove the bomb. Authorities intercepted him before he finished the instructions and Wells claimed that when out on a delivery, a group of men forced the bomb on him. (His last delivery of the day had been to a transmission tower site.) While the police were waiting for the bomb squad to arrive, the bomb went off and killed Wells. No one else was harmed.
How Diehl-Armstrong became a suspect in the pizza bomber heist was actually through another crime. Bill Rothstein, who lived near the transmission tower where Wells had made his last delivery, contacted the authorities about a month after the incident. Rothstein said he had the dead body of Diehl-Armstrong's boyfriend, Jim Roden, in his freezer. Rothstein had dated Diehl-Armstrong decades earlier and claimed that she had murdered Roden — and that it had nothing to do with the bomb.
This wasn't the first time that Diehl-Armstrong had been accused of murdering a boyfriend. Wired reported that she suffered from mental health issues, including bipolar disorder, and that she shot a boyfriend to death in 1984. She said it was in self-defense and the jury acquitted her. But there was a different outcome in the murder of Roden. According to the Associated Press via philly.com, she plead guilty but mentally ill to Roden's murder in January 2005. (By that time, Rothstein — who had brought Diehl-Armstrong to the attention of the authorities — had died of cancer.) Wired wrote that she was sentenced seven to 20 years.
As the AP via The Washington Post reported, it wasn't until July 2007 that Diehl-Armstrong was charged for the pizza bomber heist. By then, prosecutors had enough evidence to connect Diehl-Armstrong, her friend Kenneth E. Barnes, Rothstein, Roden, and even Wells himself to the plan. The AP via CBS News wrote that Barnes testified that Diehl-Armstrong had allegedly planned the bank robbery and was allegedly going to use the money to pay Barnes to kill her father. Barnes also reportedly claimed that Diehl-Armstrong had allegedly tried the bomb collar on Wells the day before the robbery. She denied the charges but was found guilty of armed bank robbery, conspiracy, and using a destructive device in a crime of violence in November 2010. CNN reported that she was sentenced to life in prison plus 30 years in February 2011.
Diehl-Armstrong maintained her innocence in the pizza bomber heist for the rest of her life. "I am not a crazed killer," CNN reported that Diehl-Armstrong claimed in court. "The true killers are still out there." And GoErie.com reported that she lost all three of her appeals with the last appeal occurring in May 2016. Less than a year later, she died in a federal prison in Texas. While GoErie.com reported that she had battled with breast cancer, a spokesperson for the prison only revealed that Diehl-Armstrong had died of natural causes.
The cases are officially closed now with her death. But viewers of Evil Genius will still get to hear her tell her version of the story even though she has passed. However, her viewpoint is unlikely to make this heist-gone-wrong any easier to comprehend.