America's Most Hated "Pharma Bro" Has Been Charged With 3 Counts Of Fraud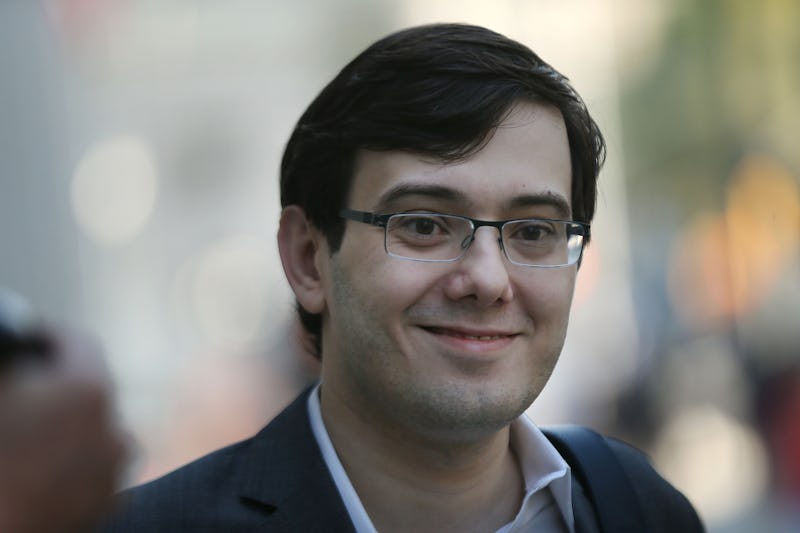 Spencer Platt/Getty Images News/Getty Images
On Friday, "Pharma bro" Martin Shkreli was found guilty of securities fraud and conspiracy, stemming from his management of several hedge funds and the pharmaceutical company Retrophin. Shkreli was accused of providing investors in the hedge funds with false financial statements and illegally funneling their money into and out of Retrophin's coffers. He faces up to 20 years in prison once sentenced.
Shkreli became famous when, as the CEO of a different pharmaceutical company, he raised the price of the life-saving antiparisitic drug Daraprim from $13.50 to $750 a tablet. But he also managed two mutual funds during that time — MSMB Capital and MSMB Healthcare — and the lawsuit centered on Shkreli's management of those three entities.
Prosecutors said that Shkreli gave investors false assurances of financial security when he accepted millions of their dollars for investment in MSMB Capital and MSMB Healthcare. According to the prosecution, Shkreli later told his investors that those funds had grown in value and were worth $100 million when in fact, they were never worth more than 3 percent of that. Prosecutors also argued that Shkreli invested some of the money in Retrophin without telling investors.
When those investors asked for their money in cash, the prosecution continued, Shkreli dragged his feet on returning it, and then attempted to pay them back through sham "consulting agreements" with Retrophin. In one of the most serious accusations, prosecutors said that Shkreli ultimately looted $11 million from Retrophin, a publicly-owned company, to pay back the investors in his hedge funds.
However, Shkreli's attorney argued that his 34-year-old client is a "good kid," and stressed that everyone who invested in the two mutual funds ultimately made money off of their investments.
"This is not a case where anybody was defrauded!" Shkreli lawyer Benjamin Brafman shouted in the courtroom during his closing argument, according to CNBC. "If you're committing fraud, you don't care about your victims." Brafman also called Shkreli "maybe one of the most extraordinary minds of his generation."
But the jury found Shkreli guilty of two counts of securities fraud and one count of conspiracy to commit securities fraud, which related to his managements of the hedge fund. However, he was acquitted of the charges related to Retrophin, which Shkreli said he was "delighted" about during a post-verdict press conference.
Before being convicted, Shkreli referred to the prosecutors in the case as "junior varsity," a comment that resulted in the judge banning him from talking about the case in or around the courthouse.