Dev's Journey Is So Relatable In 'Master Of None' Season 2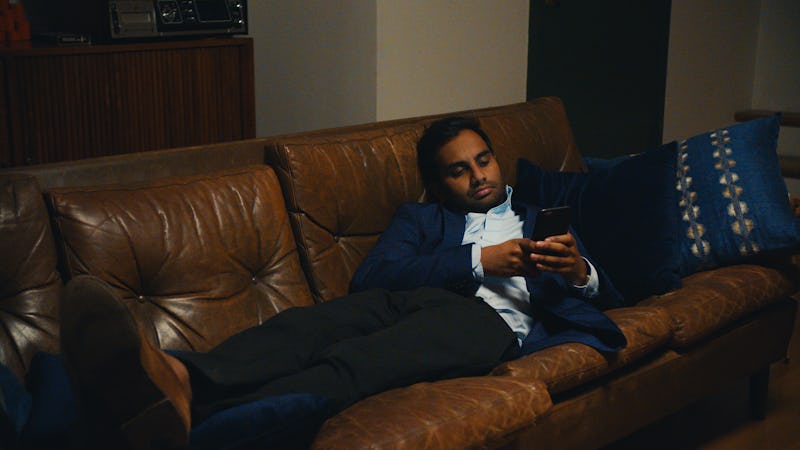 Netflix
The much-anticipated second season of Netflix's Master Of None hit the streaming site on Friday, May 12. The show is helmed by Parks & Recreation alum, comedian, and author Aziz Ansari. During Season 1, fans fell quickly in love with Ansari's take on city life. Critics compared Ansari's philosophical but relatable comedy to other semi-autobiographical shows and films, like Louie and Trainwreck. But, when watching entertainment that draws on real life to some degree, audiences become curious about what is fact and what is fiction. Is the second season of Master Of None based on Aziz Ansari's life?
In an interview with The Los Angeles Times around the time of the series premiere, Ansari said that his experience as an Indian-American actor inspired events on the show, though things had been fictionalized for TV. However, the biggest draw from Ansari's real life on the show was the casting of his parents Fatima and Shoukath Ansari as Dev's parents. And in Season 2, Ansari cast his real-life cousin Harris Gani as his cousin on the show. (Fans of Ansari's stand-up probably remember Harris and his penchant for the show Burn Notice.)
But it's not just the casting of his family that contributes to the authenticity of Master Of None. One of Master Of None Season 1's most memorable episodes, "Parents," stuck pretty close to Ansari's parents story of leaving India for America. According to the same Los Angeles Times article, Fatima and Shoukath Ansari left India and landed in South Carolina where Shoukath became a physician, in an immigration story that mirrors their characters on the series. The emotional, relatable episode depicts the struggle of achieving the American dream and what it's like to have culture gaps between generations. "Parents" stayed with viewers after they turned off the TV.
As Season 1 depicted an immigrant story from a real place, Season 2 features more cultural touchstones for children raised by observant Muslim families. And yes, just like on the show, Ansari has argued with his parents about eating bacon.
On Conan, Ansari joked about a difference in devoutness between his parents. This is something many young people can relate to, but the topic is rarely explored through the lens of the Muslim faith in popular entertainment. In the clip, Ansari explains that his parents discovered that he eats pork. The shame and the awkward dinner conversation that followed left viewers of all belief systems with stricter parents saying "same." And, this relatability is what Ansari was striving for with Season 2.
In an interview with Vulture, Ansari discussed the importance of depicting a diversity of Muslim characters on television — including goofy parents. Ansari said:
"If every time you see a Muslim person, it's the f*cking guy from 24 or Homeland, yeah, it's going to shape your opinion of all these people ... If every time you saw a Muslim person on TV, and it's my dad, you'll be like, 'These goofy people! They're probably gonna ask me for a bite of my sandwich.' I don't think Islamophobic people have hate in their heart. I'm not saying it's justified, but representation is part of the problem."
While Ansari's own life inspired him to thoughtfully depict narratives about race, love, gender, technology, and religion on Master Of None, the show has also gained some humor from his less serious real-life experiences. Like getting a car stuck in a narrow alley in Italy... yeah, this totally happened IRL.
During an interview on The Tonight Show Starring Jimmy Fallon, Ansari explained that he really did move to Modena to learn how to make pasta, for the show. (He also revealed in an interview with Vogue that he really learned Italian for the role.) While Ansari was in Italy with his friend Eric Werheim, who plays Arnold, the pair really did get stuck in an alley way. (Side note: Werheim and Ansari really do call themselves "Big Bud" and "Lil Bud" on Instagram.) Ansari said to Fallon:
"Eric came to visit me while I was living there in Italy ... We were driving around in this area in Sicily on these tiny roads. And just like what happens on the show, we see this little, tiny alley and we're like, 'I don't know if we can make it?' And then this truck just barrels through and we're like, 'Oh, well the truck made it, we'll be fine.' And then we go in and we get stuck."
Of course, Ansari 'grammed the whole saga — and brought a picture for Jimmy Fallon to share. Check out the pics from Ansari's Instagram below:
So, it seems, art really does imitate life, in ways both big and small. You may want to keep up with Ansari on social media and through his standup to see what could happen on a hypothetical Master Of None Season 3.