"Queen Meghan Markle" Will Literally Never Happen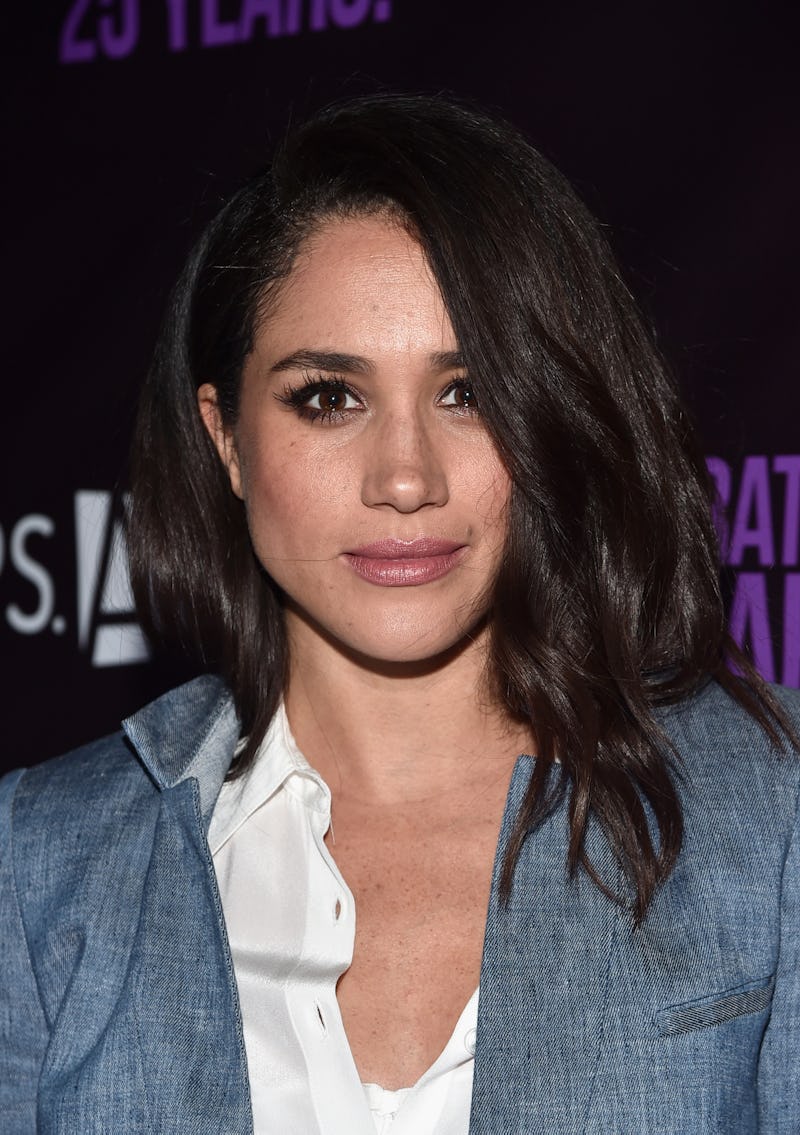 Alberto E. Rodriguez/Getty Images Entertainment/Getty Images
On Monday morning, the exciting news was announced that the world will get another gorgeous royal wedding to watch come spring 2018. Prince Charles announced that Prince Harry and Meghan Markle are engaged, and it sounds line everyone (the Queen included) is excited. Of course, this being a royal engagement, there are a lot of logistical questions that arise. For instance, is Meghan Markle in line for the throne?
Put simply: no. While Prince Harry is fifth in line to the throne, as someone marrying into the family, Markle does not gain succession rights, according to the Daily Mail. As the publication reports, if someone already has succession rights, they maintain them and don't move up the line if they marry another person who is higher up in the line of succession, such as the case with Queen Elizabeth and Prince Philip. As a descendant of Queen Victoria, Prince Philip is technically in the line of succession, but is very far down the list — not even in the top 100.
And Prince Harry, who himself was once third in line, won't even be fifth in line much longer. The children of his older brother, Prince William (who is second in line), and Kate Middleton bumped Harry out of his spot when they were born. Four-year-old Prince George and 2-year-old Princess Charlotte and now third and fourth in line to the throne, respectively. And seeing as Middleton is currently pregnant, when that child is born in April, he or she will be fifth in line to the throne, making Prince Harry sixth.
With Prince Harry so far back in line, it's incredibly unlikely that he will ever ascend the throne, and if he were to, that still wouldn't mean Markle would be given the title of queen, similarly to how Prince Philip is still called Prince Philip even though he is married to Queen Elizabeth.
Although Markle will not join the line of succession what she does gain by marrying into the royal family (besides, you know, love and someone to spend her life with) is a title. According to Vogue, Prince Harry and Markle will likely be granted the titles of Duke and Duchess, as was the case with Prince William and Middleton, who became the Duke and Duchess of Cambridge. While Middleton is sometimes called "Princess Kate", she does not have a princess title — at least not yet. The wife of the Prince of Wales is given the title the Princess of Wales. This title was previously held by Princess Diana and is now the title of Prince Charles' current wife, Camilla. When Prince Charles becomes King and Prince William becomes the Prince of Wales, Middleton will gain the title princess.
That said, Markle could technically be called Princess Henry. It wouldn't be her own princess title (i.e. "Princess Meghan"), but since she will be a princess by marriage, she could go by Princes Henry, since she will be married to Prince Henry (Harry's real name).
But as Vogue points out, according to a Royal Central article from December of last year (hey, the marriage talk started as soon as they started dating), it is likely that Harry and Markle will be called the Duke and Duchess of Sussex. Marlene Koenig of the blog Royal Musings told Royal Central, "Most likely, [Prince Harry] will be created a Duke. Sussex is available so she [Meghan Markle] would be HRH the Duchess of Sussex. Her rank would be a princess by marriage of the United Kingdom, Great Britain and Northern Ireland."
The Mirror also notes that since Meghan is actually Markle's middle name rather than first name, there's also a chance she could go by her first name, with would make her Duchess Rachel.
According to Royal Central, the Duke of Sussex title has not been used since Duke of Sussex Prince Augustus Frederick died in 1843. Since William did not take on this title, it is thought to be likely that Harry will. Meghan (or Rachel), Duchess of Sussex? Sounds pretty good.