Kate Middleton's Due Date Has Officially Been Confirmed & It's Actually Really Cute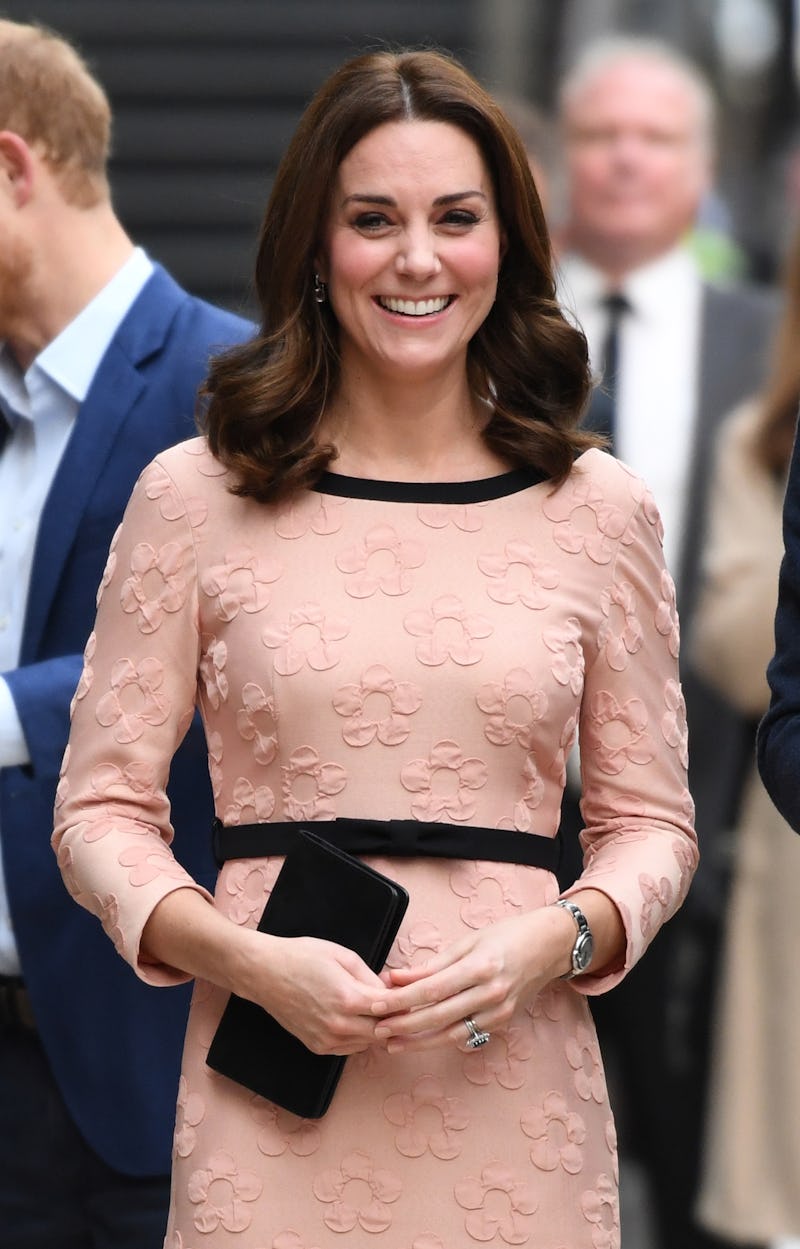 CHRIS J RATCLIFFE/AFP/Getty Images
If you've been wondering and waiting for Kate Middleton's third baby's due date, then wait no longer. On Tuesday, Kensington Palace confirmed that Middleton's third child will be born in April 2018, and it's not just the spring due date that's sweet. It's also the fact that this will mean that her third child will have a birthday one month apart from Princess Charlotte's. Just imagine all the joint birthday parties we could see pictures from. On top of that cuteness, though the third child of Prince William and the Duchess of Cambridge will be fifth in line for the British throne, he or she will share a birthday month with their great-grandmother, Queen Elizabeth II, whose birthday is April 21.
As if a close proximity to Princess Charlotte and Queen Elizabeth's birthdays isn't enough to convince you that April is the most exciting month for this royal baby to be born, it's even more special once you consider that Prince William and Kate Middleton got married on April 29, 2011. Clearly, April is a good month for the royal family, and based on the official due date announcement, it sounds like the family is excited about it. A tweet posted today from the official Kensington Palace account reads, "The Duke and Duchess of Cambridge are delighted to confirm they are expecting a baby in April 2018."
Unfortunately, this pregnancy hasn't been a complete joy for Middleton, as palace officials revealed that she is once again suffering from Hyperemesis Gravidarum, or severe morning sickness, when they announced her pregnancy in September. Middleton's difficulty with the condition also troubled her during her pregnancies with Prince George and Princess Charlotte. In fact, Middleton's third pregnancy announcement almost echoed her second pregnancy announcement, which also came in September, as on both occasions, the Duchess of Cambridge was forced to cancel her plans to attend events due to the sickness.
Hopefully the fact that Middleton made a surprise appearance at London's Paddington Station to dance with Paddington Bear on Monday indicates that she's feeling better than she was at the beginning of her pregnancy. Though Middleton is such a class act that she may have showed up regardless of feeling ill — no royal could ever stand up Paddington Bear, after all.
Also similarly to older sister, Charlotte, the new royal baby will be heir to the throne regardless of their gender. That means that if the third child of the Duke and Duchess of Cambridge is a boy, he will still be the fifth in line for the throne rather than moving ahead of older sister Charlotte to take her place as fourth. As obvious as this may sound, it's actually a relatively new ordinance as before 2013, the order of succession to the throne had previously been determined by gender, meaning that male heirs went before their older sisters in line. The law was passed right in time for William and Kate's budding family as Parliament made sure to act quickly enough for it to precede the birth of their first child in case it were a girl.
Even though the updated laws didn't affect Prince George or Princess Charlotte's places in line to become monarch, the third baby's birth could be an exciting chance for history to be made as a boy remaining behind his older sister in the line of succession will make history for British Royalty.
Regardless of whether or not the third child for William and Kate makes history, his or her birth will be an exciting event for Britain, and, well, the whole world. Yes, this April, everyone worldwide will be back on royal baby watch, because you've gotta get your kicks when you can in times like these. Plus, based on how cute Charlotte and George are, the third baby of William and Kate's will undoubtedly delight everyone watching.