Why Mikaela Shiffrin May Have Skipped The Olympic Opening Ceremony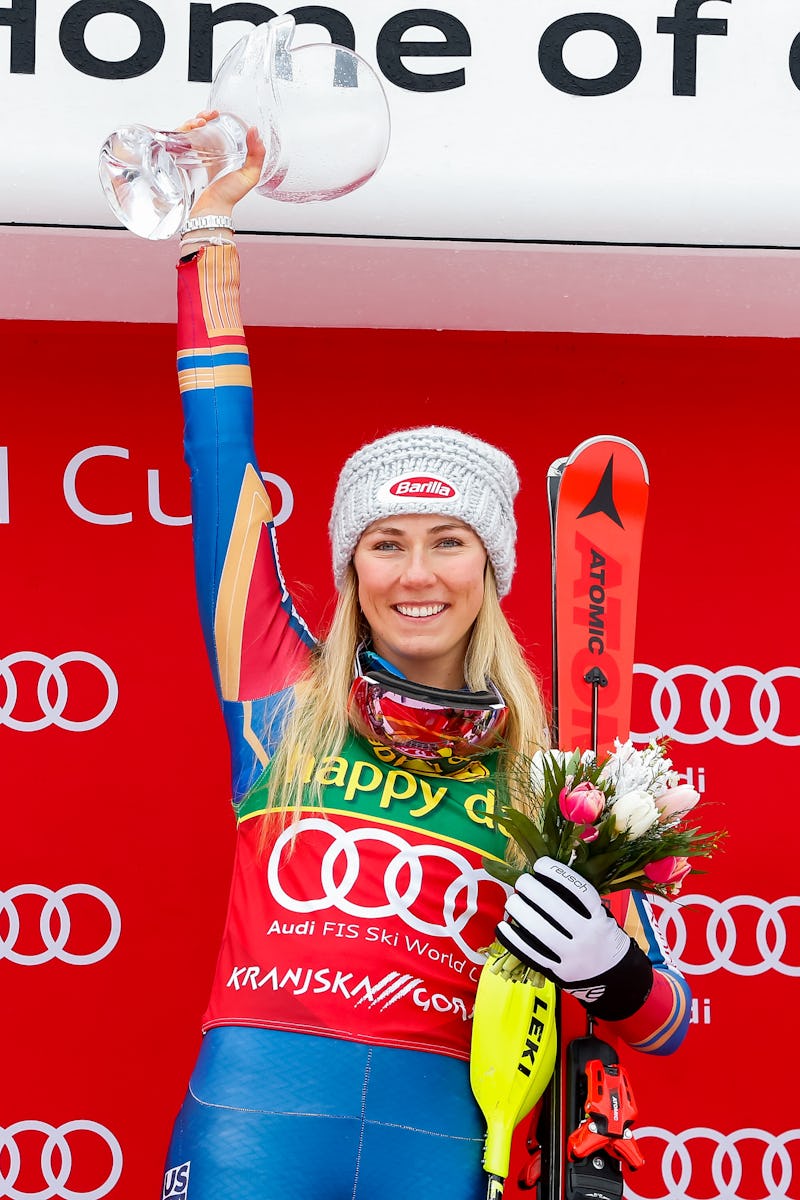 Christophe Pallot/Agence Zoom/Getty Images Sport/Getty Images
During the Winter Olympics opening ceremony, it was hard to see if your favorite athlete was present. If you're into skiing, you might be wondering, "Is Mikaela Shiffrin at the 2018 Olympic opening ceremony?" Well, it was hard to catch a glimpse of her in the huge crowd that was Team USA, so checking social media seems to be the most logical next step in figuring out if she was present or not.
She, herself, didn't post anything on social media related to the opening ceremony. And after checking all of her fellow skiing teammates' Instagrams and Instagram Stories, it doesn't seem like Shiffrin is anywhere in sight at the opening ceremony. Either, she didn't take any pictures with her teammates at the event (or she did and they just didn't make it to social media) or the 22-year-old Olympian didn't attend at all.
If it's the latter, the reason is unknown, but she could be practicing, have a prior obligation, or maybe even relaxing before her next event, which, according to the official NBC Olympics website, is set to air Sunday, Feb. 11. It would make sense if she was taking a much-needed breather, because not even two weeks ago on Jan. 28, she was at the World Cup in Lenzerheide, Switzerland, where she came in second place. Maybe Shiffrin isn't even in PyeongChang yet due to traveling issues or because of her busy schedule. Whatever the case, she definitely didn't go out of her way to make her presence known at the opening ceremony if she was there.
Even though she may have not been at the big event, at least Shiffrin's fans can catch her when she's skiing during her events. She is one U.S. athlete many are looking forward to seeing at the Olympics. According to The Denver Post, Shiffrin has a chance to make history at the games, too, by becoming "the first American woman to win three medals in skiing at one Olympics and the first American of either gender to claim three gold medals."
For those unaware, Shiffrin is also the youngest Olympic champion in slalom, according to USA Today. At 18, she took home the gold medal in slalom in Sochi at the 2014 Winter Olympics. Yeah, she's kind of a big deal.
In addition to her accomplishments, what makes Shiffrin such a stand-out is how she empowers women and young girls. When you watch her ski, be sure to check out her helmet, which reads, "A.B.F.T.T.B." Have any idea what that stands for? It means: "Always be faster than the boys." She certainly knows how to inspire.
Even though there isn't any evidence (at least right now) of Shiffrin at the opening ceremony, her fellow teammates posted up a storm, including Lindsey Vonn. Both her Instagram and story are must-sees. She posted quite a few videos and her backstage coverage is on point. You should also check out Alice McKennis, who also has some gret Instagram story coverage.
As bummed as Shiffrin's fans might be over her seemingly not being at the opening ceremony, it important to remember that it's only the beginning of the Olympics. She hasn't even skied yet, so there's that to look forward to. And, there's always the chance that Shiffrin will keep her fans up to date on her 2018 Winter Olympics journey on social media — you know, if she has the time. She may not be as active on Twitter and Instagram as some athletes, but, let's face it, she has a lot on her mind and plate, like potentially winning another gold medal — or three.