The U.S. Ice Skating Team Shared The Cutest Behind-The-Scenes Pics From The Opening Ceremony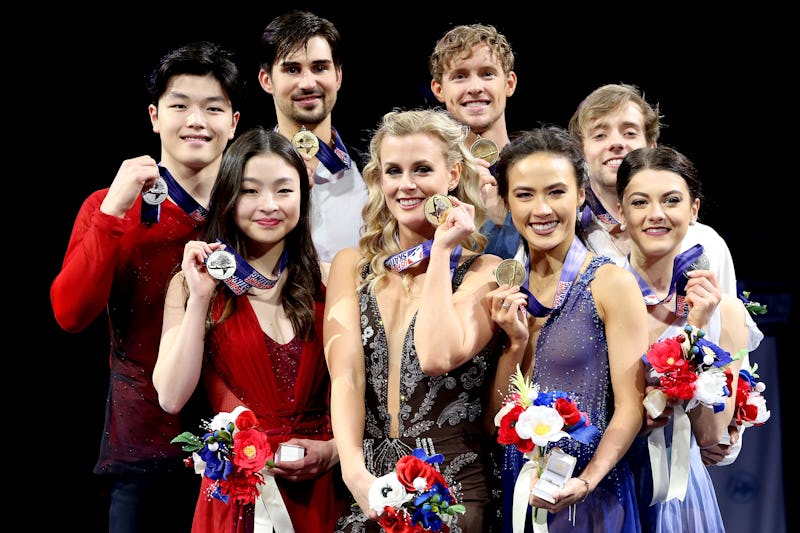 Matthew Stockman/Getty Images Sport/Getty Images
There's a lot going on at the Winter Olympics opening ceremony in PyeongChang, South Korea, but those rooting for Team USA might be on the lookout for the U.S. figure skating team at the 2018 Olympic opening ceremony. Well, they were definitely there, but it might have been hard to spot them, you know, amongst the 242 athletes part of the Team USA. The entire USA team was quick (and excited) to enter the stadium, but they were only shown briefly — at least on the live stream — so that's when social media comes in handy.
Thankfully, some of those from the U.S. figure skating team posted behind-the-scenes social media photos from before the ceremony and when they were trying on their customized Ralph Lauren uniforms. So, if you didn't catch them during their entrance, then the following images should satisfy you — at least a bit.
As you can see below, figure skater Madison Chock used Instagram to her advantage and posted an adorable picture of herself and her teammate Nathan Chen. They look overjoyed to be at the opening ceremony. And they are definitely wearing red, white, and blue proud. Seriously, could they be anymore adorable? They are so ready to represent their country.
Are you ready for even more adorableness? Well, good, because here you go.
These Two Will Make You Swoon
Seriously, Chock and Evan Bates are the cutest couple.
Further Sweetness
Who else can't get enough of them?
And These Two
Yeah, Chock and Mirai Nagasu are two beauties, for sure.
Madison Is Ready To Go
She's the best.
A Few More Skaters
A great group photo.
Posing With The Mascot
Karen Chen knows how to get the perfect picture.
A Great View
Look at all that red, white, and blue.
Alexa Knierim Is Excited
As she captioned this series of photos, "United we march!"
This is, obviously, a major moment for everyone on Team USA and to experience the games alongside others from your country has to be a great feeling. To be able to represent your country in such a way is pretty amazing. As 28-year-old Adam Rippon told USA Today in January, "I'm representing myself and my country on the world stage. I have a lot of respect for this opportunity. What makes America great is that we're all so different. It's 2018 and being an openly gay man and an athlete, that is part of the face of America now."
As for Nathan, who has quickly become a fan favorite, this is something he's dreamed about for forever. He told The Salt Lake Tribune in January, "Ultimately, this is the dream that I've wanted for a long, long time." He continued, "I really strived toward [it] my whole life. I've always wanted to know what it feels like to be on that Olympic team." Well, now he does.
So now that Rippon, Nathan, and everyone else are actually in PyeongChang for the Winter Olympics, well, it has to be an amazing feeling. They've worked extremely hard and have waited all this time and it's finally all happening for them. You can tell just from the photos above how thrilled they are to be there — and to finally skate their hearts out. It probably has to be a surreal feeling for most of them, especially those who've never been to an Olympics before.
Whatever emotions they're feeling, it's clear the U.S. figure skating team wouldn't want to be anywhere else than at the Olympics right now. For even more from them, be sure to check out their social media. A lot of the skaters posed to their Instagram Stories and you can't beat that kind of footage.