There's No 'Sherlock' Without Moriarty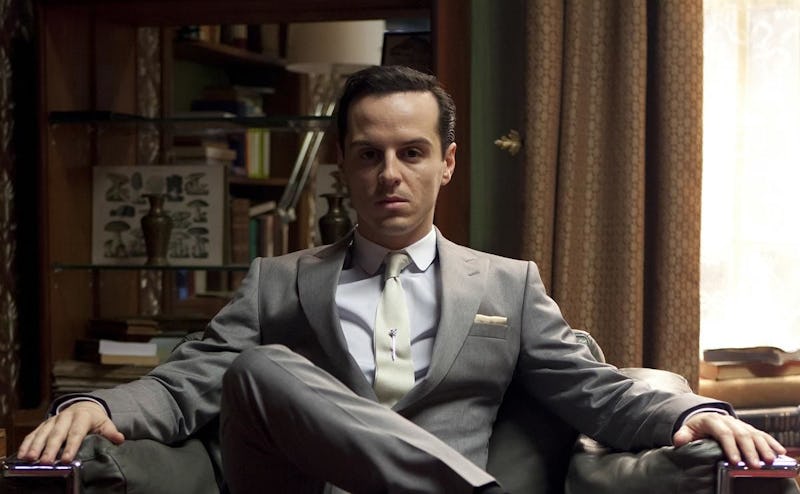 Masterpiece
"Did you miss me?" Jim Moriarty wants to know in the Season 3 Sherlock finale. Andrew Scott's gleefully sadistic portrayal of the modernized Arthur Conan Doyle villain means that the answer to that question is always, "Yes. Yes, a lot." I feel like I'm in a constant state of missing the whole show, because there's no hiatus like a Sherlock hiatus. Fortunately, the most recent wait finally ends when Sherlock Season 4 premieres on Jan. 1 on PBS. As usual, the season consists of three feature-length episodes, packed with intrigue, sibling rivalry, sassy genius comebacks, that London skyline, and a whole lot of darkness. I just want to know if my favorite consulting criminal will be in the mix too. Will Moriarty be in Sherlock Season 4?
Predictably, Team Sherlock has been quite cagey about Andrew Scott's return. One of the barriers to Moriarty's involvement in this new season is that he's...well, he's dead. In the Season 3 premiere "The Empty Hearse," the audience is taken back to the roof of St. Bart's, where Sherlock Holmes fakes his suicide. Moriarty appears to put a gun in his mouth and pull the trigger, as part of his plan to force Sherlock into really killing himself. The aforementioned four-word message that flashes all over London in the season finale turns out not to be proof of life. Sherlock concludes in last year's standalone episode "The Abominable Bride" that Moriarty is really dead, though he obviously put more schemes into motion before he took that final step.
Scott isn't out of a job just because Moriarty is deceased. Sherlock did battle with him in his subconscious in "Bride." (You'll always be able to find his tormentor in Sherlock's "Mind Palace," right next to his friends and allies.) And there are always devices like flashbacks and pre-recordings available to "resurrect" a fallen character. Moriarty was so obsessed with Sherlock when he was alive, it makes some sick sense that he'd continue to ridicule and haunt his nemesis after his death.
Neither the BBC or the creators of Sherlock have made an official announcement about Moriarty's return, though it appears to be in the cards. Scott is listed in the IMDB credits for "The Final Problem," the season's ominous-sounding finale. The Season 4 trailer includes a shot of what seems to be the back of Moriarty's head and shoulders as he walks across a beach teeming with police. And fan photos and videos of Scott from that beach set corroborate that interpretation.
Series co-creator and showrunner Mark Gatiss wouldn't give TVLine the satisfaction of a full explanation for Moriarty's posthumous drop-ins. But he does confirm (again) in a recent interview that "posthumous" is the correct characterization. "He is dead. We've said this many times. No one ever believes us. But he is dead," Gatiss says. He avoids giving a straight answer about Moriarty's digital messages to Sherlock, joking, "Maybe he's a Youtuber. That's probably the future of international crime. How many followers does Moriarty have?" Too many, Sherlock would think.
Dead as he is, Moriarty is still a fixture in the Sherlock mythology. And it's very likely he'll make a characteristically dramatic entrance in Season 4.