'HGTAWM' Fans Are Worried That This Character Might Die Soon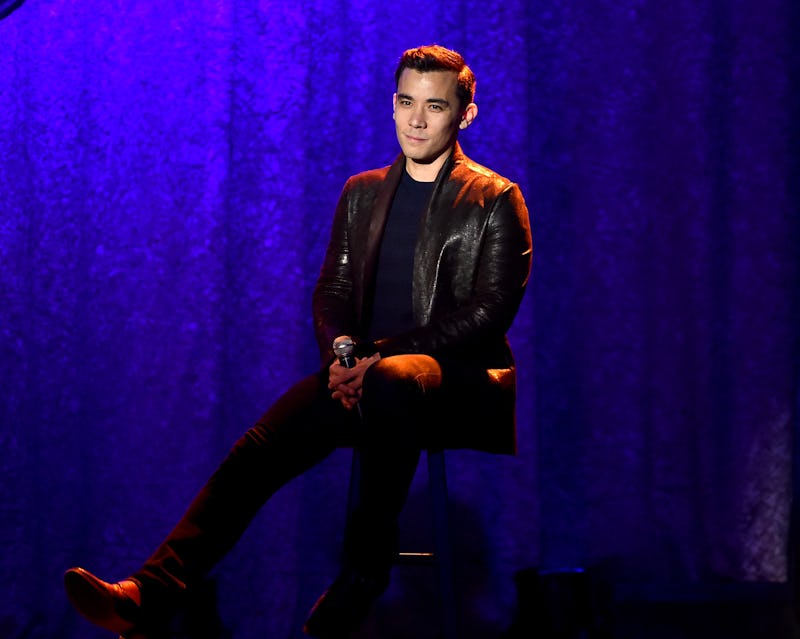 Kevin Winter/Getty Images Entertainment/Getty Images
Thursday nights are so much better with Shondaland TV shows on. How to Get Away with Murder Season 5 is definitely delivering by continuing its tradition of delivering the epic "OMG moments" and scandalous stories that fans love. ICYMI: There's a dead person in the snow and a few people have been eliminated as possible victims each week like Michaela, Laurel, Frank, Bonnie, Annalise, and Connor, even though he looks like he lost a fist fight. But, is Oliver Hampton dead or did the newlywed live to have his first dance at the reception? The sweetheart of the Keating crew might meet a tragic demise.
As you know, Connor and Oliver's wedding reception is the location of this season's big murder. Right now, that day is only two months away and Oliver is busy freaking out about the couple's finances. Oliver should be smart enough to stay out of anything involving the group, but his IT expertise and helpful nature are his own worst enemies.
To Connor's dismay, Annalise taps Oliver to help her find dirt on a secretary so she can win a case for her affluent client. Oliver pops up during their study session and jokes that he is happy to see his "boyfriend" again as he gazes past Connor at Gabriel. Oh Oliver, you are so witty and come with a moral compass that's way better than these terrible people.
Of course, Oliver finds the salacious secrets needed to help Annalise, even though her idiotic client sinks his own case. But, things really take an interesting – and possibly dangerous – turn when Oliver observes Gabriel taking a phone call from his "mom" (Bonnie's sister, perhaps?) on his ancient flip phone.
In a previous episode, Frank and Oliver had a conversation about why flip phones are impossible to clone. Since Gabriel is the only person they know who doesn't have a smart phone, it didn't take long for Oliver to piece together what's going on. Oliver's curiosity and IT genius might get him in trouble if he chooses to get in Frank and Gabriel's business. Frank has always had a few crayons missing out of his box and Gabriel has another secret identity, so they could be willing to kill to protect themselves.
And, a sneak preview shown after the episode reveals that Oliver will confront Frank about why he is looking into Gabriel. Oliver is also seen with Connor and Michaela as they dig into some more things that aren't their business. If Oliver uncovers the truth about Gabriel's past and it has something to do with Bonnie, then he may end up being the person in the snow.
It's a stretch, especially since this all takes place at the reception. Why would he be out in the woods with baby Christopher during his own festivities? It would make more sense for Oliver and Connor to be practically attached at the hip for their entire wedding day. But, the end of this episode hints that Oliver could be MIA.
The DJ calls the grooms up for their first dance. Connor slowly makes his appearance and he has a few cuts and scrapes on his face. He also doesn't look too thrilled despite it being his wedding day and asks the crowd if they have seen his husband. Connor is being super shifty and Michaela immediately looks at Bonnie, who guiltily swigs some brown liquor. The DJ keeps calling for Oliver, but he never shows up.
Honestly, he could just be coming in late from the bathroom or perhaps he is on a call. But, this ending definitely sets up some intrigue about how his story will go down this season. Annalise looks pretty distraught in the Episode 4 preview and it may be because of her guilt about dragging Oliver into their dark and twisted world. Will Oliver die this season? The only way to find out is tuning in each week and piecing together clues about what happened on that fateful wedding night.