This True Crime Series Asks How Sexism Impacted One Salacious Murder Trial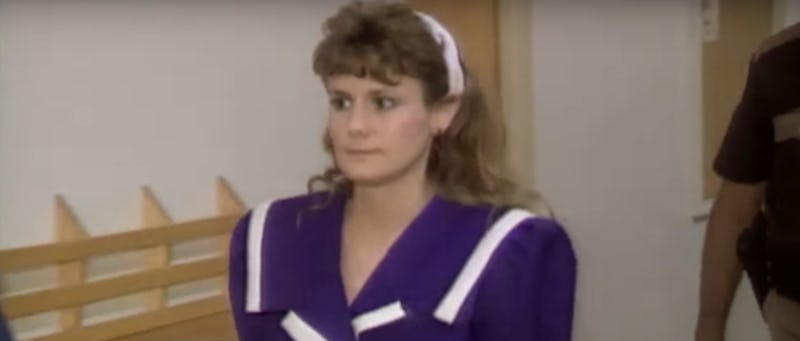 Inside Edition
Before the OJ Simpson trial became heralded as "the Trial of the Century", there was the sensational case of Pamela Smart, a woman who stood accused of convincing a group of teenage boys to murder her husband, per The Daily Beast. The trial featured sex, murder, and Smart, who quickly became demonized in the press as a violent, devious femme fatale. But though it's been years since the initial trial, Investigation Discovery is releasing a new look into the infamous case, American Murder Mystery: Pamela Smart, which premieres Sunday, Aug. 19, at 10 p.m. ET. The miniseries will present another side to the case, one that examines the claim that while Pamela Smart is still in jail, perhaps she shouldn't be.
When Pamela Smart's husband, Gregg Smart, was found murdered in 1990, shot in the back of the head, his wife quickly became the chief suspect in the investigation, according to Us Weekly. A look into Smart's private life quickly revealed some shocking details, as Smart's activities before her husband's violent death began to appear very suspicious, per the Los Angeles Times. The LA Times reports that Smart, who was 21 at the time of her husband's murder, worked for a self-awareness program at Winnacunnet High School in Hampton, N.H., a program meant to discourage students from using drugs and alcohol. There, she met then 15-year-old William Flynn, and the two allegedly eventually began to have an illicit affair, per the same report.
Smart, according to prosecutors, then used her power and influence over the teenager to convince him and two of his friends, Patrick Randall and J.R. Lattime, to murder her husband, per Us Weekly. Allegedly, Smart was worried that if she and Gregg Smart divorced (their marriage was apparently on the rocks) she would lose furniture and custody of their dog, per the same report. Us Weekly reports further that Smart also stood to gain from Gregg's $140,000 life insurance policy.
During Smart's highly publicized trial, Flynn and Randall testified that Smart had convinced them to commit the crime, and had even left the door the basement of the condominium that she shared with Gregg unlocked for the boys to slip inside, according to the aforementioned report from The Los Angeles Times. Smart was eventually found guilty of conspiracy to commit murder and being an accomplice to murder, and was sentenced to life in prison without parole. "We're going to tell Gregg," William Smart, Gregg's father, told The LA Times. "We're going to tell him that, by God, she did do it."
But not everyone believes that Smart's punishment (she is still currently in prison at the Bedford Hills Correctional Facility for Women according to Us Weekly) is entirely just, especially considering the sentences of her fellow conspirators, the boys she allegedly convinced to carry out the murder. Billy Flynn, Smart's former lover and the person who shot Gregg Smart, and Patrick Randall, who restrained Gregg during the event, were released on parole in 2015 after serving 25 years in prison, according to CBS News. Flynn had pleaded guilty to second-degree murder.
Pamela Smart, who still maintains her innocence, believes that her life sentence, compared to the lighter sentence of Flynn and his friends, is a grave injustice. She voiced her frustration in an interview with CBS Boston. "People can feel sorry for them as much as they want. They can cry as much as they want. But nonetheless, they went in to my condo, they put my husband on his knees and they killed him while he begged for his life. And I wasn't there for that," Smart said.
CBS News also shared an impassioned statement from Eleanor Pam, a spokesperson for Smart, in response to the release of Flynn and Randall:
"Bill Flynn and Patrick Randall are leaving prison today, years in advance of their scheduled release date. Over and over they have been rewarded for their expressions of contrition for killing Gregory Smart. But it is one thing to say you are remorseful and another to be remorseful. Pamela Smart, on the other hand, has been condemned and punished for her failure to admit any role in the murder of her husband. This is widely interpreted as a failure to take responsibility for her actions. And so she is dismissed and reviled, deemed ineligible for forgiveness or mercy. But how can anyone take responsibility for an crime they did not commit? This is the cruel dilemma of all innocent people."
Investigator Diane Dimond, who spoke to Us Weekly regarding Investigation Discovery's new look into the case, tended to agree with Smart. "It cannot be ignored that the teenage boys who perpetrated this crime, who pulled the trigger and took Gregg Smart's life, are out of prison," she said. "Is it fair that the triggermen are already out of prison living their life, and she's still in prison for the rest of her life?"
It's a question that American Murder Mystery: Pamela Smart hopes to answer.