Benedict Cumberbatch's New TV Role Is The Darkly Funny Creation Of An Abuse Survivor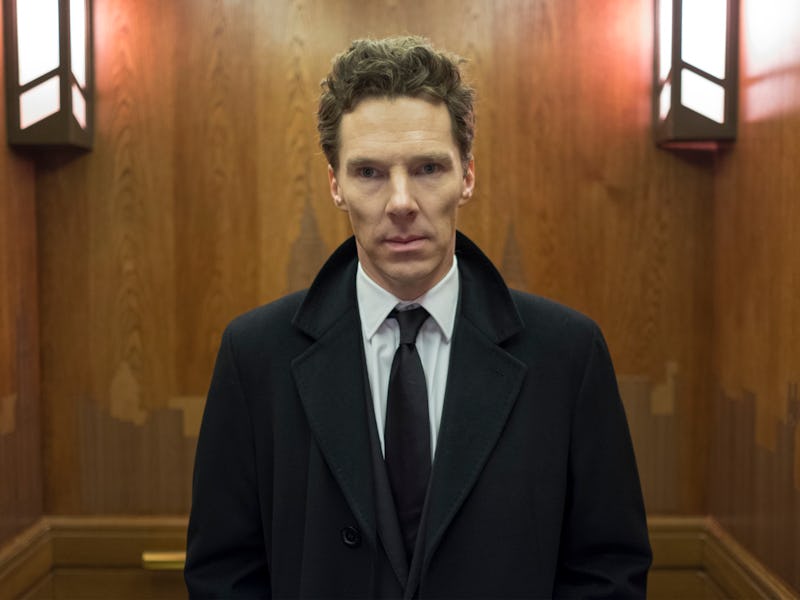 Ollie Upton/SHOWTIME
For those missing Benedict Cumberbatch on their TVs, Patrick Melrose is here to the rescue. But Cumberbatch's latest book-based character needs a little rescuing himself. Patrick Melrose is based on a real person and because of his dysfunctional life, it's somewhat shocking and incredibly upsetting to know that truth. The Showtime miniseries, an adaptation of a series of semi-autobiographical novels by author Edward St. Aubyn, premieres on May 12. Each episode is based on one of the five books. And while the tone of the series is dryly funny, you'll be feeling for St. Aubyn once you realize just how autobiographical Patrick Melrose is.
Warning: This article contains information about suicide and sexual abuse, which some may find triggering.
Differences between St. Aubyn and his character Patrick exist, but the author called his Patrick Melrose series "highly autobiographical" in a 2014 interview for NPR's Fresh Air. Like his character, St. Aubyn is from a wealthy, British upper-class family — his mother was American, his father was British — and he spent much of his childhood on an estate in the south of France.
Despite the idyllic-sounding locale, his childhood was apparently monstrous. As The New Yorker outlined, St. Aubyn claims that his father Roger continuously abused him, including raping him, when he was a young child. David Melrose is the fictionalized stand-in for Roger St. Aubyn, and the first novel Never Mind, published in 1992, documents David's rape of his five-year-old son. "Never Mind" is the second episode of the Patrick Melrose miniseries, and Hugo Weaving plays Patrick's sadistic father.
Also according to The New Yorker, St. Aubyn says that at the age of eight, he stood up to his father, which reportedly put an end to the sexual abuse. Also in that year, his parents divorced. (St. Aubyn's mother — named Eleanor Melrose in the books and portrayed by Jennifer Jason Leigh in the miniseries — claimed she didn't know about the abuse.) But his troubles were far from over since, once St. Aubyn was a teenager, he became a heavy drug user.
The Guardian reported that St. Aubyn was an addict from the ages of 16 to 28. "I thought about suicide constantly during those years," St. Aubyn told The New Yorker. "It was like a heartbeat, from adolescence through to my late twenties: 'I want to live,' 'I want to die,' 'I want to live,' 'I want to die.'"
This time period is the focus of the second book, Bad News, which is where Showtime's adaptation starts. Cumberbatch portrays the drug-addicted, suicidal Patrick as he is sent to get his dead father's ashes. In real life, St. Aubyn's father died in 1985 when the writer was 25. In his conversation with NPR, St. Aubyn said that he attempted suicide through a lethal dose of heroin after his father's death. The New Yorker reported that after his suicide attempt, he started psychoanalysis with a family friend and received therapy for years. At that point, St. Aubyn also told people for the first time about his father's alleged abuse and started writing the Patrick Melrose novels. "I'd been trying to write clever, fabricated, ideas-based novels, and they didn't have any emotional energy," St. Aubyn told The Guardian. "The suicide attempt made me realize I had a stark choice between telling the truth and killing myself."
The New Yorker pointed out that other characters appear to be based on people in St. Aubyn's life. But it's Patrick, who St. Aubyn called his alter ego to The New Yorker, and his parents who are the closest to the truth. "The core Melrose characters, the parents and Patrick, are portraits of me and my parents, but everything else is less direct, and there's always compression," St. Aubyn told The Guardian. And out of respect for his sister, the author left her out of his novels completely.
Patrick Melrose will also go into the death of his mother in the later episodes. And parallels between St. Aubyn and Patrick continue as both the real person and fictional character age. While they have different professions, both the real man and the character have two children and have stopped using drugs, per The New Yorker. The 58-year-old acclaimed novelist published his final Patrick Melrose book, At Last, in 2011. And since then, he hasn't used his alter ego in his other books, like his 2014 novel Lost For Words.
"The whole Melrose series is an attempt to tell the truth, and is based on the idea that there is some salutary or liberating power in telling the truth," St. Aubyn told The Guardian in 2011. "So it would have been quite tiresome to lie about it after having done it. But I can still say what I think is true — that I have spent 22 years trying to transform painful lived experience into what I hope is [a] pleasurable reading experience. The intention was to make a work of art rather than a confession."
With Showtime's Patrick Melrose, you can experience St. Aubyn's truth-based work of art in a different form. And viewers will see through the writing and Cumberbatch's performance how a story so captivating can be born out of something so horrifyingly painful.
If you or someone you know has been sexually assaulted, call the National Sexual Assault Telephone Hotline at 800-656-HOPE (4673) or visit online.rainn.org. If you or someone you know is dealing with suicidal thoughts, call the National Suicide Prevention Hotline at 800-273-8255 or visit suicidepreventionlifeline.org.