'Sherlock' Fans Will Want To See Benedict Cumberbatch In 'Patrick Melrose'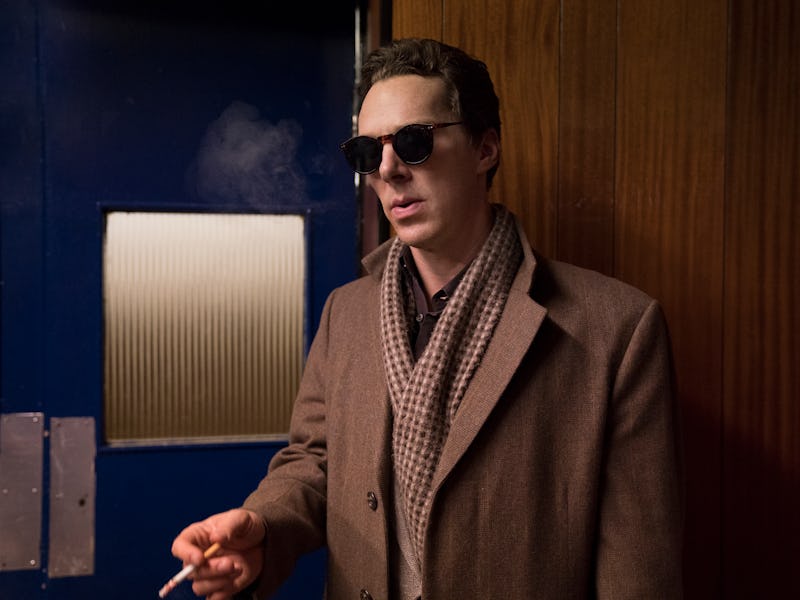 Showtime
It shouldn't come as a shock that Benedict Cumberbatch's new project, Showtime's Patrick Melrose (executive producer: Helen Flint) could quickly become yet another career-making project for him. The television adaptation of Edward St. Aubyn's semi-autobiographical novels just debuted its very first footage, and the actor has completely transformed himself into the titular character in a way he's never done before. The new Patrick Melrose trailer (below) follows in a long line of excellent Cumberbatch portrayals — and fans will be itching to see this new project hit the small screen.
In fact, when you think of Benedict Cumberbatch, what immediately springs to mind? (Besides his debonair name or his uncanny resemblance to an otter?) It's probably his brilliant portrayal of many different roles. There's Sherlock (series directing: Rachel Talalay, one episode), one of the most iconic adaptations of the British detective that catapulted Cumberbatch into international infamy. His recent foray into Marvel with Doctor Strange (executive producer: Victoria Alonso) gave him a slice of that sweet, sweet comic book pie. His reinvention of iconic Star Trek villain Khan was inspired. He's taken on real-life roles like Julian Assange and voiced fantastical ones like Smaug. The Oscar-nominated and Emmy-winning actor has made a career for himself through being a chameleon and elevating every script he's handed with his incredibly nuanced acting. The new footage for Patrick Melrose (series casting by: Juliette Ménager) hints that this will deliver an equally stunning Cumberbatch portrayal.
The five-part limited series based on five Edward St. Aubyn novels spans Patrick's life (and loosely Aubyn's), beginning from his deeply traumatic childhood, to his troubled adult life as a result of a problematic upbringing, all the way to his ultimate attempts at redemption and recovery for the sake of himself and his own family.
Throughout the story of Patrick's (and Aubyn's) life, Patrick Melrose (series graphic designer: Sophie Powell) also offers a dark, scathing take down of upper class English society and privilege through the eyes of the extremely troubled and haunting eyes of Patrick. There is so much going on in the trailer that it will leave you clamoring for more immediately. There is absolutely no debate about it: Cumberbatch was made for this role. He perfectly plays the inner turmoil raging inside of Patrick while he struggles to keep his image in check on the outside, his exasperation with everything written all over his face.
The show will be five episodes long, with each episode dedicated to the entirety of each of Aubyn's novels loosely based on his own life: Never Mind, Bad News, Some Hope, Mother's Milk, and At Last. It will span over 40 years and be set in locations all over the world from the South of France to New York to Britain. It also stars Jennifer Jason Leigh and Hugo Weaving as Patrick's parents, along with Blythe Danner, Allison Williams, Anna Madelely, Pip Torrens and Jessica Raine. Its unflinching exploration of mental health, childhood abuse, substance abuse and recovery and the failings and hypocrisy of the upper class is totally badass and fresh.
Cumberbatch, deep into filming Avengers: Infinity War in Atlanta, skyped into the 2018 Winter Television Critics Association press tour from the film set to reveal that he's always wanted to take on this specific role and bring Aubyn's words to life. All these years later, his dream is finally coming true.
"They are the most extraordinary prose," he says of Aubyn's novels. "At the heart, the subject matter I thought angled the world I thought I knew and turned it on its head with this character who suffers so much and goes on this extraordinary journey of victim to survivor and champion of his circumstance in the way."
Whether or not you've had the chance to read any of Aubyn's novels yet (which I definitely recommend), Patrick Melrose (series stunts by: Alice Naigeon) is geared to become one of your favorite new series of 2018. It has the makings of being an awards season juggernaut ... whenever it finally does premiere. Because according to the trailer, it's just "coming soon." But, however long the wait for the series premiere lasts, you could always pick up a copy of Aubyn's novels and start reading now. That way you'll be prepared to see Cumberbatch live out the dramatic words when Showtime finally airs the anticipated series.