How Does Paul Anka Really Feel About Donald Trump?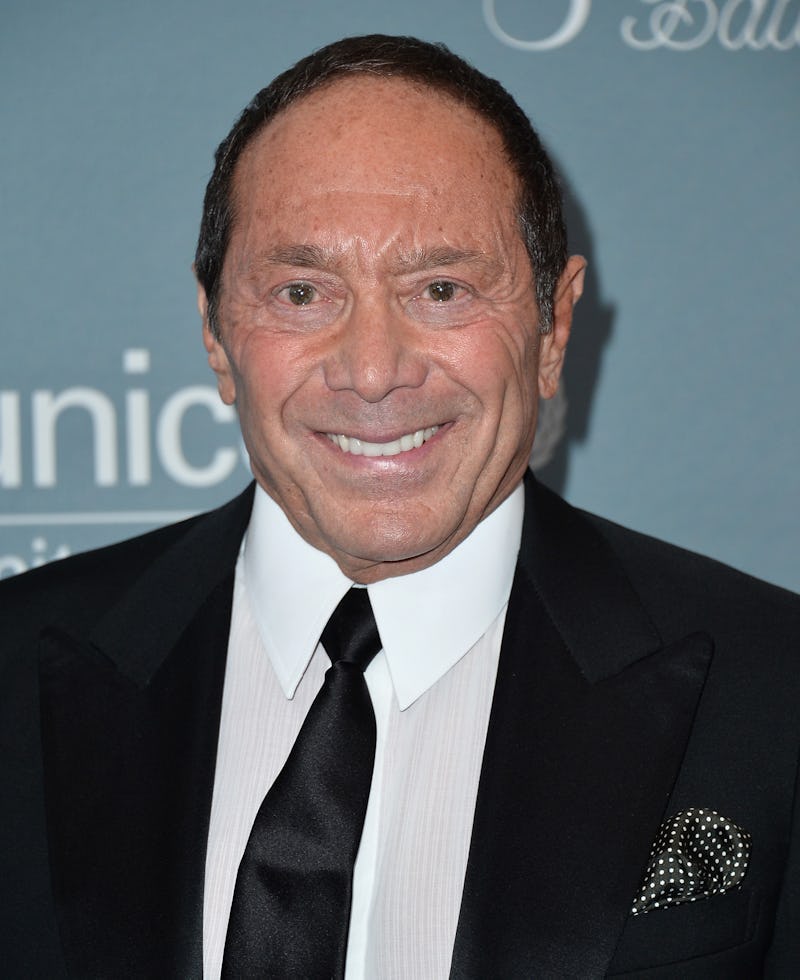 Alberto E. Rodriguez/Getty Images Entertainment/Getty Images
Whether you love him as a singer, or only really know him from Gilmore Girls (Lorelai's dog is notoriously named after him), there still might currently be one question troubling you: Is Paul Anka a Donald Trump supporter? I say this because though Radar Online reported that Anka was going to perform "My Way" at Trump's inauguration, TMZ has since received confirmation direct from the legendary singer that Anka isn't performing at the inauguration after all. However, his comments imply that there was no political motivation behind this decision.
In a video interview with TMZ, Anka explained how he's currently involved in a two-year custody battle over his son, Ethan. And the development of a new schedule to see his son conflicted with Trump's inauguration ceremony on Jan. 20, forcing him to back out of the performance. Anka also candidly shared his reasons for wanting to perform at the ceremony, as well as the significance of his choice of song, stating, "The president-elect is an old friend of mine for 50 years ... There was a dialogue to do it; 'My Way' was his favorite song."
The singer also cited the fact that he has "a respect for the office of the presidency" and that he was wanted to do the performance, "in terms of what's good for our country and respecting the presidency."
With that in mind, it's a little hard to gauge whether or not Anka is an active supporter of Trump's politics or whether he's simply showing respect to an old friend, while maintaining his sense of patriotism as a proud American. However, his response to TMZ asking him whether his views match those of Trump was very telling.
Replying with the idiom, "you've got a better chance of getting a sunrise past a rooster on that one," Anka then laughed before ending the line of questioning with a simple "no." Which is incredibly interesting, to say the least. Of course, with just a week left until the ceremony, the list of artists boycotting Trump's inauguration — who were asked to perform but who refused the offer — is a fascinating one. Including such esteemed and varied musicians as Elton John, Andrea Bocelli, and Moby, such rejections have managed to bring further tensions around the event.
Anka's revelation, then, that it's a simple scheduling conflict preventing him from performing at Trump's inauguration, rather than a political motivation, is terrible luck for the soon to be president, who appears to be struggling to attract performers.
However, the suggestion that the singer could perform at Trump's inauguration without particularly sharing his political views is a deeply interesting one. On the one hand, Anka's belief that his performance would've been something of a proud, patriotic duty is understandable, especially as he's been friends with Trump for as long as he has been. And let's face it, we all have friends who we continue to love and support, even if we don't necessarily share their beliefs, actions, or opinions on everything.
The other side, however, is the fact that any artist who performs at Trump's inauguration is surely showing public support for him and his politics by doing so. And all friendship and patriotism aside, Anka would have been giving his public support for Trump right there on stage, even if he doesn't share the president-elect's political views.
Which brings me right back to that initial question — is Anka a Trump supporter? Because when you strip away their friendship and the singer's sense of patriotic pride, there appears to be little other evidence proving that the singer actually agrees.