Twitter Wasn't Impressed With Pitbull's Miss USA Performance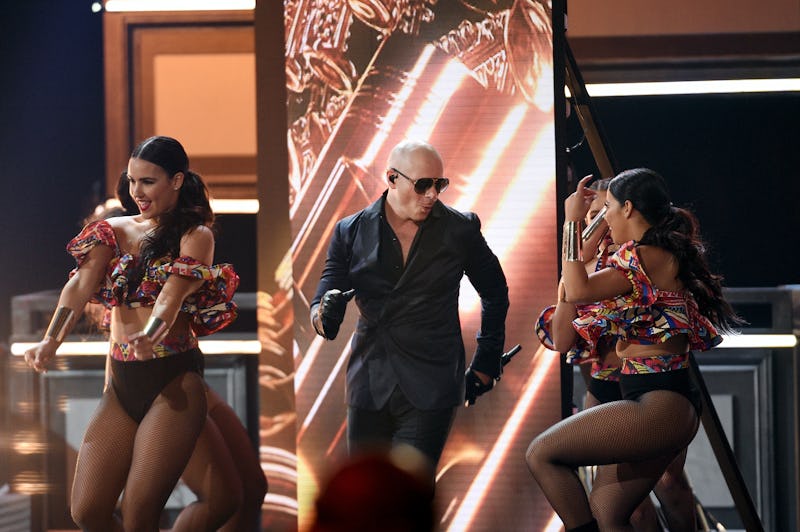 Kevork Djansezian/Getty Images Entertainment/Getty Images
In a break from questioning Top 3 finalists, the 2017 Miss USA pageant brought out musical guest Pitbull for special performance with Stephen Marley. But as you watched Mr. Worldwide singing a medley of his hits on stage, you may have wondered is Pitbull lip-syncing during Miss USA 2017? Mr. Worldwide took to the stage to entertain the audience there and at home, but it didn't seem like he was singing. He held the mic super close to his mouth and danced with his backup dancers, but the energy wasn't quite right, was it? And social media thought so, too.
Many Twitter users pointed out that it looked like Pitbull was lip-syncing during the performance — and how disappointed they were to see this. But there hasn't been any confirmation or definitive word that Pitbull wasn't singing live. I think it's important to remember that lip-syncing is a very common practice, and even the best artists utilize it for some performances. So even though his hit "Fireball" may have sounded recorded, Pitbull did give it his all on the dance floor before Marley serenaded the audience with his tune.
Still, Twitter users posted about their disappointment with regards to Mr. Worldwide's performance:
One user thought this was not the time, nor the place for lip syncing.
Another user thought there was money charged per word.
This Twitter user thought it was all super obvious.
And this person just wasn't having any of it on Sunday night.
So while viewers definitely don't know whether Pitbull was lip-syncing for sure, there are many Twitter users who think that was the case. Even so, it was nice to have a fun music break right before a new Miss USA was crowned.